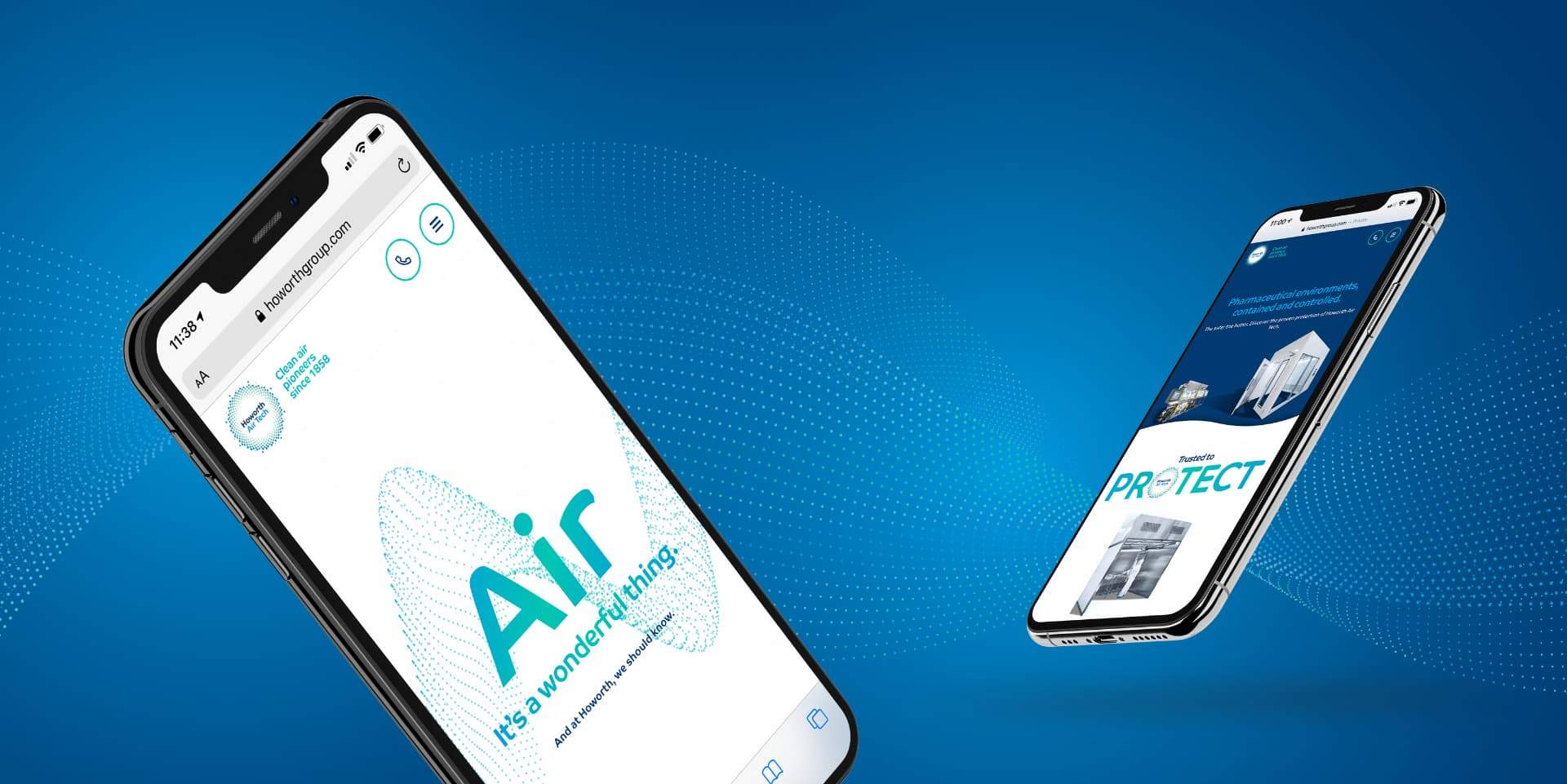 Howorth Air Technology are experts in air engineering, delivering controlled clean environments for the healthcare and pharmaceutical industries. Established in 1858 with a focus on improving air quality in Lancashire's cotton mills, Howorth went on to develop the world's first Ultra Clean Ventilation (UCV) system in the early 1960s for use in operating theatres. This UCV technology remains a global leader in the field of ultra-clean ventilation and Howorth Air Technology utilize their air technology expertise to provide world-class containment and infection control solutions, serving the global pharmaceutical and wider industrial markets.
Owing to their innovative, world-class solutions, Howorth are ahead of the curve in the air technology sector. As a result, one of the issues Howorth faced was a lack of awareness about their solutions, particularly in a market where concern over air quality has risen drastically as a result of the Covid19 pandemic.
The Insight
As part of the branding work we carried out for Howorth, in which we ran an Absolute Clarity workshop, we were able to gain insight into how the company perceives themselves, their strengths, values, and passions.
In addition to the workshops, we interviewed key members of staff in customer facing roles, allowing us to understand the customer's perception of Howorth. We also sent out Customer Surveys to gain an external perspective.
We analysed the data, both internal and external and created a strong new brand proposition 'Clean Air Pioneers since 1858'. We also looked at a newly reinvigorated brand identity which reflects the values of the business and differentiates Howorth from their competitors.
The Idea
We wanted the website to reflect these characteristics, which were being brought through as part of the new brand. We wanted to use a flowing visual metaphor to create a memorable, visual aesthetic that communicates Howorth's passion for air technology, whilst resonating with prospective clients in the healthcare and pharmaceutical industries.
We also wanted the website to showcase the Howorth team more, as well as acting as a platform for them to publish case studies and articles to update their audience on new and upcoming developments.
The Delivery
We chose Absolute Control as the CMS platform, the high amount of flexibility allows us to completely tailor the back-end and front-end of the website. As we wanted a very unique look and feel to the site, we wanted to start with a blank canvas, which allows us to build out the site in a modular way, without being limited by traditional frameworks. The site is fully editable in the back-end, with reusable modules which allow the client to quickly create engaging content for the site themselves, allowing the client to focus on content creation.
Howorth wanted the site to exhibit all the products and solutions that they produce, and also how they can be combined to provide effective solutions for a wide range of healthcare and pharmaceutical environments. So we created products as a separate entity within the website, where they can be independently managed. Then these products can be pulled through anywhere on the site, either to showcase them individually or as part of a solution. This reduces the administration overhead of creating products and correctly assigning tags. We can manage the display of products from within the page module itself.
As we wanted the site to communicate more about the people of Howorth, we created a series of modules with this in mind. We created a custom data type to allow the easy creation of staff profiles, which allow team members to be easily added to the website, but also these can be expanded upon when the client runs a special spotlight on an individual.
There were a few design elements that we wanted to bring through from the brand. One of the main ones being the particle wave. Previously this was only ever displayed statically, but we wanted to see if we could incorporate some kind of motion into it and use this to subtly introduce energy to pages. We decided that to create something that looked organic on-screen, it needed to be generated programmatically. To give the impression of particles moving around, we used a Simplex Noise generator to create some flowing, moving paths. This was painted onto an HTML Canvas element, which was then used as a site decorator. The result is a very lightweight animation that can be used to enhance the site pages on any device.