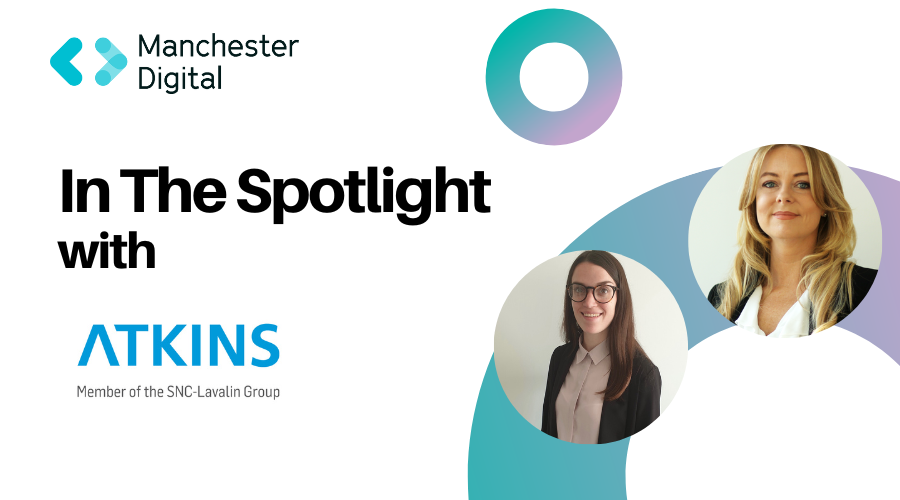 At Manchester Digital we like to interview our members to find out a bit more about what they do and their work in the Greater Manchester digital and technology sphere. This week we're speaking with Alex Graham, Consultant, and Kelly Burdall, Digital Futures Lead, at Atkins - a leading design, engineering and project management consultancy.
What does your organisation do?
Atkins, a member of SNC-Lavalin Group is one of the world's most respected design, engineering and project management consultancies. Together, SNC-Lavalin, a globally fully integrated professional services and project management company and Atkins help our clients plan, design and enable major capital projects, and provide expert consultancy that covers the full lifecycle of projects. We strive to build strong relationships by understanding the challenges our clients face, sharing their vision and helping them transform potential into reality. Our world-class expertise at scale delivers value to our clients, and the depth and breadth of our capabilities sets us apart from the competition.
We deliver our cyber resilience expertise to the critical national infrastructure, government, national security and defence sectors. We are the largest supplier of client-side advisory in the UK security and intelligence sector and are accredited to the Cyber Security Suppliers to UK Government scheme.
What do you think is currently the biggest issue facing the tech industry?
Ensuring cyber security is considered at the heart of the technology industry in order to properly protect against cyber-attacks is a huge issue facing the sector. It's no longer a question of if, but when a cyber security breach will occur.
The fast-paced technological advancements and digitalisation across society and industry means we're seeing an increased demand to protect our assets. This could include critical national infrastructure, a new piece of technology, or our own personal data. As consultants, we help clients understand cyber security risks, how to mitigate them, and how to promote cyber resilience in the design stages. Secure by design is a key principle, placing design security at the forefront in a project from inception, or to ensure vulnerabilities within existing infrastructure are assessed and addressed. This is increasingly important as the tech sector must ensure it is security compliant and protecting data and assets appropriately.
Beyond the risks, the digital, cyber and tech space is an exciting industry to be a part of due to innovative technologies and advancements providing new challenges and opportunities, from the Internet of Things (IoT) to artificial intelligence. Despite this, the cyber skills shortage is predicted to reach more than 3 million by next year, proving that more needs to be done to promote and protect such an interesting and vital sector.
What is your organisation's biggest achievement?
Projects like M25, Heathrow and Hinkley Point C are key infrastructure projects in the UK that are integral to managing and maintaining a key part of the UK's infrastructure in its full Asset lifecycle. One of our Global projects that is impressive in terms of what they have achieved digitally is the Bane NOR project where Atkins are helping deliver one of the largest current digitalisation projects in Norway: the complete resignalling of the Norwegian railway network.
The biggest achievement is always the people within the organisation and their expertise and passion in making a difference across all sectors and communities. A key example of that is the engineering of net zero and the Decarbonomics work that is making a real difference to all. Decarbonomics is a new platform launched by SNC-Lavalin which aims to decarbonise the built environment with a data-driven approach. This new platform combines the importance of people and data to help the building sector, which is responsible for 40% of global carbon emissions, to achieve Net-Zero. Technology including digital twins, AI and Machine Learning are all used to identify the most cost-effective route to Net-Zero.
What would you consider to be your organisation's biggest challenge?
Resourcing is arguably the largest challenge we face. Technology is advancing at an incredible and unprecedented rate. People and their skills are a key factor in the deployment and utilisation of technology to enable us to create better environments. The skills shortage in engineering and the application of the technology, alongside those in cyber security previously mentioned, could therefore become a stumbling block in this area.
This resourcing problem is exacerbated in more traditional industries, such as civil engineering, which aren't typically associated with technology-based roles. Recruitment in technological roles is a challenge: for example, are software engineers and data scientists looking at our industry for their next professional challenge?
What do you think the future looks like for Manchester's tech sector?
Manchester is already the fastest growing tech city in Europe, with £5+ billion and 500 million digital and cyber economies respectively (Greater Manchester cyber ecosystem - GMCA). Continued investment is ongoing and a community of over 10,000 digital and tech businesses has been built. It has been coined the "digital innovation hub" of the North, with the North West also declared as the "Cyber centre of the UK" when the national Cyber strategy was released. This is further supported by the government's Levelling Up agenda, which looks to spread opportunity more equally across the UK, with a focus on redistribution towards the North West. Manchester is therefore well-positioned, with many initiatives ongoing that unite the intelligence services with central government, academia, and industry to combine their cyber security capabilities and inform strategy. This shift towards public facing partnerships has been pioneered in Manchester and is driven by the unprecedented rate in which the world is changing. Therefore, a collaborative approach will be key to keep pace and tackle new complexity, challenges, and uncertainty by developing innovative solutions. This sets Manchester up for a bright and exciting future in the tech space.
Manchester's strong civic mandate also means that devolution and digital transformation will be used for the overall improving and benefit of society as a whole. This includes the promotion of inclusive public services in an increasingly digital world. This is also helping to develop the next generation and provide equal opportunity with many organisations looking to provide more accessible routes into their industries, e.g., providing mentoring opportunities or skills training. Overall, this is leading to inclusive environments and diversity of thought, cultivating diverse and bright talent, hoping to lead the tech industry better positioned to respond to future challenges.
Tell us something that we might not know about your company?
Did you know Atkins is passionate about the environment and that it regularly employs dogs?
The Great Crested Newt is a protected species that is often found in ponds, woodland or on grassland – and on railway construction sites. Detecting the presence of these newts is therefore highly important to ensure compliance with various laws that protect these animals.
To make that detection easier, Network Rail teams and Atkins use innovative methods – and two new recruits! Rocky and Arnie are the world's first scientifically proven great crested newt detection dogs. The dogs were trained for their careers following research and trials with Atkins, Wagtail UK and Natural England. As well as improving cost and time efficiencies, Rocky and Arnie can cover large areas much faster than workers on site and more accurately detect any newts.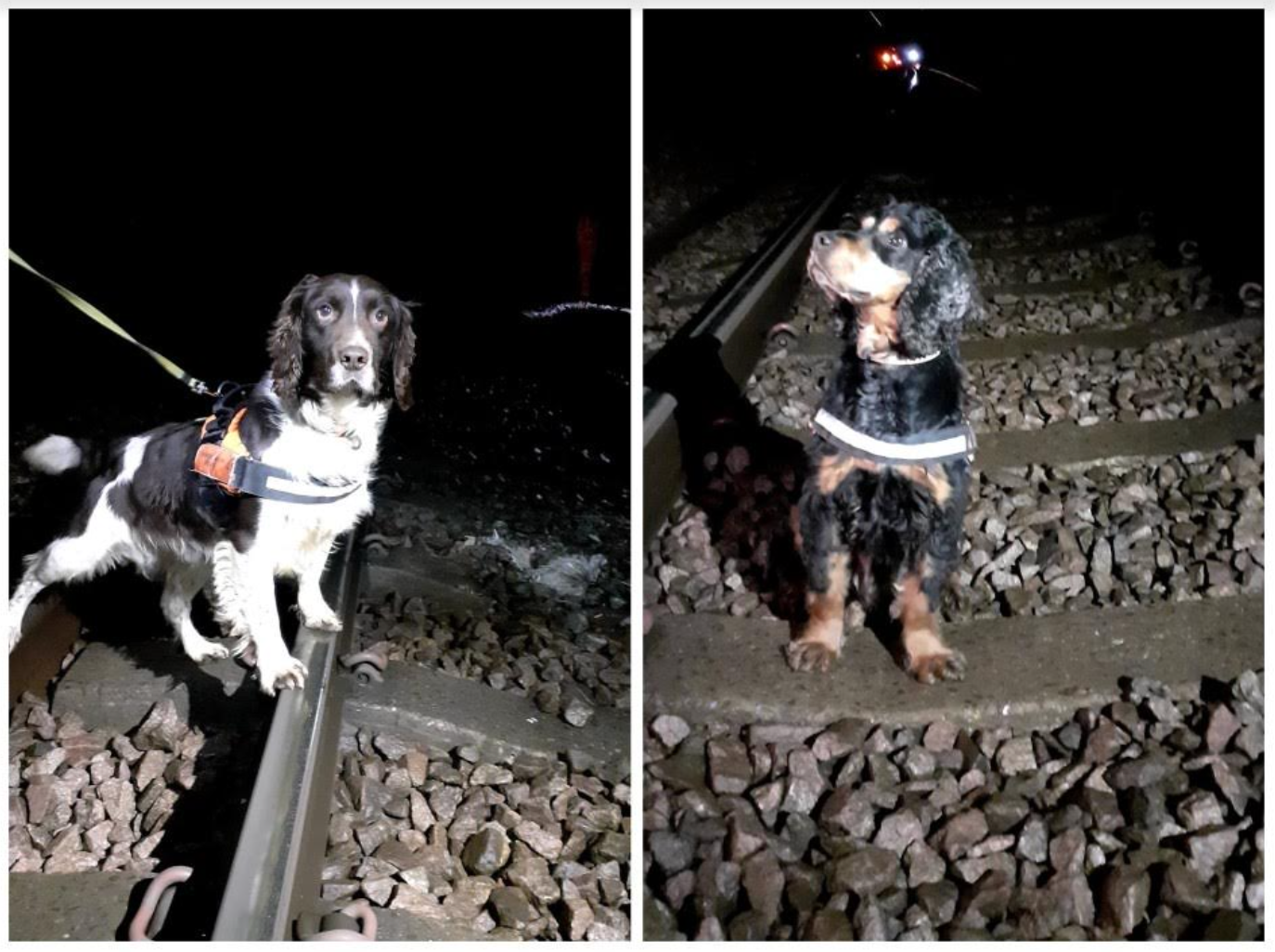 Rocky and Arnie
Thank you Alex and Kelly!
To find out more about Atkins, click here.
Want to raise your business's profile? If you're a member, contact thom@manchesterdigital.com to discuss featuring your content on our site, social media or newsletter. If you're not a member, get in touch today to discuss the benefits of membership.