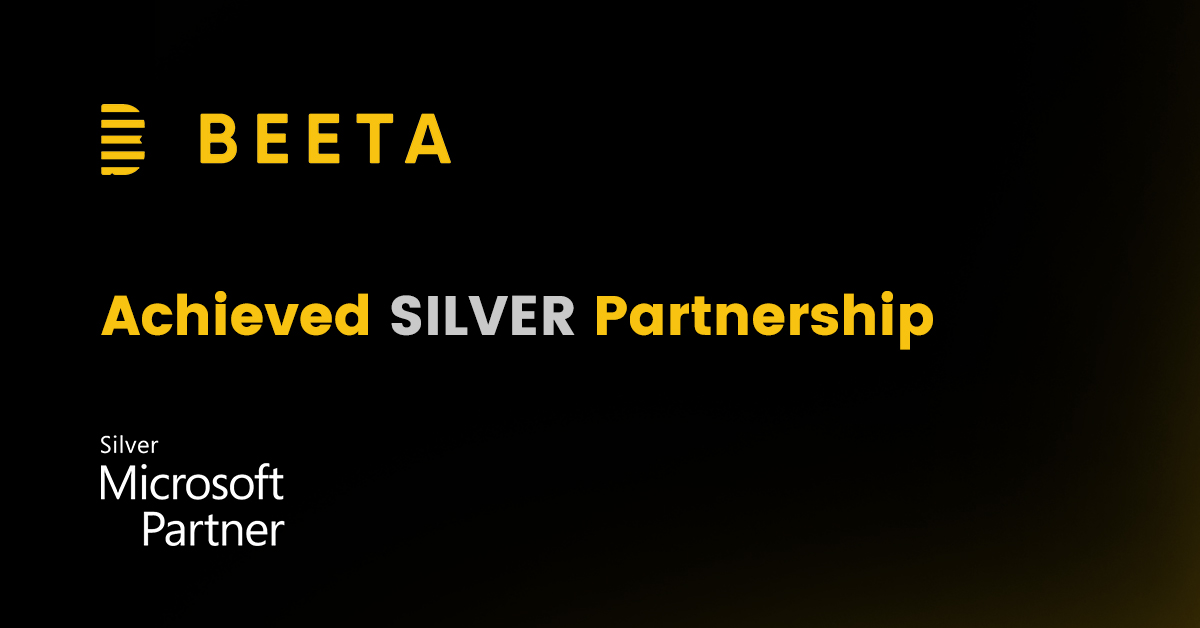 Here at Beeta we are very pleased to share that this year, we have achieved Microsoft Silver Partnership status in the Microsoft Partner scheme with a competency in Applications and Infrastructure! The competency highlights our specialist expertise within the area and our ability to effectively use these tools to benefit our clients. As a silver partner, we are dedicated to proving our excellence in contemporary Microsoft technologies and continuing to provide our clients with expertly implemented services and advanced solutions.
A company that has earned a Silver Competency is among the top 5% of Microsoft partners worldwide. Microsoft recognises businesses awarded the Silver Competency for offering the best solutions to consumers and for undertaking a rigorous and auditable approval process.
Credit where credit is due…
This is testament to the hard work and commitment of our team, in particular our apprentices, who have dedicated their time and efforts to complete various competency-based tests and become Microsoft certified professionals. At Beeta we are always striving for continuous improvement. We are big advocates of internal development and are committed to providing training to the whole team, to progress professionally and elevate us as a business. We believe access to cutting-edge, Microsoft based technology is crucial to keeping us at the top of our game so keep your eyes peeled for a Gold Partnership announcement next year!
Why choose a Microsoft Partner?
When looking for a company to do business with, naturally you want to partner with the 'crème de la crème'. Silver Partnership status sets us aside from the rest. We have proven our expertise in the industry, giving you peace of mind that all of your technical needs will be upheld to the highest standard. Our excellent client referrals attest to this already but having the Microsoft 'seal of approval' further signifies our competency.
Partnership Benefits
Our membership gains us access to Silver Partner benefits. As Microsoft are constantly updating their apps and programs they provide continuous training to all their partners, so you can be sure that our specialists have the most up to date product knowledge and experience. As a partner, we have access to Microsoft Partner Signature Support, supplying us with round the clock technical assistance; this also benefits our clients as we can support them with any queries surrounding their Microsoft framework.
We are thrilled to have received this affirmation of our capabilities and will continue working towards becoming the top 1% with a Gold Partnership!
To find out more about any of these services and how we can utilise them to benefit you, please get in touch.