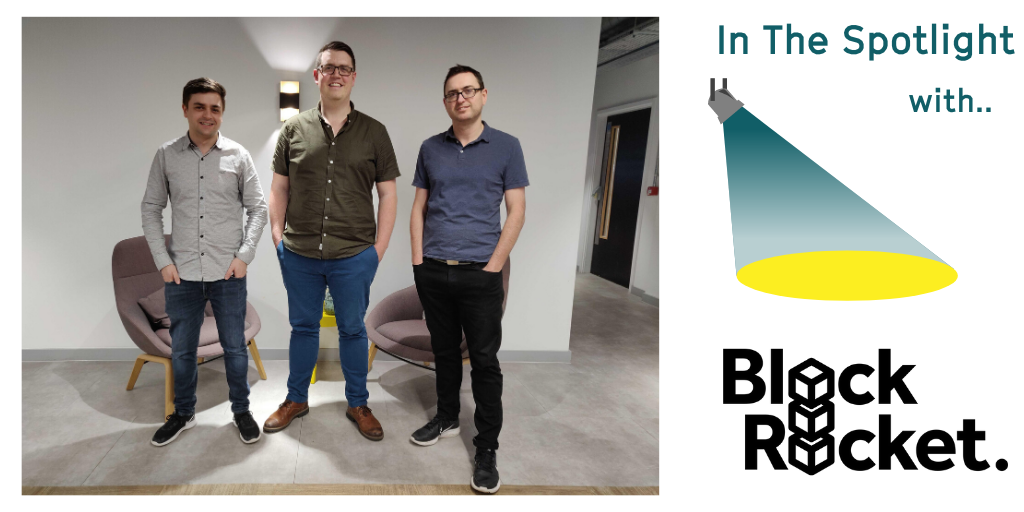 Each week we interview one of our members to find out a bit more about them and their work in the Greater Manchester digital sphere. This week we're speaking with BlockRocket, the city centre-based blockchain experts.
1. What does your organisation do?
BlockRocket is an engineering and consultancy firm which specialises in the application of blockchain and decentralised technologies. Our roots lie in the corporate world but have a deep and knowledgeable passion for decentralised technologies and protocols.
Over the last 2 years we have built up an arsenal of tools, knowledge and experience which has enabled us to help businesses around the world to successfully leverage these nascent technologies.
We have a particularly deep knowledge of smart contract development from ideation, design and finally production delivery. We also have vast knowledge in how to solve some of the more problematic areas of the technology and how blockchain and its associated tools can complement existing enterprise stacks and work within traditional product settings.
We aim to provide a no nonsense consultancy along with specialised engineering and full stack development services. Helping business understand and apply web3 and decentralised technologies is what we do best.
2. What do you think is currently the biggest issue facing the tech industry?
Focusing specifically on the industry we work in, I think there is still a level of maturity and understanding which needs to be realised. What I mean by this is that a few years ago the hype around blockchain and cryptocurrency boomed and subsequently crashed. In the meantime companies like ourselves and others around the world have grown in size, understanding and maturity. Products and services can are now being built and offered which solve real world problems and are not driven by hype.
Education is also key and this is one of the reasons we start and continue to run Blockchain Manchester, a blockchain and decentralised tech focused meetup with nearly 750 members in the Northwest.
Larger organisations in general are starting to move from ideation and prototyping to production ready systems, something which is happening behind the scenes and without a fanfair.
3. What is your organisation's biggest achievement?
I think as a start-up you have to take stock at what has happened and how you got here, in less than 2 years in we have grown in staff, revenue, knowledge and reputation - these things can't be taken for granted and should be seen as an achievement.
We have also been participating in the All Party Parliamentary Group on Blockchain, contributing to wider governmental understanding as well as trying to shape a broader understanding of how these tools can be used in a wider societal setting.
To read more about BlockRocket in 2019 we have a Year in Review blog post with more info.
4. What would you consider to be your organisation's biggest challenge?
One of the biggest challenges we have is getting ourselves known in the Northwest and UK in general. 75% of our clients comes from America and Europe and the rest is typically from London, something which we hope to change in the near future but it definitely adds some complexity in terms of marketing and logistics.
The Northwest has a thriving digital scene but it is slow to understand what some of the technologies we specialise can be used for. Domains such as gambling, customer loyalty and engagement, creative industries, legal, fintech and reg-tech are just a few of the areas we have successfully built products in. We think there are plenty of useful applications of the tech which have not been fully realised in the region… yet
5. What do you think the future looks like for Manchester's tech sector?
I think the future of the Manchester tech sector is bright and prosperous. I see companies moving to the city to harness the skills which Manchester has fostered for the last few decades and I see companies growing year on year.
Manchester is without a doubt one of the best tech scenes in the UK and has plenty of room for growth in our minds.
6. Tell us something that we might not know about your company?
We have been prototyping a use case for using physically backed digital assets on public blockchains using collectible toys, successfully onboarding an NBA team (Sacramento Kings) to issue their own collectible merchandise which incorporates our blockchain technology, a world first - not bad for a small startup in Manchester!

https://www.forbes.com/sites/rebeccacampbell1/2018/11/28/physical-meets-digital-cryptokaiju-launches-first-collectible-toys-on-the-blockchain/#3a5155a641da

https://www.nba.com/kings/blog/sacramento-kings-partner-cryptokaiju-launch-first-physical-crypto-collectible-professional
We also run one of the top digital art marketplaces, https://knownorigin.io. Another successful implementation of tokenisation providing provence, ownership and instant remuneration of funds to all parties involved. To date we have sold nearly 4000 digital artworks.
Want to feature on our site?
Contact thom@manchesterdigital.com if you would like to feature your content on our site, social media or newsletter.