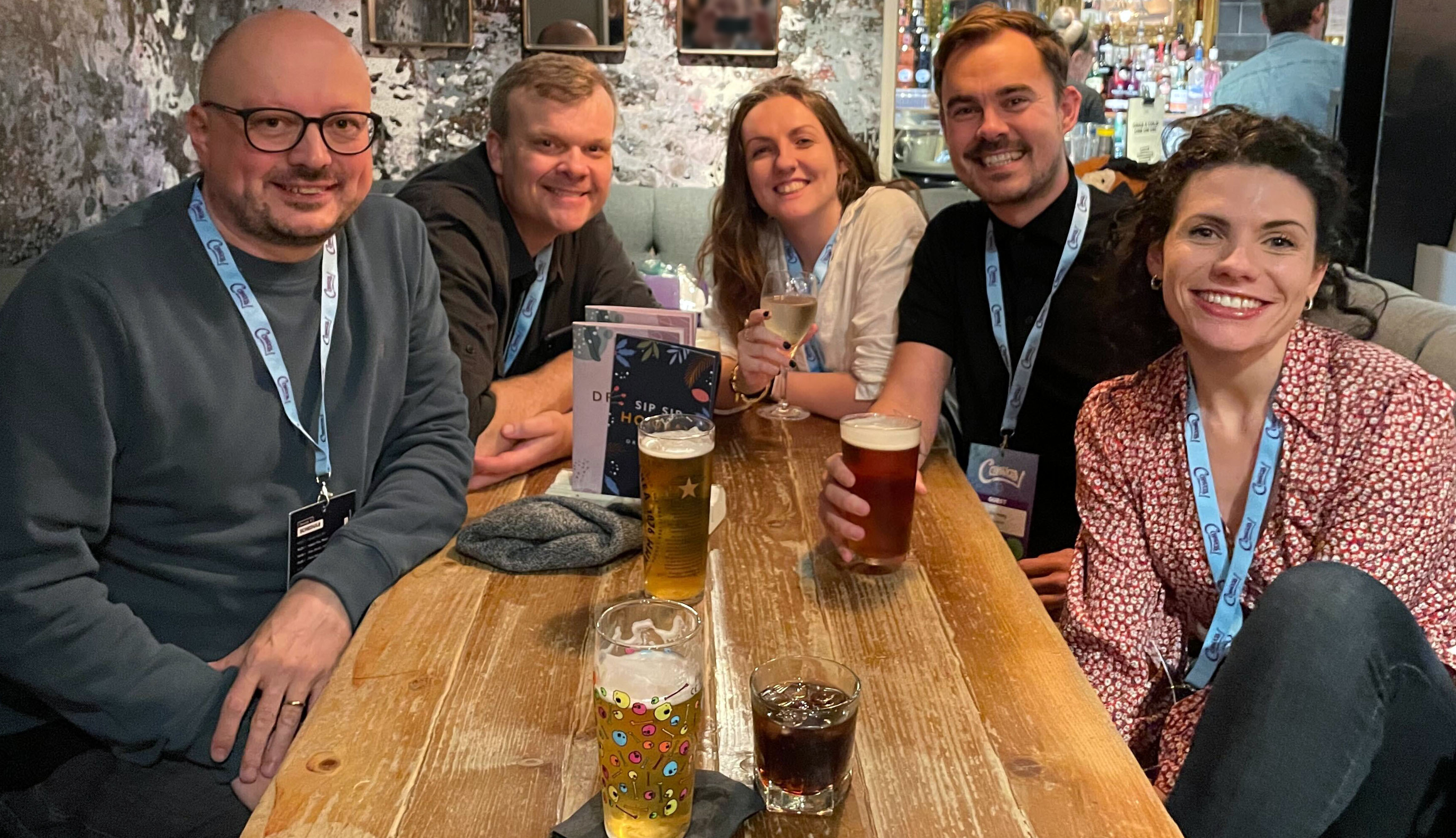 I recently ventured over to Birmingham for Canvas X — the tenth edition of a renowned digital product conference. The theme this year was centred around The Future of Product Teams. Whilst product is not my bread and butter, it's an important aspect of my role as Head of Experience Design at Cantarus. Attending the event was a great chance for me to brush up on my knowledge and learn from some industry experts working for leading brands, including Zoopla, ITV, Monzo, Lego, Gymshark and Bumble.
I've missed in-person events a lot, more than I think I even realised. Pre-pandemic I was a regular on the circuit; attending design conferences and talks was a big part of my growth as a designer and helped to feed my passion.
I'm largely an introverted person but getting out of my comfort zone and connecting with like-minded people is important for me, I always enjoy it once I get stuck in. Having been thrust into remote working for the past 18+ months, I've come to appreciate how energising it is for me to be around teammates. Attending Canvas with colleagues from London and Manchester was good for the soul. I learned a lot and was inspired to take some of those learnings into my day-to-day practice.
Having had some time to reflect on the various talks and the day as a whole, it has reinforced a long-standing belief of mine.
9/10 problems can be avoided with better communication.
I've applied this thinking to all kinds of situations over the past few years and it's something I really stand by. Whilst it may sound simple enough, time and time again things can slip between the cracks. We're all human, we're all busy, and we all want to make the best work possible. Putting in a little more time to communicate better saves a lot of time in the future. It's the best investment you can make. Did the client hate on your work for no good reason, or did you not articulate your rationale clearly enough? Did your meeting flop because people were uninterested in it, or were the attendees unprepared because the agenda gave little context? Let's look at two parts of a typical project delivery process that rely on strong and clear communication to run smoothly.
Creative Briefs
Having a creative brief in place is a vital part of any design process. Getting it right (or wrong) can make a massive difference to the success of a project, and the sanity of those involved in it. Was the brief well written? Does it contain enough information and context from the research and discovery phase, without overloading the designer with detail? Are the parameters of the project made clear within it? Ultimately, does it inspire creativity?
Get all of this right and you'll set designers up for success, empowering them to deliver amazing and memorable work that's on brand, to spec, and within budget. Get it wrong and you'll leave a lot of people frustrated, waste time and money…not a great business model.
A great way to health check your briefs is to ask for feedback on them. Some creatives tend to suffer in silence, wrestling with a briefing document that's full of holes rather than raising their hand and asking for more information. Speak with the intended audience of your brief and shape it around their needs, it's useless otherwise.
Read the full blog post here.