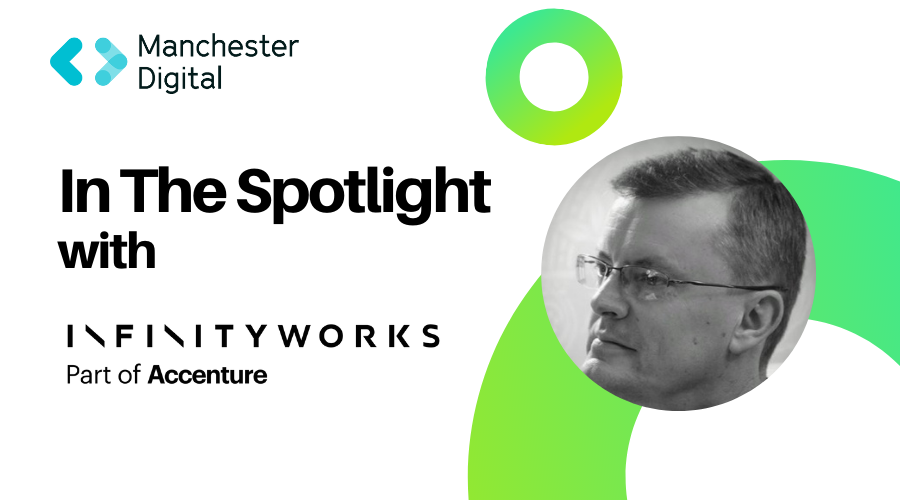 At Manchester Digital we like to interview our members to find out a bit more about what they do and their work in the Greater Manchester digital and technology sphere. This week we're speaking with Dave Postle, Operations Director at Infinity Works, one of the UK's leading digital transformation and engineering consultancies.
What does your organisation do?
Ever since Infinity Works was founded in 2014, we've used cloud-first approaches to support our customers' cloud migration journeys and enable them to digitally transform at scale and speed. Drawing on our deep roots in engineering and underpinned by our ecosystem partner relationships, we can combine upfront consulting skills and full-service technology and business capabilities.
But what makes us different from other tech consultancies? Put simply, we tell it as it is, and never let our customers feel lost in an ever-changing and complex technology landscape. To succeed we know we need the best people – but also an ethos and culture embedded in our business that can support the delivery of excellence for our customers.
We've continuously strengthened our capabilities by investing in service areas such as data, design and research, and mobile which has allowed us to enjoy some fantastic growth. Infinity Works now numbers more than 500 highly skilled people, and the Financial Times recently listed us as one of the UK's leading management consultants. Expanding from our first office in Leeds, we now operate in locations right across the UK, including our Manchester office which opened in 2017, and has grown rapidly since then to more than 100 people. During that time, we've worked with a diverse range of blue-chip clients in industries including travel, healthcare, financial services, and retail.
What do you think is currently the biggest issue facing the tech industry?
With the acceleration of the new digital revolution, the demands on technology have radically increased. Businesses want tech that is secure, agile, quick and provides tangible value; however, significant skills gaps are creating a huge problem that we're all having to deal with as best we can.
Few companies would debate the importance of talent or the difficulty that many have in attracting and keeping skilled people. The last 12 months have seen a massive surge in companies trying to up their game to deliver first-class digital services and solutions, which has led to a spike in demand for skilled people to help them do that and a consequent talent shortage across the industry.
Infinity Works' approach is not just to hire more recruiters (although we have done that!), but to invest in growing talent in the region too, through further investments in our Academy, providing trainers to non-profits like Generation which aim to bring fresh and diverse blood into the tech industry, and working with other programs like Tech Returners or tech boot camps like Northcoders. Given the rapidly changing nature of business and technology, companies will always be facing technology skills gaps. Those that are committed to closing these gaps give themselves the best chance of success in the future.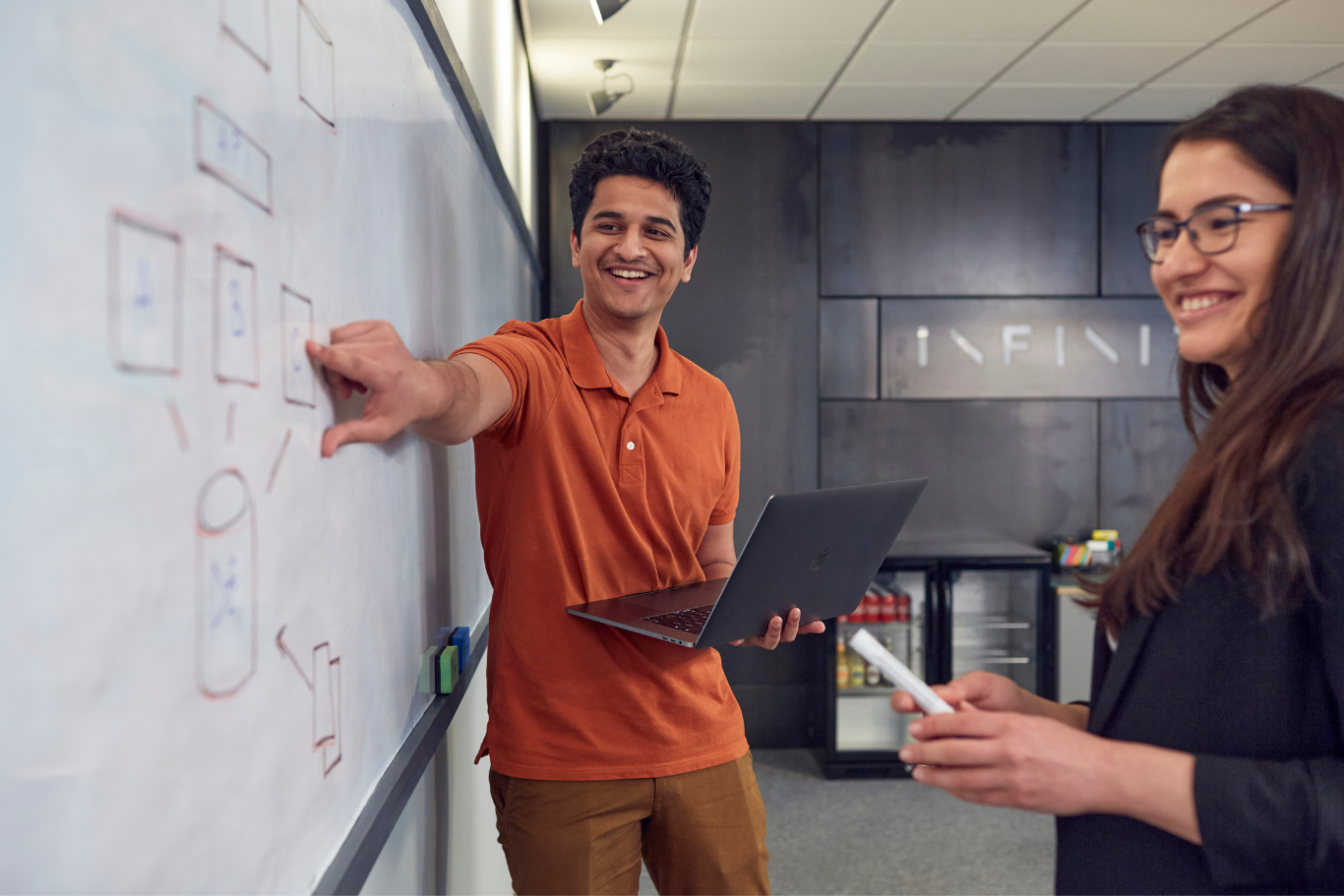 What is your organisation's biggest achievement?
I'm really proud of the work we've carried out with the NHS in the last year during its unprecedented challenge. We've helped with a broad range of programs behind the scenes, both related to Covid-19 and keeping everything else running effectively while the pressure has been on. We've helped improve collaboration across the NHS to help unlock cost efficiencies and, most importantly, improve the patient journey all while seamlessly switching to a fully remote way of working without missing a beat.
Of course, the NHS wasn't the only organisation moving to a new fully remote way of working. While Infinity Works has always supported teams to work remotely as and when needed, and when our clients are comfortable with that, it's previously been the exception rather than the norm it's become this past year. Despite the unique challenges that this presents for a large number of our team (who are not just working from home, but doing so while balancing the challenge of caring for and supporting families), we've not only maintained both the pace and quality of delivery but we've delivered more – faster.
In addition to that, I'd also point to the rapid growth of Infinity Works during the last few years in scaling quickly and effectively, winning awards such as the Snowflake SI Partner of the Year and being recognised at the Northern Tech Awards along the way. The culmination of this was being acquired by Accenture in February this year.
What would you consider to be your organisation's biggest challenge?
The obvious one to highlight, since it relates to any business that's been acquired, would be around retaining our culture and people focus as we continue to grow. We work hard on our company culture, developing fully engaged employees, and fostering a desire to learn, share ideas, and improve processes and skills.
This is an area that we've always spent a lot of time thinking about and implementing habits and practices to deal with, but can never afford to take for granted. It's even more important now having grown the business by more than 50% during the last 18 months because many people haven't yet met any of their colleagues face to face.
I do think that there is a real opportunity here to combine the scale and industry expertise of Accenture with the unique culture and ways of working of Infinity Works.

What do you think the future looks like for Manchester's tech sector?
Manchester has sometimes been considered second best to London, but the city has transformed over the years. It's now an innovative and collaborative region that, when combined with the infrastructure and dynamic ecosystem that already exists, has huge potential and a bright future ahead.
The region has a thriving tech community and it's important for Infinity Works that we're an integral part of that. Every week I read about another company opening or expanding their presence in the city, from SMEs to tech unicorns and e-commerce giants. There's a real buzz right now about the opportunities and the growing diverse range of options open to people to work in different areas of the tech sector – both in the public and private sectors and in virtually every industry.
In addition, investment in universities, apprenticeship programmes, and learning and development opportunities are second to none in Manchester. These are so important for gearing up a workforce of the future that we'll need to power the industry.
Tell us something that we might not know about your company?
There's probably a lot of speculation about what it's like to be a consultant and many people have a preconceived view about consultancy life, but I'll try and share some insight about what it's really like at Infinity Works.
Technology is evolving so quickly that even if you're a specialist in one area or tech stack, it could become obsolete very quickly! At Infinity Works we have a flat structure that encourages our people to make decisions and to deliver, which ultimately cuts out the red tape. As a result, our consultants are empowered to become specialists at delivering projects that achieve our customers' goals, using whichever technology best fits their requirements. They're accelerated into becoming multi-specialists who can bring a range of problem-solving and project delivery skills to the table to help customers, whatever their issue or challenge.
The great thing about Infinity Works is that we're passionate about our people and support them in carving out unique career paths based on their individual ambitions. We believe that reflecting the diversity of the communities we work in will help us become the best partner for our customers.
Thank you Dave!
To find out more about Infinity Works, click here.
Want to raise your business's profile? If you're a member, contact thom@manchesterdigital.com to discuss featuring your content on our site, social media or newsletter. If you're not a member, get in touch today to discuss the benefits of membership.