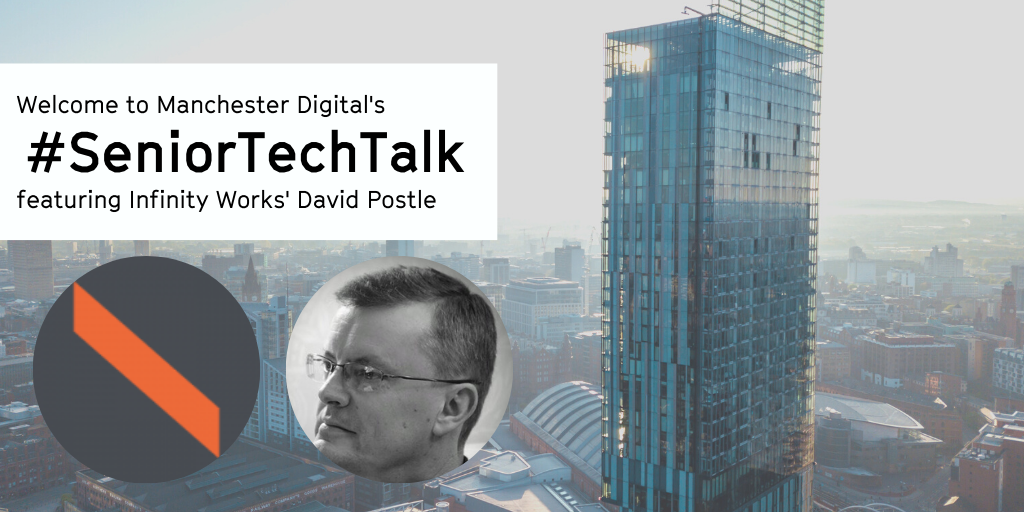 Infinity Works is one of the UK's leading digital transformation and engineering consultancies. From tier-one retail, and in some of the largest digital-led projects in national government, Infinity Works enables the country's most recognised brands to digitally transform.
We caught up with David Postle, Operations Director for Manchester, to find out more about Infinity Works and how 2020 shaped up for the business in our latest edition of #MDSeniorTechTalk.
Could you please tell us a little bit more about Infinity Works and your goals as a business?
Infinity Works was founded in 2014 when a few heads of technology at Sky Bet got together and decided to take their shared learnings of running agile transformation programmes and help other businesses facing similar challenges. It was initially created as an agile adoption consultancy that offered advice and guidance to organisations in Leeds.
As is often the case with a new business, things didn't quite go to plan straight away. One of the first organisations that responded to what we could help with was the NHS. Despite saying it needed help with digital transformation and agile ways of working, the NHS first asked us to solve an engineering problem. So, from the very first engagement, there was a combination of both hands-on engineering and ways-of-working transformation to deliver a solution.
Since then, there's been a strong engineering theme throughout the projects we've worked on, and lots of work where we've helped organisations iterate and adopt more agile ways of working. The ultimate goal of our work is to deliver business value outcomes. It's about helping customers become more product-oriented and look at ways to improve and refine their product over its lifecycle.
All of these projects are digital transformation programmes. Customers come to us and say "we need a new system", but what they actually need is a system for producing new systems. We talk about unlocking the value of the next Industrial Revolution and what we mean is we help organisations get closer to best-in-class digital service delivery and digital customer experiences.
And can you explain your role within the organisation?
I joined Infinity Works three years ago as one of the first permanent employees in our Manchester practice, tasked with helping establish and then grow the business in the region.
I led the charge on a lot of the hiring, customer interviews, and strategy decisions that we've taken along the way, and now I'm part of a three-person leadership team in Manchester which is responsible for the success of the business in the region.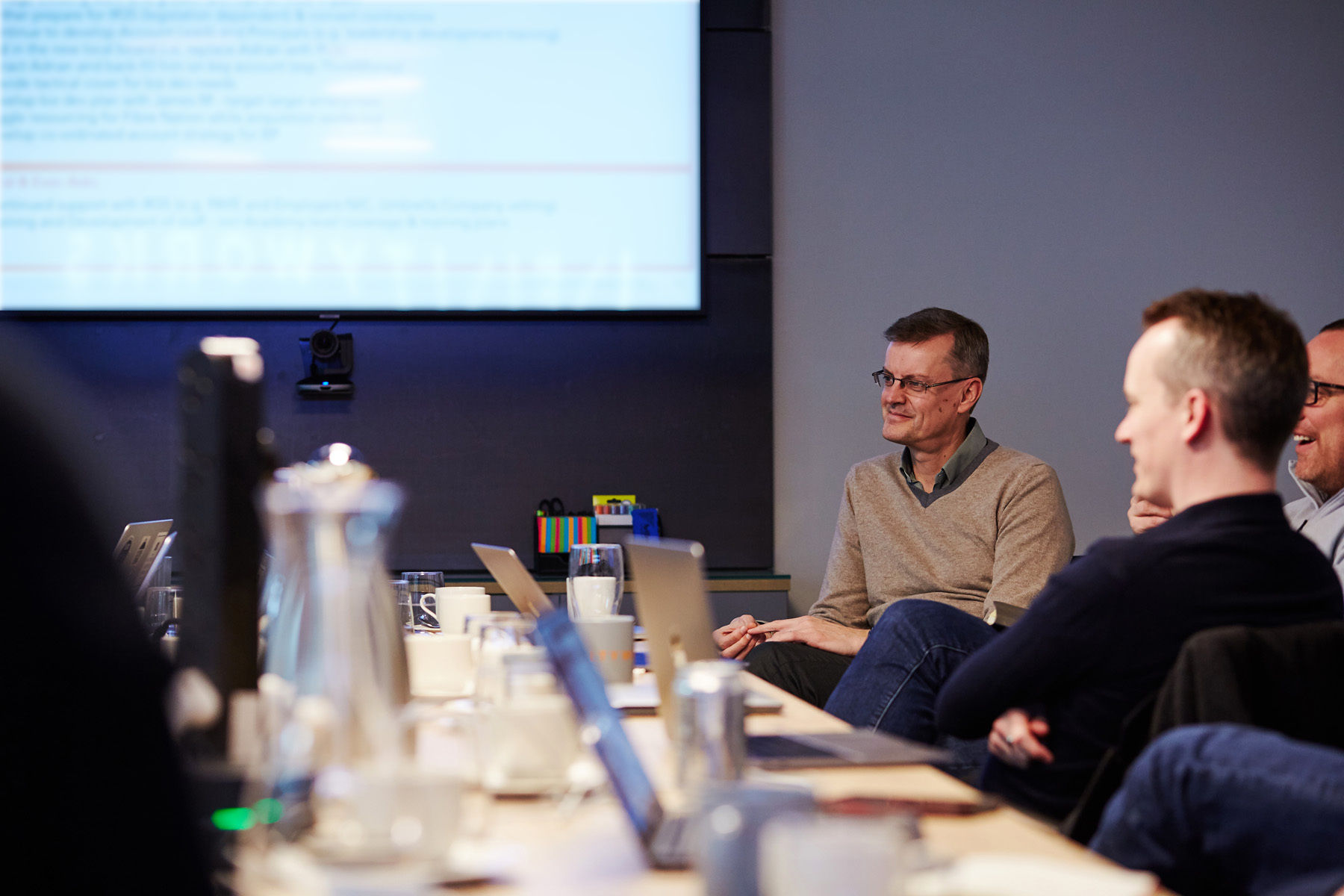 There's been a lot of conversations around how the coronavirus pandemic has led to a heightened importance of digital transformations. How different did 2020 look for Infinity Works compared to what you expected of the year, and what do you think will be the lasting impact of the pandemic in this regard?
Last year clearly panned out very differently to what we originally expected!
As a people-focused company, we're proud of our ability to immerse ourselves into our customers' organisations, working as an extension of their teams to help solve their challenges. But, like every other business, we suddenly found ourselves in uncharted territory last year and had to respond to a challenge that no-one anticipated. The pandemic forced us to make radical changes, almost overnight, to the way we both worked with and supported customers which were depending upon us.
Our customers have reacted in different ways to coronavirus pandemic. We were lucky that we didn't have massive exposure to some of the sectors that have been worst hit by the pandemic, but nonetheless, we did still see some customers decide to delay projects, engagements and spend while they waited to see how it all panned out.
But for all of the customers which delayed projects, there were many others which took a slightly braver view of what's been happening and saw it as an opportunity to invest and get ahead of their competition. We've started several new engagements during the pandemic with organisations that want to modernise and accelerate their transformation projects.
Lockdown has definitely accelerated the shift to remote working and businesses have had to adopt a hybrid way of working. We've certainly come across a few sacred cows that some people believed were inviolable beforehand, and they've really had to put all that behind them and figure out a way to make working remotely work.
In terms of the impact on our business, we're very proud of the fact that we haven't had to furlough anyone or lay anyone off; in fact, we've been able to continue hiring and strengthening our teams.
I think that brings us to the question of culture in the age of remote working. What is Infinity Works' approach to maintaining or building a culture in the current climate?
It's a good question and one that we spend quite a lot of time thinking about. Ultimately, it's a competitive environment in Manchester and people have lots of options that they could choose in terms of where they work. We constantly challenge ourselves and ask: why would they choose to come work at Infinity Works?
I think our culture is a major factor in that choice. When working for a consultancy, you tend to find that you get exposure to a variety of different customers, which are often in different industries, and have very different problems to solve. So for the kind of people who get bored after they've been working on the same project for six months, we can confidently tell them that we can give them a new challenge. I think variety is one of the reasons why people choose to work for a consultancy as opposed to an end-user organisation; there's always a series of fresh challenges and something new to learn, and this informs our culture.
We also do a lot of things around communities of practice, such as 'lunch and learn' sessions where we share knowledge and war stories of what's worked and what hasn't, as well as running a series of internal conferences. So there's a lot of knowledge sharing across the company as people are always thirsty to improve, learn and develop. But continuous learning isn't just limited to internal events; we do quite a lot of work with the broader tech communities by running our own meetups as well as sending speakers along to other tech events – most of which have been virtual.
Continuous learning is a really important part of our culture, but we've also focussed on looking after the health and wellbeing of our people during these challenging times. From sending 'boredom buster' packages – including food hampers, online subscriptions or new outdoor clothing – to our people on a regular basis, to setting up virtual social events, we've tried to ensure our people feel connected despite being so far apart.
What can people expect when they engage Infinity Works, and is there anything that sets you apart?
One of the things that I would highlight again is our culture, but it's about making sure we share it with our customers. We believe that organisations don't just come to us because they want us to build something for them before walking away and leaving them to look after it. It's all about transferring our ways of working and some of those cultural aspects as well. We try to take customers on a journey by enthusing and driving passion within their tech teams when we start an engagement.
But more than that, we also try really hard not to adopt a one-size-fits-all, rigid methodology or fixed approach. What we try and do instead is adapt our approach and tailor what we do to suit the circumstances and the context or needs of that particular customer. Every organisation starts its journey from a slightly different point, so we try to make sure that we tailor our approach to where customers are now and where they want to get to.
We're also very passionate about delivery at Infinity Works. Consultancies will often say that they can do x, y and z, but then when it comes to delivering, projects will run either over budget or aren't delivered on time. Our approach is to hire technically excellent people who can deliver on the promises we make to our customers.
You've mentioned that you are continuously growing your Manchester team. What steps do you take as an organisation to attract and retain top talent?
Beyond the traditional methods that everybody uses to attract talent, we've used a few more non-traditional sources in the past. We've engaged with local coding boot camps, places such as Northcoders and Code Nation, and we've also hired people through courses like Tech Returners, which helps people back into the tech world after a career break.
Early last year, we partnered with youth employment charity, Generation, helping people who are either unemployed or come from an underprivileged background start a career in tech. We've just seen the first cohort from Manchester graduate from the free data engineering programme this month. Not only do we provide instructors and the technical content to help support the programme, but we'll also look to hire some of the graduates.
When it comes to retention, ensuring our people have interesting work to do, have the right support, and are given opportunities to develop is key – it's about feeding their desire for continuous learning.
We also take a somewhat non-traditional approach to line management at Infinity Works. We have an advocacy model where everyone is paired up with someone who will act as a career advocate. An advocate's responsibility is to understand someone's career goals and then advise, help and guide them to help achieve them while they are here.
How important is being part of Manchester's digital community to Infinity Works? And are there any ways your organisation contributes to the digital tech ecosystem?
I think it's really important for us to be part of the local digital community in Manchester. Our people see engaging with the community as a great way to showcase their skills and support their career development. As I mentioned previously, we organise and run our own meetups, but we also look to send speakers to other events to share our knowledge and expertise.
We want to be active participants within the community as it's a great way for our people to develop their skills. As a consultancy, we prize communication skills quite highly. Helping someone express themselves effectively and to talk passionately about a topic is a great skill for someone to have. But it's also valuable for us to learn from others about how they are tackling problems and what good looks like to different organisations. It's important that we absorb good practices and habits to continuously advance our own thinking.
We also like to get involved in sponsoring digital conferences and events. In the past, we've sponsored events such as the AWS Community Summit in Manchester a few times, and done things with Manchester Digital as well.
Finally, as we arrive in 2021 what are your hopes for the year ahead?
Ideally, our plans will remain relatively consistent this year and not have to be completely torn up and rewritten partway through!
Throughout 2021, we'll continue to grow our team in Manchester by hiring technically excellent people who develop our thinking which, in turn, will result in better service for our customers. We are always looking to speak to people who are passionate about using tech to solve complex business challenges and have a range of roles available.
Personally, I hope that people don't forget about some of the enforced learnings from the pandemic or, worse still, revert back to the old ways of thinking and doing things.
In the not too distant future, I hope we'll all be able to freely go into the workplace to enjoy face-to-face interactions, rather than seeing going into the office as a chore as we may have done previously. We are soon going to be moving offices, so we'll use the learnings from last year to reimagine what we want from an office space. It's important we think about how we give our people the flexibility they desire, but also create an environment that supports collaboration when they do want to come in.
Thank you David!
Want to raise your company's profile?
If your company would like to feature on our website, across our social media and in our newsletter, contact thom@manchesterdigital.com for more information.