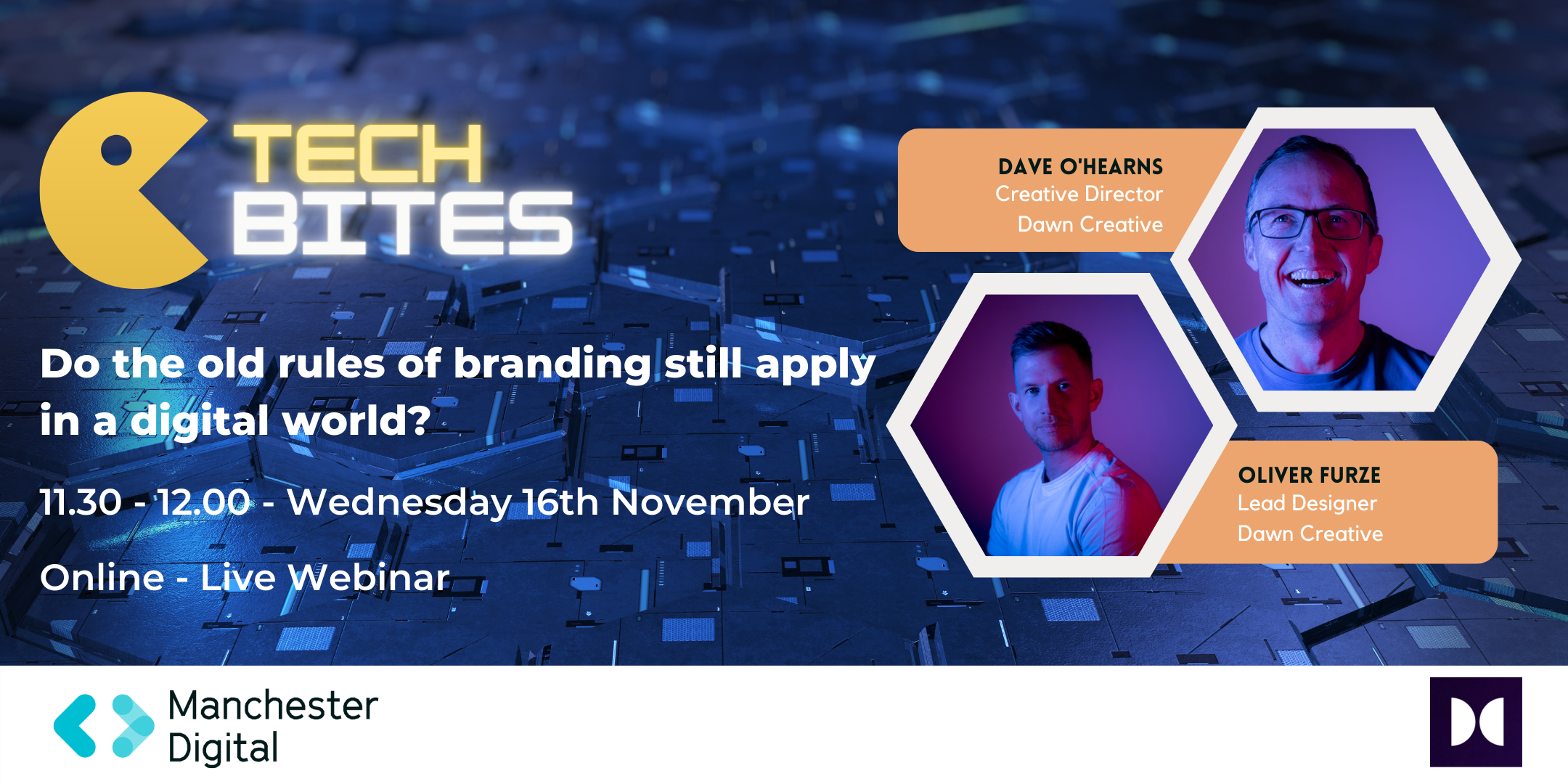 Tech Bites: Do the old rules of branding still apply in a digital world?
Manchester Digital were delighted to host an online webinar with David O'Hearns and Oliver Furze; Creative Director and Lead Designer at Dawn Creative focusing on the question: Do the old rules of branding still apply in a digital world? The 20 minute session discussed how today's technology shapes how we perceive brands and what the new 'rules' are in a digital world.
You can watch the below key takeaways.
1. We're living in a digital world
We should now optimise our brands for online platforms by making RGB the norm, rather than CMYK. Then, celebrate colours in their own right for print or if you need a pantone colour, rather than trying to squeezing a vibrant RGB colour into another space.
2. Out with the old, in with the new!
The old rules don't apply anymore in terms of exclusion zones for logos. There are times when your logo needs to be adapted to the place it appears, and break the rules for a while. It shouldn't be shoehorned into spaces where it doesn't fit.
3.Don't be afraid to move
Animation gives your brand the opportunity to animate your logo and transition it from the larger version of the logo to a smaller icon. Disney, Coca Cola, Chanel and many other brands have adapted and simplified their logos to a version which fits better in smaller spaces.
4. Digital branding
We are no longer in a time where your logo and brand has to stay still. It can have multiple static states depending on where it appears. There is no reason why type logos, and your brand in general can't be constantly moving and making the most of the visual opportunity there is in the digital landscape we're living in.
If your brand needs to be challenged to fit into the modern world, get in touch with Dawn Creative at marcus@dawncreative.co.uk and we'll bring it to life.