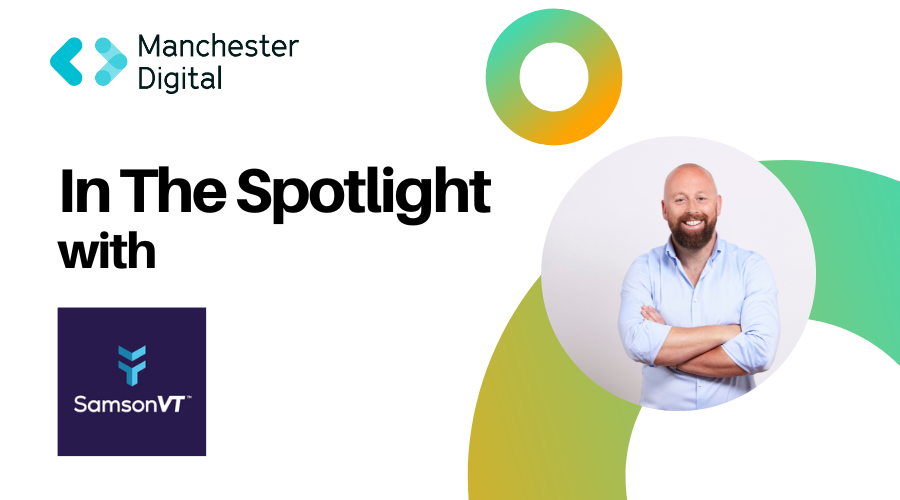 At Manchester Digital we like to interview our members to find out a bit more about what they do and their work in the Greater Manchester digital and technology sphere. This week we're speaking with Sam Burgess, Co-Founder and CEO of SamsonVT.
What does your organisation do?
SamsonVT is helping manufacturers to transform product aftersales and machine maintenance, a $400bn market, with the assistance of Industry 4.0 technology. Through the use of innovative, emerging technologies - including immersive 3D modelling and machine learning - SamsonVT is pioneering solutions that are helping OEMs to overcome the challenges they encounter when managing the life cycle of equipment on a global scale.
One product, Partful, is replacing 2D repair manuals and parts catalogues with interactive 3D models. This is providing engineers with unique 360° views of products and individual parts, which are far easier to work with compared to static PDFs.
Engineers can use the "digital twin" to pull machines apart and gather information on individual components, including their specification, part number, current stock availability, and so on. When integrated with an e-commerce platform, engineers can then order replacement parts through the platform. They can also see how everything is reassembled and utilise SamsonVT's second product Workflo - a set of animated work instructions within the platform - to support with on-the-job training.
SamsonVT is also providing manufacturing and engineering firms with the insights they need to eliminate costly machine downtime through its condition monitoring and predictive maintenance solution. This technology can identify when operating data for individual assets indicates that a machine is healthy, and when there are anomalies. This enables companies to inspect components and remedy any faults before failures occur.
What do you think is currently the biggest issue facing the tech industry?
With the current financial climate, the tech industry is sure to see some hesitation towards adoption from businesses who must make smarter budget choices. Although the initial cost of new technologies may seem daunting, it's the longer term return on investment that will enable companies to reach sustainability, productivity and financial goals - and outlast their competitors.
What is your organisation's biggest achievement?
We've grown our customer base to include multi-nationals such as Lotus and RS Components, securing millions in investment along the way, but our biggest achievement to date has to be our growth from 3 to 24 employees during the pandemic. Not only navigating the regular challenges a tech SME faces, we had the additional obstacle of creating a team of experts in aftersales, 3D and industry 4.0 technology - all online! By the time we were able to come back to the office we were at 24 employees that had never met face to face, and yet we still managed to build a motivating and rewarding work culture, while delivering on complex projects.
What would you consider to be your organisation's biggest challenge?
As innovators, bringing a new way of working to an industry underserved since its origin has been, and will continue to be, tough - especially when speaking to organisations who may have faced barriers previously or are unsure of the benefits industry 4.0 brings. On the flip side, it's also incredibly satisfying when they realise there's a simpler, more effective way to reach business goals and start getting excited about the potential of the technology.
What do you think the future looks like for Manchester's tech sector?
Manchester has quickly become a growing tech-hub with lots of talent coming from the local universities. Many tech start-ups are also starting to make their home in Manchester, prompted by funding in the region. The future of Manchester's tech sector is bright and we're proud to have been right here in the Northern Quarter from the start!
Tell us something that we might not know about your company?
The name 'SamsonVT' comes from co-founder Ed Brunyee's youth, spending time on his family's boat in Cornwall. A 'Samson', is in fact a strong pillar fixed to a ship's deck to act as a support for other equipment. In the same way, SamsonVT was created to be the central point of access connecting the aftersales supply chain in a way never done before.
Thank you Sam!
To find out more about SamsonVT, click here.
Want to raise your business's profile? If you're a member, contact thom@manchesterdigital.com to discuss featuring your content on our site, social media or newsletter. If you're not a member, get in touch today to discuss the benefits of membership.