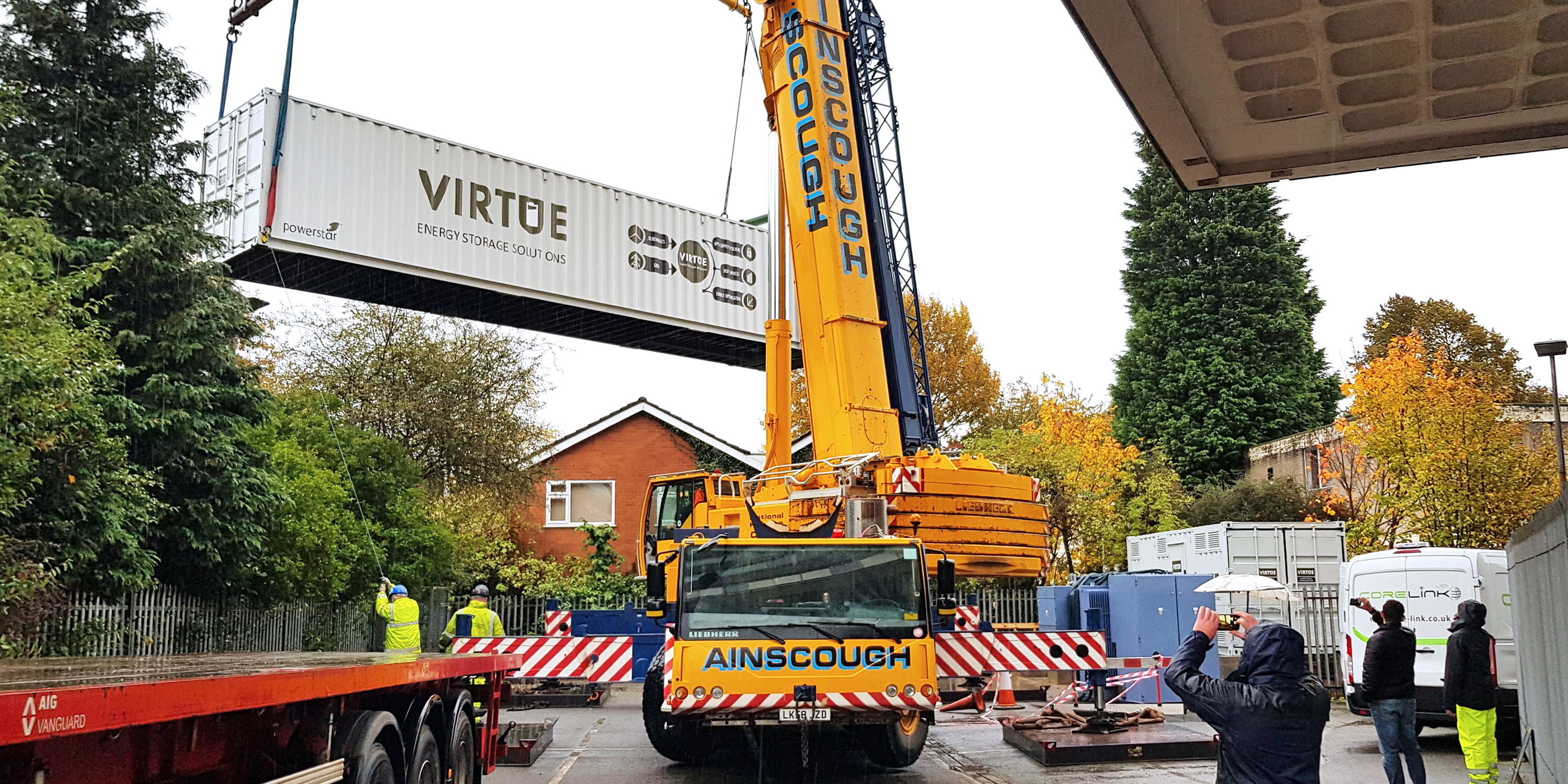 Manchester data centre operator Teledata, has reported a 551 tonne annual carbon saving following a £1.5 Million investment into energy efficiency projects. Working closely with the Manchester Business Growth Hub, the Wythenshawe based data centre operator has intelligently reduced carbon emissions in a range of areas, including energy storage and cooling consumption.
In a project described as an industry first, the Wythenshawe based colocation and cloud provider implemented a shipping container-sized battery storage system to enhance energy efficiencies at its facility. The system utilises a solution which enables the firm to store electricity from the national grid at times of low demand and then discharge it during the most beneficial periods. This stored energy also acts as a reserve during peak tariff times. The system offers integrated variable voltage optimisation to deliver a stabilised voltage, thus boosting the resilience of the facility by improving the shelf life of equipment. It also reduces unnecessary energy waste and optimises the incoming power supply.

Teledata is the only colocation provider in the UK to have implemented these technologies. The project attracted some interest from big industry players, including a well known Silicon Valley based social media giant who has since become a client after Teledata carried out a private build for the company, which had a large requirement with demanding specifications.
Teledata has also implemented a range of other measures including highly intelligent control systems; cold aisle containment; under-floor cold air channeling to minimise wastage; variable fans within condenser units; free air cooling systems; office space air conditioning controls to minimise wastage out of hours; highly efficient cooling pumps; cold aisle blanking throughout the data centres and the controlled raising of temperatures in the cold and warm aisles. Teledata also has power metered at every board and office in the building.
Overall, these measures have reduced the firm's annual CO2 output by 551 tonnes per year, and the firm has achieved 19% greater efficiency on power usage efficiency since implementing the project.

Matt Edgley, Director for Teledata commented: "It is our mission to provide a sustainable and resilient service to our customers, mitigating against future cost increases to future proof in a turbulent marketplace, while reducing CO2 levels in line with government targets.

"We would like to thank Business Growth Hub for their support on this project. We are continuing to work with them, and the next steps include looking at potential carbon savings through intelligent systems with machine learning, AI and automated control."

In December 2020 Teledata was awarded the title of Data Centre Energy Efficiency Project of the Year at the prestigious DCS (Data Centre Solutions) awards.