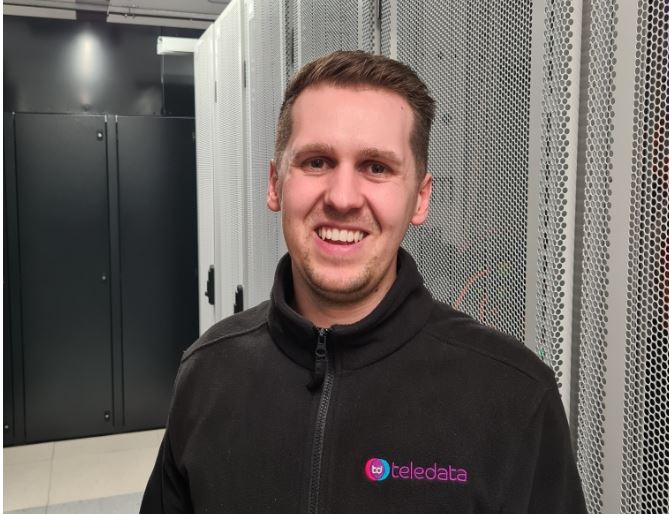 Manchester cloud hosting and data centre operator Teledata, has strengthened its technical team with the appointment of Rob Wickens as Infrastructure Engineer. The new hire comes after the company announced growth figures of 20% during 2020, with a 58% increase in its cloud customer base.
Rob joins Teledata following a 10 year stint at Stagecoach where he worked across technical support, networking, and telecoms teams, providing 2nd and 3rd line support to customers. At Teledata, Rob's focus will be on the firm's cloud service environments.
Teledata launched a new private cloud platform and a private virtual desktop cloud solution in early 2020 to complement its active-active cloud hosting platform.
Matt Edgley, director for Teledata commented; "As we continue to grow our cloud product set, it is necessary to expand our cloud team to ensure that we can continue, not only to provide our customers with the level of support and service that they expect - and beyond, but also that we have the resources to continue to innovate and develop our cloud infrastructures and products. We welcome Rob to the team, and are looking forward to seeing his career develop at Teledata."
Commenting on his new role, Rob added; "Working with the latest emerging technologies has always been a passion of mine, and my role in Teledata's cloud team will put me at the forefront of that. 2020 was an exciting year for the team here, with new product launches, investment into expansion, resilience and energy efficiency projects making this a truly exciting time to be joining the business, and I can't wait to get stuck to the upcoming cloud projects we have planned."
Founded in 2005, Teledata provides colocation, cloud hosting, workplace recovery and data centre services to businesses across the UK from an ISO27001-compliant facility in Manchester. The firm's solutions are designed to enable organisations to protect their applications, data and online presence from the damaging effects of downtime, and to make the most effective and efficient use of technology with secure and scalable hosting platforms tailored to business critical needs. The building has some of the most sophisticated security of any data centre in Europe, with an on-site police-linked, NSI Gold Approved, BS5979 certified control room and alarm receiving centre making Teledata unique in the UK.
For more information, visit www.teledata.co.uk