30 November 2021 14:00 - 14:45
How our experience design team is evolving its practice to influence business strategy and organisational change.
A two-part webinar series that journeys through our approach to Service Thinking and will cover:
How we're evolving our design practice to influence business strategy and organisational change.

Methods and frameworks we use to deliver Service Thinking work, and examples of the types of programmes we have done.
Why Service Thinking?
Over the past few years, we have seen a huge shift in our partner and client needs – from designing digital journeys and user experiences to enabling organisations to deliver a service.
Because of this, we're evolving and developing our practice to define what service design means at Code. With a clear focus on putting users at the heart of what we do, we can use design thinking principles to solve wider business and organisational problems.
Meet the speakers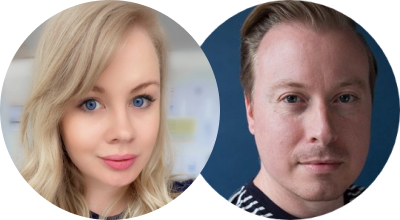 Jess Sherratt, Head of User Experience
Jess helps organisations to improve their products and services by uncovering user needs and business challenges, specialising in utilising a mixed methods research approach, and innovating on research methods and analysis.
Colin Preston, Head of Design
With 20 years of experience in the design industry, Colin helps organisations to design effective products and services, specialising in product design, UX leadership, innovation processes and research.
About Product Love
Product Love is an exciting series of events for digital product people, and anyone curious about product principles.
With talks and workshops from experts at Code Computerlove and the wider product community, Product Love is a welcoming space to learn, connect and advance your craft.
Whether you're a passionate product practitioner, or you're just looking to evolve how you work, Product Love is (almost) all you need.
Free
30 November 2021
14:00 - 14:45
Online