Rainy City Agency
6 October 2022 18:30 - 21:30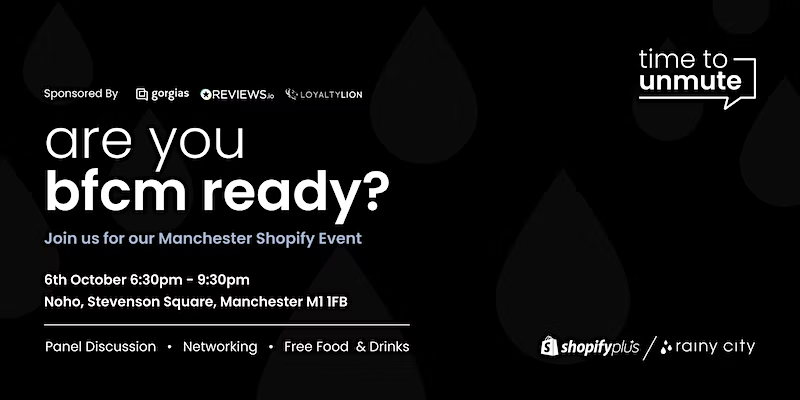 Join us as we wave goodbye to Zoom and unmute for our FREE BFCM Shopify Event in Manchester. You don't want to miss out on this...
About this event
Why Join Us?
Join us as we host our FREE BFCM Shopify event in Manchester 🥂
As we move closer to BFCM, we'll be bringing together some of the most innovative and creative minds within e-commerce. We'll be hosting a AMA Panel discussion around the holiday season with some of Shopify's top brands on how to leverage your Shopify site and marketing strategy. We have some of our tech partners presenting how you can use their technology to amplify your holiday sales and the insider scoop from Shopify themselves.
Along with our sponsors we'll be providing complimentary drinks, food, networking and a whole lot of fun.
Tickets are limited, register now and secure your spot.
Who's Coming?
- Gorgias
- REVIEWS.io
- Loyalty Lion
- Rainy City
- Shopify Plus
- Cake Agency
- Ivy Nixon Jewellery
- Refy
- Cernucci
Who Is This Event For?
We're calling all Shopify and Shopify Plus merchants based in Manchester and surrounding areas - and further afield if you can make it - to join us and our tech partners for a free evening of informative chats, networking galore and a panel discussion with some top Shopify brands.
This is an excellent opportunity for merchants to get insider knowledge, next-level strategies and connect with other brand owners. We'll look at the challenges of moving into the Q4 sales quarter and what to do to prep your site and marketing to have the biggest sales season yet!
What's The Setup?
- Drinks & Networking
- Panel Discussion with AMA
- Lightening Chats From Our Tech Partners & Sponsors
- Quick Break for Food & Drinks
- Presentation by Shopify
- Food, Drinks & Networking
Meet Rainy City Agency
Manchester's Shopify Plus Agency Rainy City doesn't just design beautiful sites. They create online experiences that your customers love, so they keep coming back again and again.
Rainy City is a Shopify Plus design and development agency, helping the world's leading e-commerce brands scale on Shopify on Shopify Plus.
Founded by Rebecca Worsley after seeing success with her own Shopify store, Rebecca has championed a female-led agency, bringing in some of the best female talents within the e-commerce industry.
Working with some of the world's top brands from Health & Beauty to Fashion & Accessories design and build websites that convert.
Free
6 October 2022
18:30 - 21:30