Joel Timmins
0161 504 3885
marketing@accesspay.com
Address
18th floor, City Tower
New York Street
Manchester
Manchester
M1 4BT
Hi we're AccessPay, one of the fastest growing FinTech companies outside of London 👋
Our team is motivated by the belief that businesses are underserved by their banks.
That's why we have built and developed secure digital connections between thousands of banks, payment schemes and back office systems worldwide.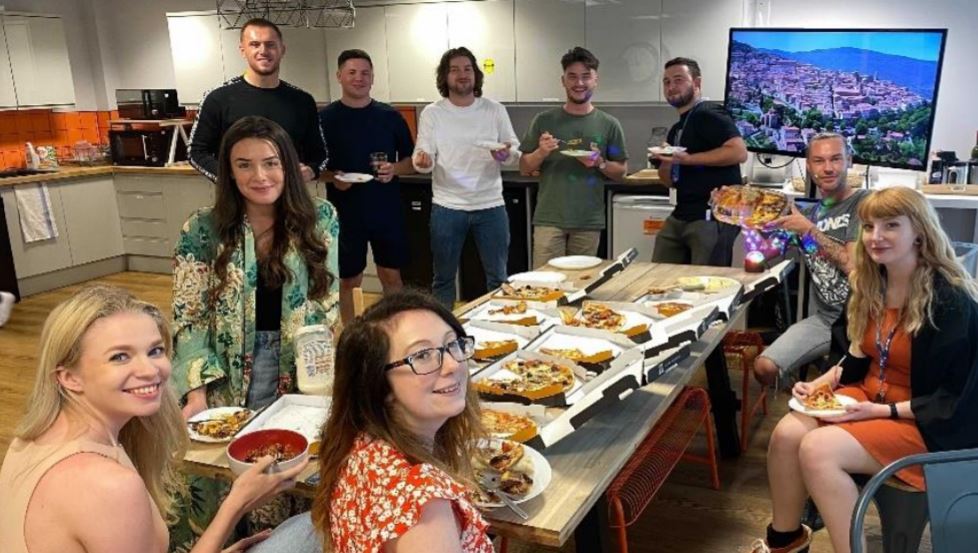 The AccessPay team enjoy free pizza in the office
Thinking outside the box is something we relish; there are no bad ideas here. We've got a flat structure with no silos and, most importantly, no big egos. AccessPay people get stuff done.
As a trusted financial software provider we help hundreds of corporate clients transform their finance function including: Imperial College London, ITV, NSG, and the AA and that's all down to our exceptional, motivated, people.
AccessPay is based at the heart of Manchester city centre with a vibrant, flexible, working culture and ambitious growth plans.
Embedded Corporate Banking - Welcome to The 4th Wave:
Retail banking has evolved dramatically over the years. Embedded finance is now part of our everyday lives; from ordering and paying for a taxi through an app, to being able to view our spend and transfer money as easily as sending a text message.
Consumers have already experienced 4 waves of banking: starting in-branch, we moved to telephone banking and internet banking, before finally arriving at the embedded experience we have today.
But corporate banking hasn't caught up yet, we're still stuck in the 3rd wave. Why? Because corporate banking is complex, it makes innovation much harder compared to modern retail banking.
Businesses are evolving fast, and access to banking services needs to adapt with them to continue meeting their needs.
AccessPay is leading the 4th wave of corporate banking, democratising access to financial services for businesses. We empower finance and treasury teams with access to technology that takes the complexity out of business banking; giving corporates the same experiences that we as consumers have come to expect in our day-to-day lives.
Help us write the next chapter in the AccessPay story.
Our clients work in...