BankiFi Technology Limited
Mark Hartley
info@bankifi.com
Address
Beehive Mill
Jersey Street
Manchester
Manchester
M4 6JG

Putting banks at the heart of business
BankiFi is a technology platform designed to make business banking better, enabling banks to provide a set of integrated services - accounting, invoicing and payments - designed around the processes your customers use to run their business. We equip banks to become customer centric, rather than product centric - increasing your revenues and reducing costs while allowing your business customers to thrive.
The BankiFi team has been involved in cash management and payments for a long time, so our passion to create a business banking experience that reflects the full potential and promise of open banking was evident. Combining the needs of business owners around accounting, invoicing, payments and banking from one platform: the bank.
About us
The BankiFi experience is based on our own - so we build solutions that businesses can take advantage of - through the banks. Why through the bank? Because there are banks 'that get it', they see the opportunity in open banking and they know they have underserved the segment. We might not always love them – we trust them – still.
How we're helping banks
Our platform reimagines a bank's relationship with business customers. No longer is it simply about offering products. Instead, we embed banks within their customers' daily workflows. Whether it's 'order to cash' or 'procure to pay', we make you part of an organisation's core processes.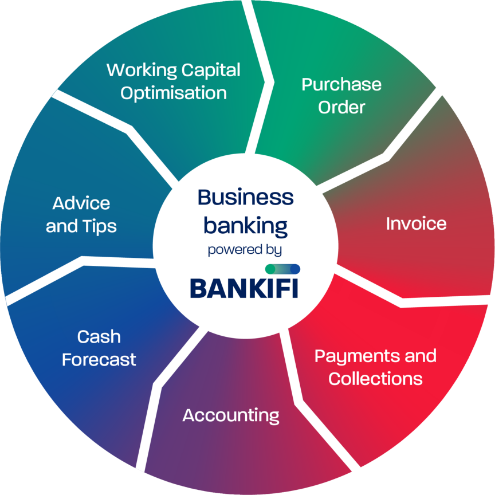 Deployment options
We have a range of options to suit every bank.
On-premise or software-as-a-service: run the platform in your own data centre or let us manage it for you in the private or public cloud of your choice.
White labelled or co-branded: you can build your own customer experience on top of our business microservices or take our ready made solution and white label it as your own.
Our regulatory license or yours: as we are a regulated payment institution you can also leverage our regulatory licence and at the same time utilise our end-to-end technology - meaning no technology build or integration so your service can be up and running in the shortest possible time.
Ready to start a conversation and learn more?
Our clients work in...