Home Office Digital, Data and Technology
Daniel Wilson
daniel.wilson@digital.homeoffice.gov.uk

What's New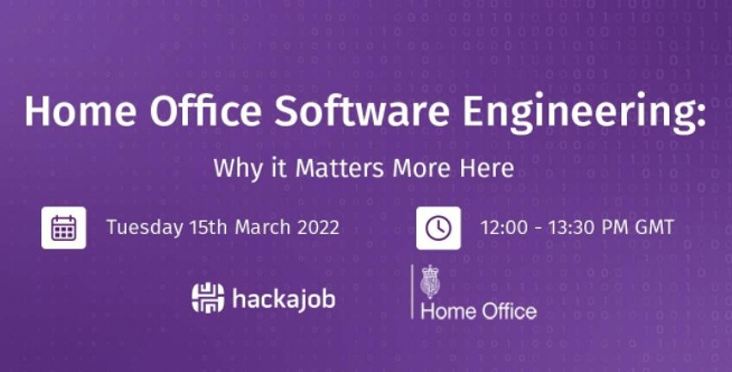 All are welcome to join us in this Home Office Software Engineering event, hosted by Hackajob on 15 March 12:00pm. With International Women's Day approaching - we wanted you to hear from some of our amazing female software engineers within the Home Office. They'll talk about their career journeys and cover topics including how to become a successful leader in tech. We'll also share information about our recruitment process and the roles on offer. And of course…. you can ask us questions! Sign up now to secure your place.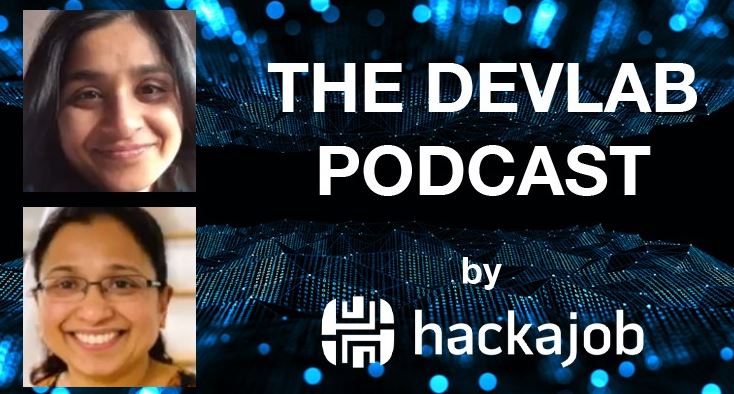 Hear from two members of our amazing Software Engineering team in this podcast, talking about their work on a platform for law enforcement teams and partners to share and access intelligence information. You'll also hear about Sumitra and Anu's journeys into working in technology, as well as their thoughts on encouraging more women and girls to join the industry.
Also, in this lastest blog hear how writing code at the Home Office can potentially save lives.
-----------------------------------------------------------------------------------------------
The Home Office
The Home Office is the lead government department for immigration and passports, drugs policy, crime, fire, counter-terrorism and police. Every day, our work delivers outcomes for UK citizens, providing them with the means to travel the world, tackling illegal migration and removing foreign national offenders, disrupting terrorist attacks and organised criminal groups, stopping people from becoming victims of crime and supporting those who require asylum and safeguarding.
To achieve all this, we rely on talented people with a wide range of skills. This includes digital, data and technology skills, where we are seeking to increase our civil service recruitment and have plans to recruit significant numbers in Manchester.
Learn more about our work and organisation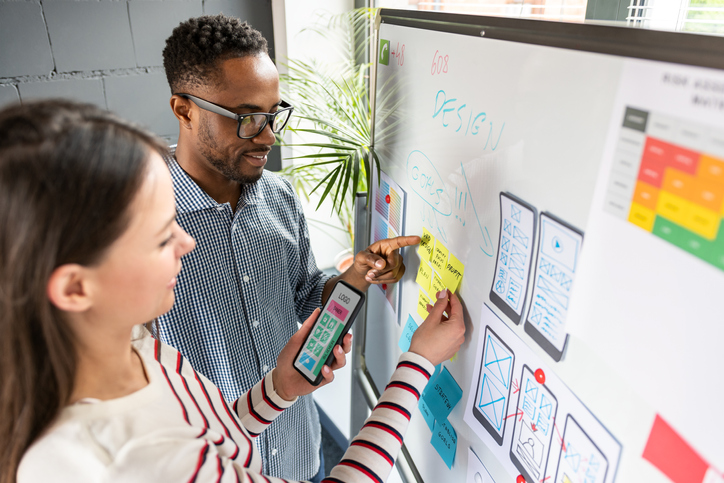 Why join Home Office Digital, Data and Technology?
Home Office Digital, Data and Technology (DDaT) designs, builds and develops services for the rest of the department and for government. Our role is to enable transformation through improved business efficiency.
The DDaT function is made up of around 1,700 staff, augmented by a number of supplier partners. Every year our systems support up to 3 million visa applications, checks on 100 million border crossings, up to 7 million passport applications and deliver 140 million police checks on people, vehicles and property. The scale of our projects is matched only by the opportunities for our people.
We are a friendly team who will support and challenge you to contribute. Our culture is inclusive, progressive and values the unique contributions everyone makes. Our tech strategy is also clear: we work in agile product- and user-centred teams, with cloud native and interdisciplinary working as the focus. Digital inclusion, accessibility and forming a technical community across departments are also key.
Our main delivery centres are in Croydon, Sheffield and Manchester with satellite offices in Southport, Westminster, Liverpool, west London and north London. The team in Manchester is based in The Soapworks, which is within the Media City boundary, 1½ miles from Manchester city centre, 2½ miles away from Manchester Piccadilly station and a 2-minute walk from the Exchange Quay tram stop.
We offer a range of benefits for staff, including outstanding pensions schemes and a serious focus on continuous professional development.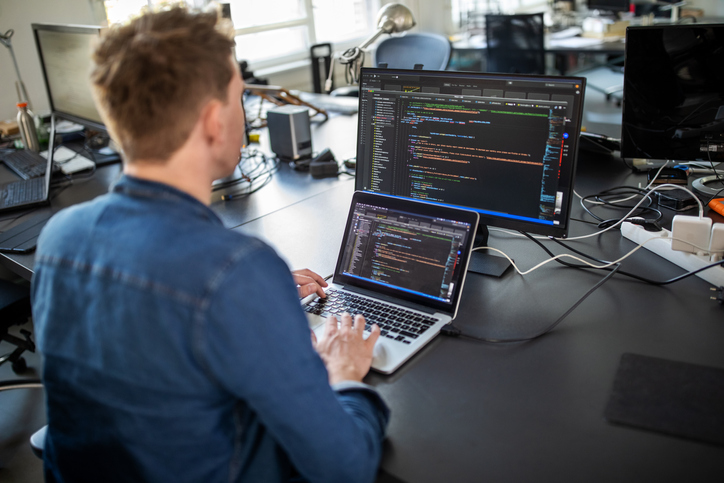 Learning and Development
We offer Learning and Development opportunities relevant to your role, which could include: AWS training and certification, Azure training and certification, O'Reilly Books as well as high quality management training, for example.
In addition, we offer allocated study leave and support when studying for a relevant qualification or other accredited development. This may include BCS Membership, for example, or study towards a degree or masters qualification.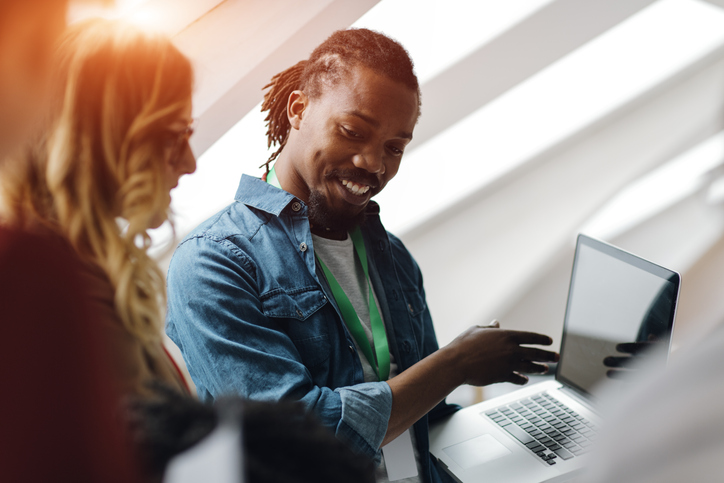 Diversity & Inclusion
We are committed to representing modern Britain in all its diversity, creating a welcoming, inclusive workforce where people can bring their whole selves to work.
We're proud to be one of the most ethnically diverse departments in the Civil Service, a Stonewall Top 100 Workplace Equality Employer and a Social Mobility Foundation Top 75 employer. We work to recruit and retain disabled staff and are a Disability Confident Leader.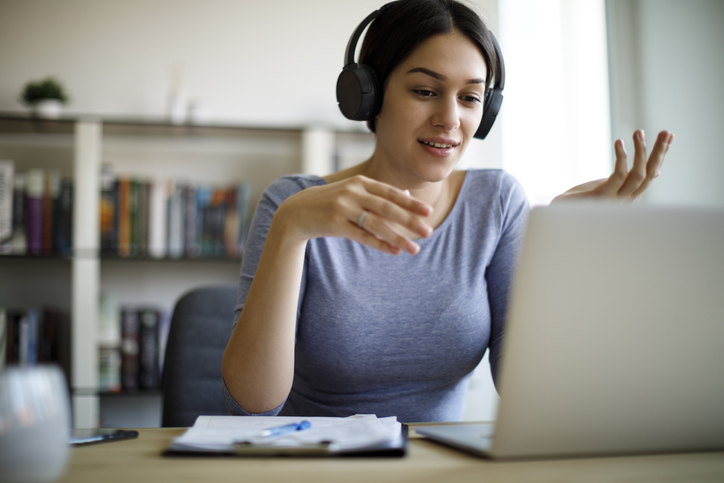 Our benefits
A competitive starting salaries for your grade
An additional allowance of up to £13,700 for candidates with exceptional skills and experience
A Civil Service pension with employer contribution rates of between 26.6% and 30.3%, depending on salary
A culture encouraging inclusion and diversity
Learning and development tailored to your role
An environment with flexible working options
25 days annual leave on appointment, rising to 30 days after 10 years' service, plus 8 days public holidays and 1 day for the Queen's Birthday
We also offer:
Season ticket loans and rental deposit loans
Cycle to work and payroll giving
Employee discounts - including a huge number of retailers (via the Edenred platform), Microsoft Home Use programme and gym membership
A variety of staff recognition schemes
Health and wellbeing initiatives
Staff support networks
Maternity, adoption or shared parental leave of up to 26 weeks full pay, followed by 13 weeks of statutory pay and a further 13 weeks unpaid
Up to 5 days paid leave for volunteering
Study leave and support for studying for a qualification or other accredited development relevant to your role
Join us and make a difference
If you're looking for a digital career where your work really matters and you get the opportunity to build your CV on projects that will help you stand out from the crowd, see our current available roles on Civil Service Jobs. You can also read our blog to learn more about our people and the brilliant work they do.