Sopra Steria
recruitment.uk1@soprasteria.com
Hi there!
We're glad you've found us. Hopefully, you've arrived here because you're curious about a career with us here at Sopra Steria – and that's great, because we love people who are curious, inquisitive, like to challenge the status quo, and above all, want to help shape the world for the better.

A little bit about us...
Our business is, first and foremost, about people. And it always has been. The solutions we develop are driven by the connections they make and the problems they solve. Our services only matter if they work for people and if they serve a greater purpose. Known for our collaborative approach, we provide consulting and digital services, creating innovative solutions, at scale, to deliver sustainable growth and services that make life better.
Our work touches many lives in the UK. From helping the Government provide essential public and health services that offer more convenience and choice, to improving financial services to deliver fairer, customer-centric solutions.
We're a big company, with an even bigger heart. We might be big, but thanks to our culture - recognised in the Great Place to Work's® UK's Best Workplaces™ rankings, we've retained a small, friendly team approach. We're one community, all determined to do the right thing by our clients, customers and colleagues.
It's a fact that happy employees make successful businesses, and at Sopra Steria, you can expect a welcoming, inclusive culture that embraces individuality, encourages great thinkers and celebrates success.
Hear from our employees in this video about what makes Sopra Steria a great place to work:
Our Vision
The world is how we shape it and we're shaping it for the better – as an innovative partner, driving positive change in business and society. Our business is, first and foremost, about people. Our services only matter if they work for people and, for us, if they serve a greater purpose too.
Our people feel proud to be part of a business whose services and solutions are crucial to the running and wellbeing of the UK. And, in turn, we're proud to support our people to reach their full potential.
From the very beginning, we've been conscious of how our business should play a wider role in society and make a positive impact. As we grow, we're looking for talented and caring people to join us.
Watch this to hear Our Story and discover more about who we are, what we do, and, most importantly, why we do it…to make a difference and drive positive change in business and society.

The shape of our UK business
Our Sopra Steria family in the UK comprises seven brands.
Essential organisations including the NHS, Home Office, Financial Conduct Authority and Metropolitan Police, trust us to deliver services that are crucial to the running and wellbeing of the UK.
In a truly collaborative way of working where strategy and decisions are made jointly, we harness our skills, experience, and passion to help the government find solutions, re-imagine public services, and make lives better in the digital age. Our people are motivated knowing their roles have a genuine sense of purpose.
The Sopra Steria UK family
Sopra Steria is recognised for our activities in consulting, digital services and software development. We provide end-to-end solutions to make our clients more competitive, combining in-depth sector knowledge and innovative technologies with a fully collaborative approach.
To learn more about us, please click here.

Diversity & Inclusion
Diversity and Inclusion at Sopra Steria means celebrating real people, doing good for people and doing right by people. It means valuing difference, working with empathy, engaging with our communities and respecting each other. It means believing, together, we can shape our world for the better.
We're inspired by the possibilities that come from working together and embracing differences.

From seeking diversity in recruitment to nurturing our existing talent – we want to make sure that Sopra Steria is an organisation where everyone feels like they belong. Where their uniqueness is valued. Where they can be themselves. And where everyone has a fair chance to progress and reach their highest potential.

This commitment is reflected in our Great Place to Work® UK survey results, where we scored over 80% favourable in all the fair treatment questions, and by our Great Place to Work® UK's Best Workplaces™ ranking. It is also underlined by our partnership with VERCIDA – a platform that connects job seekers with employers that prioritise diversity, inclusion and wellbeing.
Our growing family of employee inclusion networks are working together to influence and support our efforts to become a more diverse and inclusive organisation.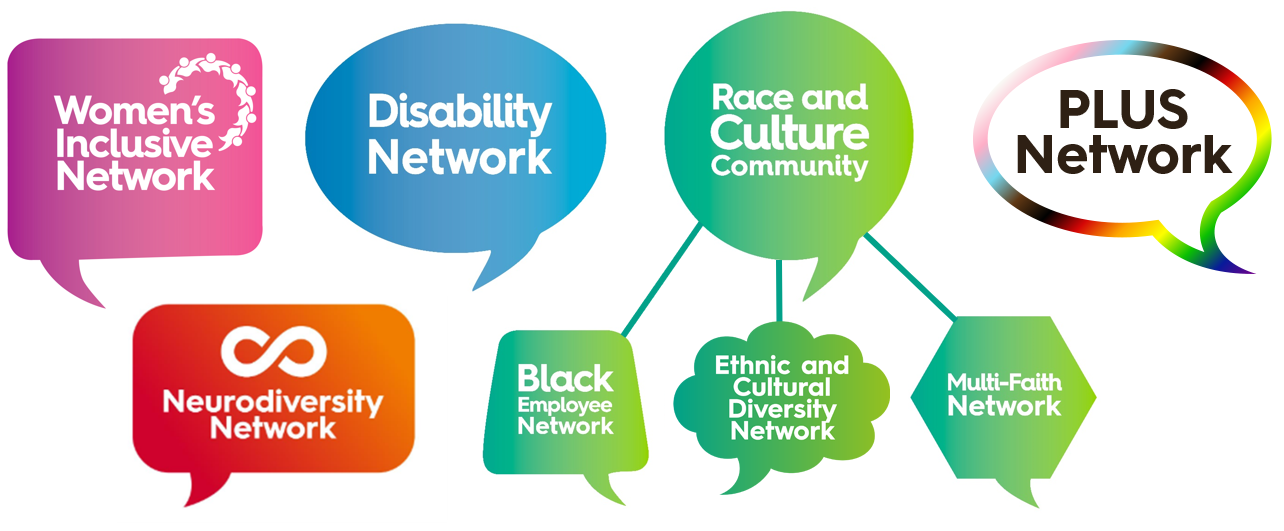 The networks are only one part of our Diversity & Inclusion story. We also invest in other ways.
We welcome -

We've created a suite of tools to help our recruitment teams and managers reinforce a more inclusive hiring culture and to redress the balance in our organisation.

We pledge -

Zero tolerance. All employees are called upon to work together to stamp out bullying, offensive and insensitive behaviour in our workplace, of all shapes and forms.

We communicate -

Our regular D&I updates provide a round-up of news about recent events and initiatives.

We develop -

As well as training all managers on unconscious bias, we partner with leading specialists to make sure our recruitment and career development processes and practices are inclusive and diverse.

We learn - Our 'In My Shoes' initiative involved gathering stories from people in under-represented groups in the business. The programme aimed to share workplace experiences and help everyone feel comfortable being themselves.

We mentor -

We guarantee that anyone who applies to have a mentor on our female mentoring programme will have one. We have also introduced a new programme to offer support specifically to Black and Ethnic Minority employees.

We celebrate - Our employee inclusion networks hold frequent events to raise awareness, have fun and support each other. From International Women's Day events to Disability Awareness and LGBTQIA+ Pride Lunch and Learns, and from Race at Work discussions to World Culture Day and more, we embrace the rich diversity that makes up our unique organisation.

What's it actually like to work at Sopra Steria?