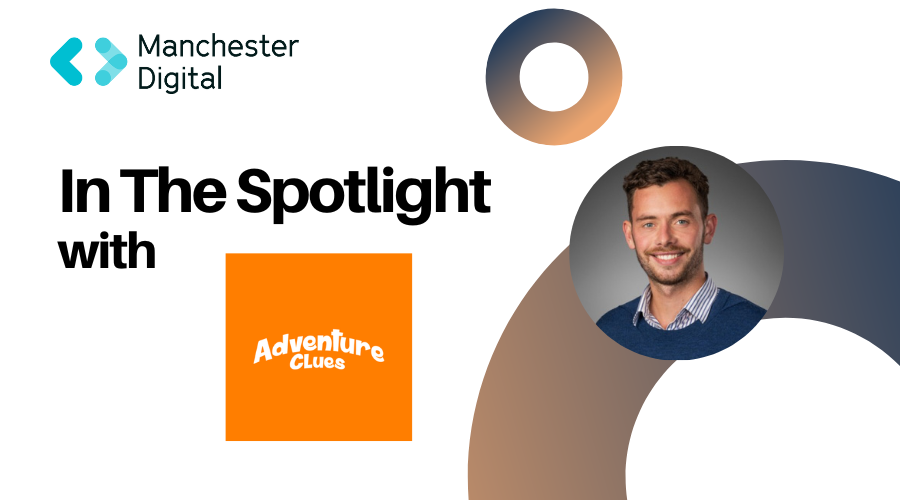 At Manchester Digital, we like to interview our members to find out a bit more about what they do and their work in the Greater Manchester digital and technology sphere. This week we're speaking with Sam Baldwin, Founder of Adventure Clues.
What does your organisation do?
Our goal at Adventure Clues is pretty simple - we want people to have a fun time exploring cities.
Adventure Clues is the fun way to explore your city. Solve cryptic clues in the web app and you will be taken on an adventure of discovery. Learn the backstories and discover the hidden gems on your own schedule. There is point scoring and leader boards for that competitive nature that customers love. It's great for locals and tourists alike, whilst we also deliver large scale corporate team building events.
This year we launched Adventure Pro. It's a platform where tour operators & attractions can easily create their own gamified adventures & sell them to generate revenue.
What do you think is currently the biggest issue facing the digital and tech industry?
More government support for early stage tech would attract more people to create startups. I'm sure there's many people that have amazing ideas, that just don't get made because of the financial risks involved.
What is your organisation's biggest achievement?
Seeing the smiles on people having fun doing our tours.
What would you consider to be your organisation's biggest challenge?
Generating the tour content. Once a new tour operator signs up to our platform they can use our software to build the clues, but the route and locations of interest still needs to be designed. It's a balance of us offering a content creation service versus offering education on how to get set-up, whilst still trying to scale.
What do you think the future looks like for Manchester's digital and tech sector?
There's a nice tech community at the moment which is great to share ideas and network. Manchester is growing a lot and attracting many people internationally. That will surely only help the tech sector to grow.
Tell us something we might not know about your company.
Look out for some self-guided fun adventures in Manchester soon!
Thank you, Sam!
To find out more about Adventure Clues, click here.
Want to raise your business's profile? If you're a member, contact thom@manchesterdigital.com to discuss featuring your content on our site, social media or newsletter. If you're not a member, get in touch today to discuss the benefits of membership.