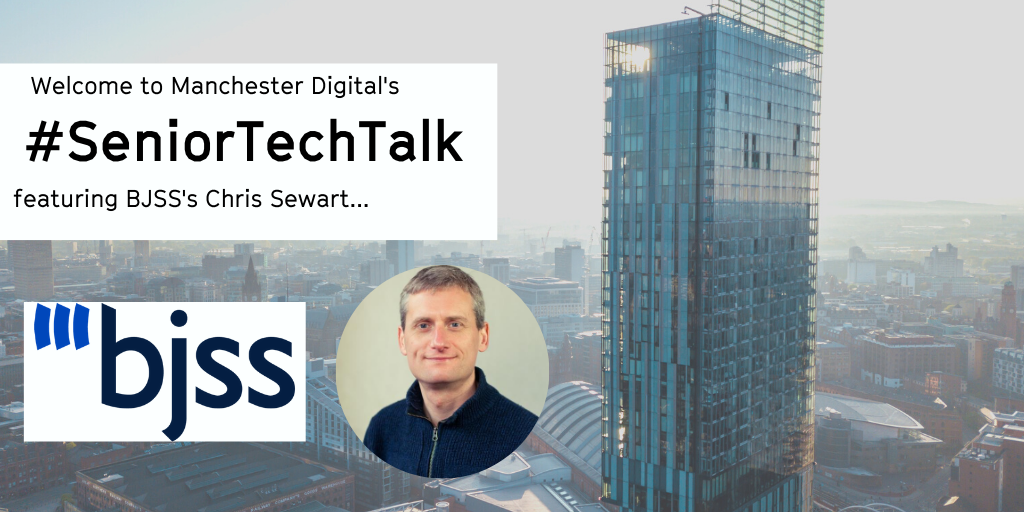 BJSS is one of the most trusted IT consultancies in the UK. The organisation is also a key employer and influence within Manchester's tech ecosystem. For the reason, we thought it would be beneficial to spend some time with BJSS's Chief Engineer, Chris Sewart in our latest Senior Tech Talk.
Could you please tell us a little bit more about BJSS as an organisation and your goals as a business?
At BJSS, we're a delivery-focused IT consultancy with over 25 years software delivery and IT advisory experience. There's around 1,500 people across 10 cities in the UK, two in the US and we've just recently opened an office in Portugal. We've got a reputation for technical excellence, innovation, and also seeking out and solving the right problems for our clients. In terms of goals for a business, our main goal is to be the number one partner our customers trust to deliver the complex technology solutions they need to transform and thrive. We're growing and we're interested in continuing growing, not only by locations but also in people. We want to achieve our goals by nurturing talented people and being straight forward to work with.
That's interesting, so what are the 'right problems' then?
Well, sometimes we get engaged to do a certain thing, and we get our teams of bright, problem-solving individuals on the ground and they start to understand what the business' problems are and perhaps find that what we've been asked to do doesn't solve all of the problem, or maybe that it's the wrong take on the problem. So we don't just do what we're told, but we try to genuinely work with our clients to solve their problems.
Can you please explain your role within the company?
So I'm the Chief Engineer here in Manchester. BJSS has a strong regional structure; each office has a Chief Engineer. What we do is, we look at the technical quality across all engagements for any given region. Primarily, that's simply about talking to our clients and our teams, learning and sharing what good practice is, enabling us to grow our engineering capabilities.
There's another aspect to the job though, we're also the voice of the engineer in our management teams. We act as a reminder of how our high engineering standards are actually a key part of successful long-term client relationships. There's always a balance between immediate delivery concerns and longer term concerns. And it's being that voice of the engineer there in those conversations.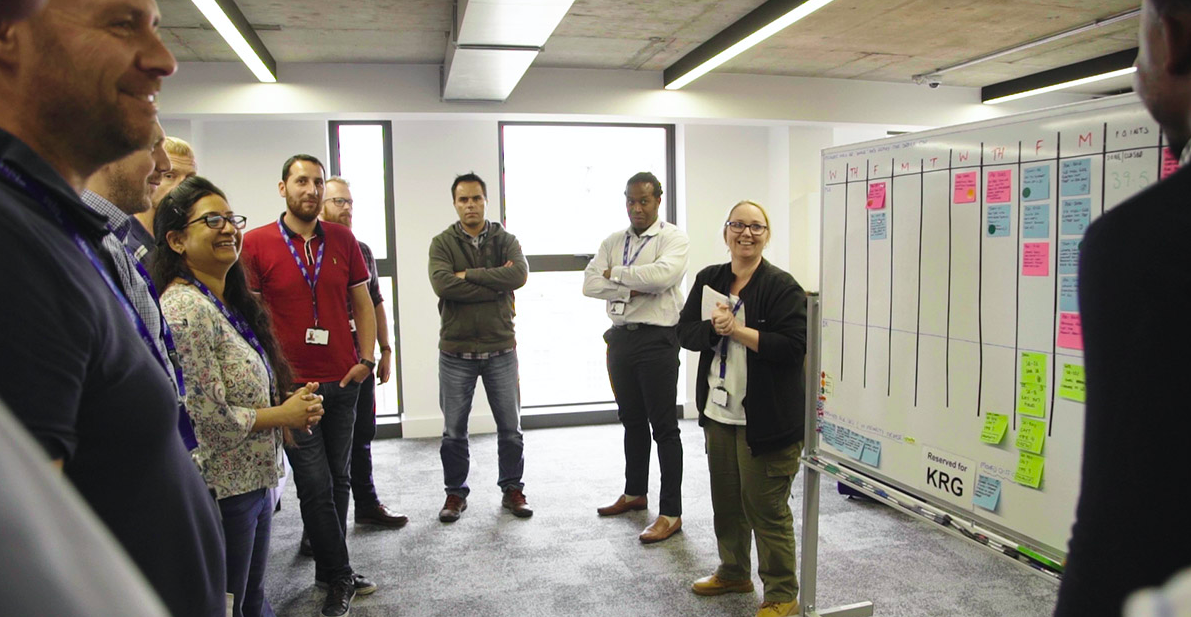 Digital transformation has been a long held ambition for many businesses. Do you think the pandemic as a barrier or catalyst for a digital transformation project?
Oh, I thought that was a good one. I think any change is a catalyst. I think 'unprecedented' used to be used as a hyperbole, and now it's simply a fact of life at the moment. So it's definitely a catalyst. It's not clear how it's going to catalyse things though.
I think BJSS has written a lot about this in the past few months. One of the key things we're talking about is a three phase response. First is to recover, so to cope with immediate crisis, there's a lock down. Some businesses have recovered. Some are still recovering I think. The next is regroup. So that's kind of about investing in the business' culture, to build a kind of healthy humane system that will sustain the business in uncertain times, which might be quite different from the systems that you had in place before.
And then the final one is renew, which is preparing for a new normal. So not just ongoing social distancing concerns, which I think are the obvious things, but there's also things that we're pre-pandemic, like retail activism, where people are aligning to brands which affect their moral stance. You might see an increase in that. There's a need to focus on renewing your business by pairing your human-centric, creative problem solving approach with the ability to react, to test and learn, diagnose, and of course correct. Finally, agility - how good you are at that, will affect your long-term prospects.
Speaking more generally, how do you think the pandemic will affect the tech sector?
I think there's lots of things in play. Remote working is the obvious one, how we return to office space work, how successful we are at hybrid working. Some companies are looking at going totally remote. They've decided not to renew various offices. I guess that opens up the barrier to international recruiting as well. If you start to think that you don't need to be in the city centre, then perhaps you can recruit from all over the world.
I also wonder though, the sudden pause in people's lives caused by lock down, I wonder whether that will affect how they approach things going forward. Stepping off the treadmill of daily life, if you like, into what is massive uncertainty, fear over your own health, fear over the health of loved ones, that sort of thing. I think that's possibly caused people to look at their priorities and look at their values. There's a lot of talk about people wanting to slow down a bit, that perhaps they feel that nine till five, five days a week, party all weekend, whatever, was perhaps a bit much, and it's time for a different pace.
I've also had a lot more conversations about mental health and wellbeing. People seem to be more aware. I really hope that continues. But generally for the sector, once people have regained the security of work again, well some security, it's going to be about reassessing their priorities. If there's businesses who are willing to work fully remotely, recruit internationally, then that's going to affect the sector in quite a big way. And if you've combined that with people looking at their values and their priorities and possibly shifting to different working patterns and so on, then we'll see something of a change in the way that the businesses are structured in general.
From BJSS' perspective, we've already looked at resourcing or putting teams together from across the UK and from across the world even, for some of our engagements where our clients have accepted fully remote working. And that was great, because it gives us a real kind of flexibility in bringing the right people together for that particular problem. So I'm really enjoying that.
Really interesting. You touched on hiring there. With there being a much publicised digital skill shortage, how does BJSS go about creating a culture that attracts and retains talent? How did it?
I'm not going to lie, it's hard work. So we work hard at it. We put a lot of energy into it. The thing that stood out to me about BJSS' culture when I joined was how open and supportive it is. If you go into lots of engineering organisations, you can have this kind of technical point scoring thing going on. You might have seen it at tech events where there's a Q and A section at the end and someone stands up, gets on their soapbox, and pulls out one tiny point from what the speaker was saying and proceeds to give their opinion on it. We don't see that here. So I think that openness and supportiveness is one part.
The other part is that we're often brought in to solve the more difficult problems, not just engineering challenges though. I mean, I love watching our teams use their creativity and skills to navigate situations that look like they were intractable at first glance, but after a few weeks or months you find they've navigated their way out. So I think finding interesting work is really important too.
Part of my job is to go around talking to all of these people, listening, and learning. I really enjoy it. It's amazing. I think I'm lucky that because of my role, I get to work with many different teams. If you're interested in professional development, then certainly I find working with all these highly-experienced people, who are open to listening to other alternative ideas and think through problems in a constructive way, that's a really good way of growing yourself professionally if you're at the beginning of your career but also if you're looking into expanding your knowledge and skill set as well.
BJSS is renowned for being heavily involved in local communities. Why is it important to BJSS to be a company that gives back?
As you say, there is a digital skill shortage. It's a privilege to work in this sector. I think a lot of people are mindful of that and want to give something back. So that's important to us.
We like to get involved in our local ecosystems. In Manchester, our involvement in Manchester Digital's Digital Her programme speaks the most strongly to this. We've got a lot of talented people who are passionate about what they do, and we recognise that diversity is really important to successful businesses. So supporting that initiative, allowing our key role models to reach out, inspire and mentor young women who are looking to take up careers in the digital sector is just so positive on many levels.
As a company, there's a wider corporate social responsibility scheme across the country, and a lot of that is to do with working towards encouraging diversity and improving long-term prospects for underrepresented groups in the technology sector.
What emerging tech has the most transformative potential and how will you integrate it into the work that you do?
I find the technology itself isn't that interesting, it's the way that the people use it that's most interesting. I don't think technology exists in isolation. There's lots of forces and longer term trends that bring things forward.
The thing that interests me most is augmenting human intelligence with artificial intelligence. It sounds quite fancy, but it's had a long history.The very first word processors that did spell checking were the first artificial intelligence to augment my poor spelling ability. Now, it's working on safer driving aids in cars and virtual assistants like Siri and Alexa. So you can kind of see it happening. Where it's going to go, I don't know.
In terms of jobs in the tech sector, I think it's interesting that it's often the people who work with the machines that are most affected by technology changes, and I've actually observed a lot of software developers that are resistant to really clever tools. Perhaps that's wise, we as software developers know how it works, now how it's all put together, so perhaps there's a reason why we're skeptical about some of it.
However, there's loads of really interesting research right now in that area. Really good example, I think it's Microsoft who've got machine learning systems that can be given a sketch of the user interface and generate the code for it. Now that could be quite transformative. A lot of people are looking at it and going, it's so far in the future when that sort of thing will happen that we've no need to worry. The future has a habit of coming around quite quickly. So I think that is probably the biggest trend, artificial intelligence augmenting what people can already do.
What do you think Manchester's technology sector will look like in 10 years time? And what role will BJSS be playing?
I'm struggling to predict what the next week will be like, never-mind next month or the next 10 years. But if we link back to thinking about the longer term trends and looking back at previous decades, so go back 30 years ago, companies primarily bought commercial off-the-shelf package software. If it didn't work, if it didn't fit your business, you changed your business to fit the software. It seems quite old fashioned now.
Then people started outsourcing for bespoke software development, initially customising that package software, but somewhere along the line the ability to build your own came about. I think the uptick in high quality open source components helped with the idea of people building their own software for their own businesses that allowed you to get rid of the undifferentiated heavy lifting.
In the last 10 years, we've seen a rise of businesses building in house centres of development excellence. So you can probably think of companies in Manchester with large digital or engineering communities and they're not software businesses, their core business is something else, but they're also building a lot of software. So we've seen people moving that capability in house in order to be able to move themselves forward at the pace they need to.
I wonder if the next 10 years sees the next step in that, which is moving from those sort of central engineering departments, if you like, to diffusing those skills across businesses. So going from engineering teams to product teams or project teams that are together building business value using a whole mix of skills - some of which involves making software - but only some.
I think that's where it gets interesting because back to the earlier point about artificial intelligence augmenting people's existing skills, if you think about what I was talking about, being able to just draw a sketch of the user interface and generate the code from it, you can see this might lower the barrier to doing those sorts of things and bring more people in to be able to contribute to the detail of building software.
I think we're seeing it in BJSS as a need to bring together more user-centric design thinking with the business-focused problem solving and rapid-quality engineering as a team to deliver the right business outcomes. I'm enjoying the challenge. I think software affects everybody's lives now. It affects many lives in many ways and so I think it's really important that we get a more diverse, more inclusive set of people involved in designing and building that software.
Want to raise your company's profile?
If you would like your business to feature across our website, social media and newsletter, contact thom@manchesterdigital.com for more information.