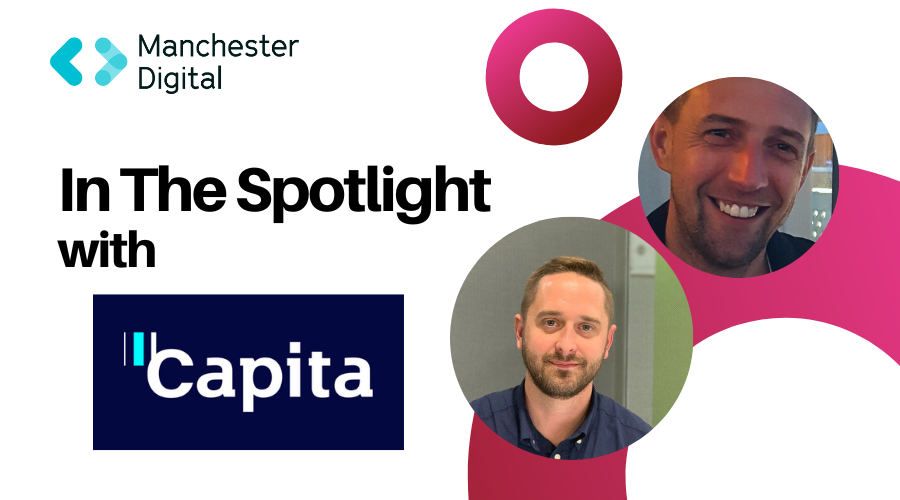 In The Spotlight with Capita
Welcome to In The Spotlight, a series where Manchester Digital interviews its members to shed light on their work within the digital and technology industry in Greater Manchester. In this edition, we have the pleasure of speaking with Capita's Practice Director, Andrew Jacobs, and Head of Client Solutions, Adam Brown.
What does your organisation do?
Andrew Jacob:
Capita provides talented individuals with access to skill redevelopment, so upskilling or reskilling individuals for particular roles and professions.
We support individuals to go into professions such as data analytics, business analysis, project management and software development. Our workstream enables individuals to get access to the skills that are required by industry, and when we say skills it includes the theory, the capabilities, the competencies, and also the software or packages that industry use.
We provide bootcamps throughout the year, which enable individuals to get upskilled by seasoned professionals who are experts within their knowledge fields. The bootcamps are an intensive way to upskill yourself in a practical way, not death by PowerPoint. We then deploy these resources to particular client sites, whether that's internally to Capita or externally, to help get their career kickstarted.
Once their career has started, the training and development continues over the next few years. Over the next few years as a seasoned professional, it's our remit to continue their development in line with their hiring manager, offering a bespoke solution to the hiring manager and candidate.
Candidates may have struggled to get access to these sorts of roles and professions in the open market. What we do is enable them to actually get the experience they need and get them the job.
We call that our talent programme, and on top of that we also offer entry level, standalone bootcamps in areas such as software development which help develop entry skills and provide insights on a baseline level.
In terms of apprenticeships, we also offer apprenticeship training as well. . we also have standalone bootcamps.
What do you think is currently the biggest issue facing the tech industry?
Andrew Jacob:
I'd say one of the biggest challenges facing the industry is the number of individuals out there on the market in terms of early or future talent that have heard of particular roles, say business analysis or software development, and hitting the mark of what businesses are looking for to do the job today.
Industries that are requiring a workforce immediately are struggling as they don't have the time or luxury to wait 18 months or so to train up new emerging talent or reskillers in the market.
What our programme does is take that headache away from industry by providing pre-screened, pre-trained, enthusiastic talent that are ready to go on day one.
I'd say another challenge that industry is facing, particularly within the software development landscape, is that it's just so vast. Therefore it's hard to get the necessary resources and capability straight away. If it is available, salary expectations are very high and that obviously doesn't match what industry is prepared to pay.
The other challenge which isn't spoken about is Brexit, which has led to a diminishment of resources. Industry was relying on European access to work to a great extent, and the past few years have placed a huge strain on the UK workforce which just doesn't exis to that level.
What is your organisation's biggest achievement?
Adam Brown:
I would say it's giving individuals an opportunity to not only go into an industry in which they've worked hard to qualify themselves in but also giving them the commercial acumen so that they're prepared from day one to be able to give a business a return on investment and giving themselves a confidence in growth.
With that comes strong sustainability with large contracts in which we operate with, such as the Civil Service, the Home Office, blue chip organisations. We're not just putting individuals into any business, we're putting them into leading brands and organisations and giving them a real career trajectory.
Andrew Jacob:
I'd also just add that one of our other greatest achievements is around inclusivity and diversity. Our programmes really are open to everybody, whether they are from a deprived economic background, or could be reluctant to apply for roles and feel there's a bias against them. It also includes neurodiveristy, or people with hidden disabilities, who might feel they can't apply for these sort of positions previously.
Our programmes are inclusive and we're very proud of the amount of roles that we get individuals into in large, big brand names. We're also very proud of where these individuals go on to in two, three years time. It's very heartwarming to see.
What would you consider to be your organisation's biggest challenge?
Andrew Jacob:
In terms of hiring managers and organisations, sometimes they're very reluctant in terms of taking on board new talent that may have gone through a bootcamp and got the necessary skills. They're not always thinking about the future end goal.
Organisations can worry about taking someone on that maybe hasn't got two or three years worth of experience. It's a bit of a chicken and egg scenario where businesses want individuals now, and we have individuals that are available now, but the business wants them to have more experience - though this would require a far higher salary. So there is this pushback from organisations sometimes of taking on new talent for that.
What do you think the future looks like for Manchester's tech sector?
Adam Brown:
For many years, we spoke about Manchester becoming the tech hub of the North, which I think we can confidently say has now happened.
The biggest concern I have is the lack of talent that is coming through to start to fulfil those roles. I think it's now advertised that senior vacancies are outstripping senior candidates, which is a concern. What are we doing about that future talent for the next two to three to five year progressions?
Now is a great opportunity, where you can start to look at individuals that have come through bootcamps, or individuals that have taken different pathways with regards to apprenticeships.
Manchester will always be a tech hub of the North, I can't see that changing, however we need to start nurturing from the grassroots so that we've got longevity within the industry and not finding individuals getting to a certain age and retiring with a wealth of experience that's not being shared.
Tell us something that we might not know about your company?
Adam Brown:
I think this is a great opportunity to actually explain just what Capita do. We're at the forefront of change for tech, and what we're doing is providing talent on a daily basis into organisations that make a change to people's lives here in the UK. The companies that we are working with are making a huge impact on regular individual's lives, and we're putting great talent into those businesses.
So what we are is an organisation that makes change.
Andrew Jacob:
I think when some people hear the name Capita they can be a little hesitant, and it comes back to Capita being a change organisation. We are at the forefront of change, and nobody likes to change!
Thank you, Andrew and Adam!
To find out more about Capita, click here.