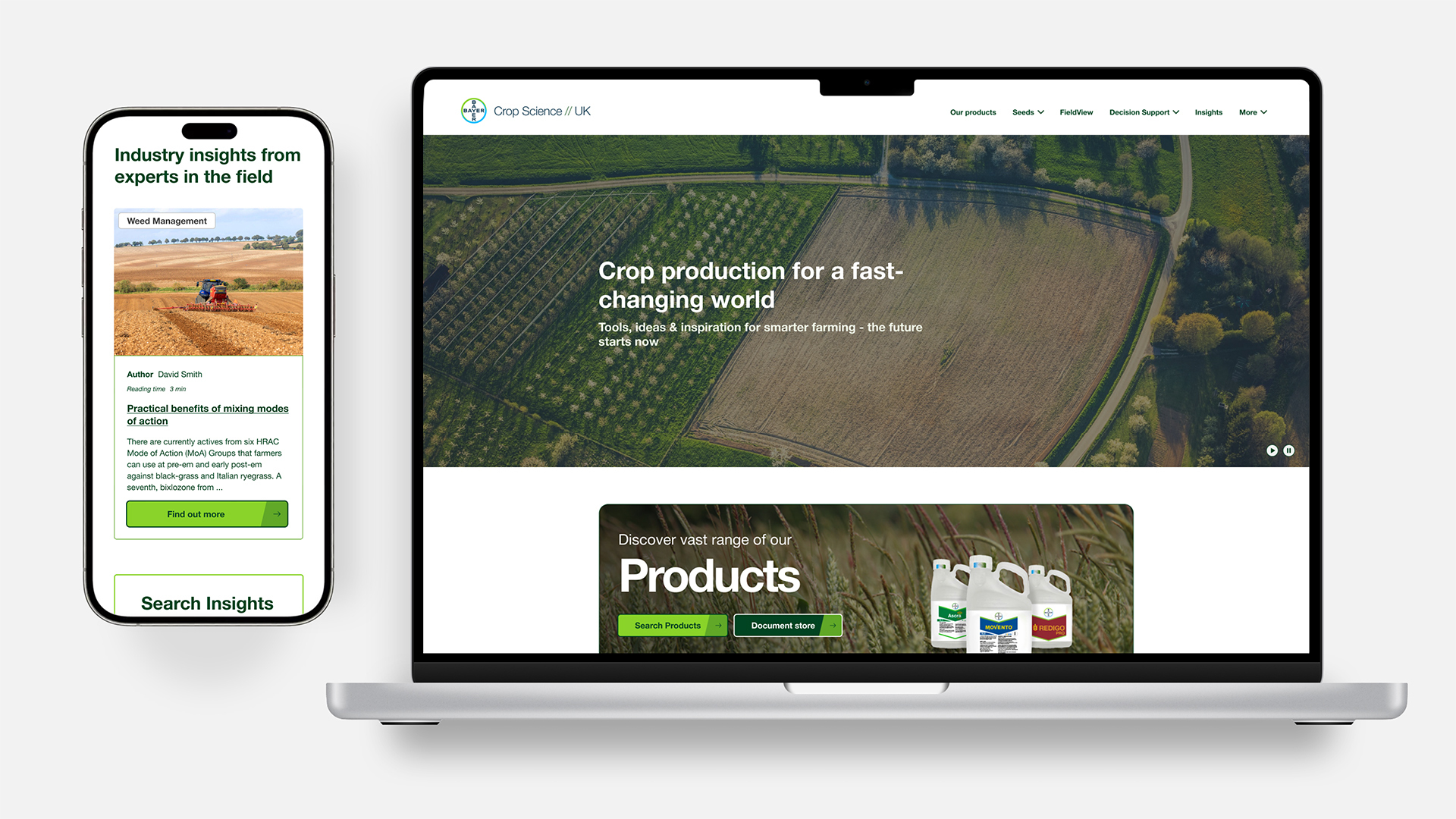 Manchester-based design and innovation agency Code Computerlove has delivered a new platform for crop production specialists, Bayer Crop Science UK, focused on enhancing user experience.
Bayer Crop Science UK develops various products and innovations to enable smarter farming, including a digital farm management system to drive field and farm performance.
Code, part of EssenceMediacom North, worked with the team at Bayer to improve usability and streamline the core journey to meet customers' needs better. The project included replacing a legacy content management system, delivering a new search API to create powerful search functions, redesigning the user experience to improve navigation and bringing the site in line with a refreshed art direction.
Bayer's new platform also features the optimisation of Agronomy ID, a crop threat database and FieldView, a digital farm management system which allows farmers to access and analyse their farm data and receive relevant product suggestions.
Gemma Handley, Managing Director at Code, said:
"When businesses are operating from legacy platforms, it can be a real challenge to connect with customers in the right way, tailoring their products and services to their needs, and driving growth across the business.
"Bringing about significant innovation for Bayer, from improving user experience to optimising search functionality, has enabled them to be a future-facing brand in the agricultural space.
"An important element of this project was our phased launch approach, staggering the process of setting certain pages live, in line with business priorities. This allowed us to test, iterate and learn in real-time, ultimately delivering the best platform for Bayer."
Rachael Roberts, Marketing Communications Lead at Bayer Crop Science UK, added:
"As technology continues to drive and shape the farming industry in the UK and beyond, having a future-facing platform that allows us to serve our customers effectively is vitally important.
"Code's support in overhauling our platform, stripping it down and building it back up again to showcase our brand and products with simplicity has been invaluable – particularly in optimising our search functionality and helping us improve the experience and journey for our customers."