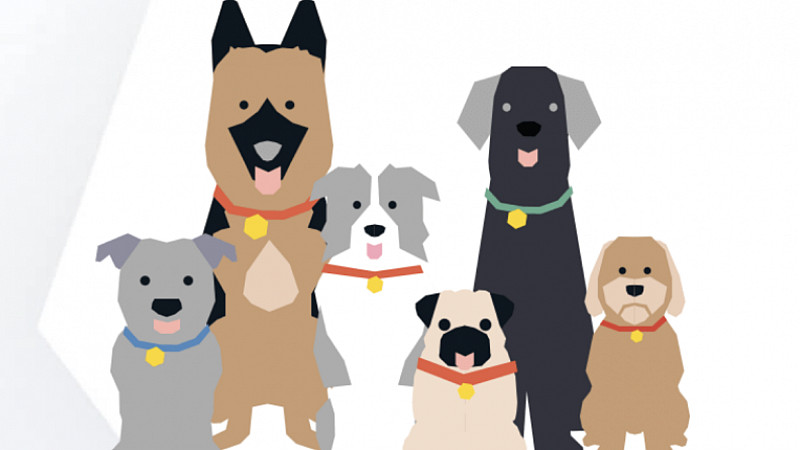 Developed in Manchester by Dept digital agency, the Paws & Think mobile app offers a guilt-free glimpse into pet ownership.
Co-op Insurance partnered with International digital agency Dept to creatively design and develop a mobile app to engage prospective dog owners and communicate the commitment of owning different breeds. 
Katie Brooks, Digital Content Strategist at Co-op said: "Owning a dog is a massive responsibility and not a decision people should enter into lightly. The Paws & Think App provides a fun, yet eye-opening experience for people contemplating which dog breed is best for them. We're hoping the app educates people on what it means to own a dog and helps them to make informed choices so they're able to find a companion for life."
Users are asked to generate a profile and answer a series of questions based on their lifestyle to start their journey. The mobile app operates similar to a Tamagotchi; users sign up for a digital pet, putting aside time for walks and attention, as well as utilising virtual money to pay for food, toys and costly vet visits. At the end of the trial period, users are given an assessment based on how they fared over the course of a week, as well as factoring in answers from their introductory questionnaire. A high "suitability score" means the breed is a perfect match and if a low score is reached, the app may suggest a smaller dog or different breed. 
Managing Director of Experience Design at Dept, Jake Welsh, said: " The Paws & Think app was brought forward as an integrated effort involving our design, UX and technical teams working seamlessly together from start-to-finish; hand-drawing the illustrations, through to animating graphics and user-interactions, mapping user-journeys and coding push notifications across both iOs and Android devices. The app concept really resonated within Dept and that passion certainly pulled through in the end result." 
The objective for the Paws & Think app feeds into a wider campaign that Co-op Insurance is executing to ensure more responsible dog ownership, highlighting the benefits that pet insurance can offer for check-ups and unexpected vet visits. Co-op Insurance is working with vet, Dr Ciara Clarke and rescue dog centres with the hope to cut the number of unwanted dogs. The app can be downloaded for free on the Apple Store and Google Play.