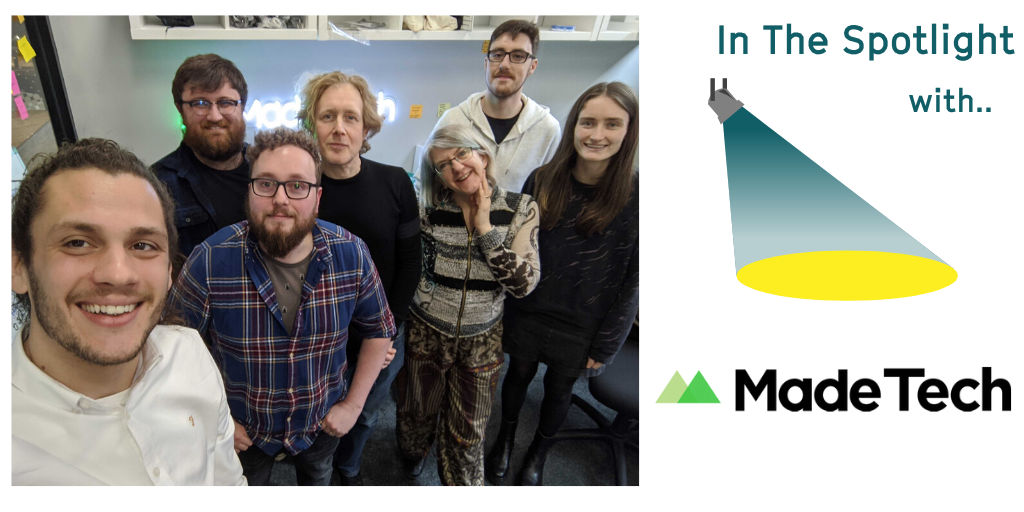 Each week we interview one of our members to find out a bit more about them and their work in the Greater Manchester digital sphere. This week we're speaking with public sector technology delivery experts, Made Tech.
1. What does your organisation do?
Made Tech are public sector technology delivery experts. We work with forward-thinking leaders to modernise legacy technology and working practices, and accelerate digital and technology delivery. We come from a background of getting hungry startups to market fast and are renowned for our expertise in extreme programming, lean and agile practices.
Our approach has helped central and local government, as well as healthcare organisations, to adopt modern software practices, while delivering user-centric applications and untangling legacy IT.
2. What do you think is currently the biggest issue facing the tech industry?
The tech industry's biggest issue is ensuring it doesn't get distracted by the latest trend and instead focuses on delivering outcomes for users. This is particularly important within public sector technology and the Government Digital Service (GDS) is doing a great job of pushing this agenda. Engineers must incorporate empathy and understanding into their processes and the organisations they work for must focus on coaching and mentoring to develop these skills. While this might seem difficult at first, we have seen for ourselves how worthwhile it can be in delivering outstanding digital services.
3. What is your organisation's biggest achievement?
We're very proud of the work we've been doing on GovWiFi. Among the projects we've delivered, this is by far the one that has had the biggest impact on the end users.
GovWifi was part of the Common Technologies programme within Cabinet Office & GDS, with a goal to improve civil service productivity. We developed a piece of technology that helps the government stay connected and be more digital. With over 300 government buildings in the UK using it, and over 200,000 monthly active users, it's the kind of project that makes us proud of working with the UK public sector to deliver meaningful change. There's even a fleet of UK Border Force boats using it!
4. What would you consider to be your organisation's biggest challenge?
Ensuring our teams have everything they need to deliver the best outcomes for users is an ongoing process and finding engineers with the ideal range of skills and capabilities to join these teams is our biggest challenge. We've responded to this challenge by introducing an Academy for developers. These 12-week programmes involve learning and project delivery, so each individual is exposed to best practice software engineering and prepared for a job in the industry. Training doesn't finish after 12 weeks though. Once someone has completed the Academy programme, they join a project team and continue to learn through pair programming, growth programmes, in-house learning sessions and much more.
5. What do you think the future looks like for Manchester's tech sector?
Hopefully it looks like one where Made Tech is playing a major part! We're really keen to open up our Academy to applicants in this area and create new job opportunities for the local community. The tech industry is booming in Manchester, so anyone with an interest in this sector really should take the plunge and get involved. We're particularly focused on trying to ensure this opportunity is available to as wide a group as possible because we want to ensure diversity, accessibility and inclusivity are ingrained in the industry's growth. It is for this reason that financial inclusion is at the heart of our Academy and why we pay participants a full salary to train.
6. Tell us something that we might not know about your company?
Our culture is something we're extremely proud of at Made Tech but it might not be known about. We've put a lot of time and effort into developing it and it's really starting to pay off. So much so that we're hiring people from our competitors because we have developed a better work-life balance. We always strive to make Made Tech a positive, diverse and welcoming place and this has resulted in a wide range of benefits for our staff. These include flexible holiday, working hours and parental leave as well as remote working, continuous learning and much more, all of which can be seen in our company handbook. We even pay for family holidays for our staff including flights and spending money!
Want to raise your profile?
If you would like to raise your profile and share content with our huge network of Greater Manchester-based businesses, contact michael@manchesterdigital.com