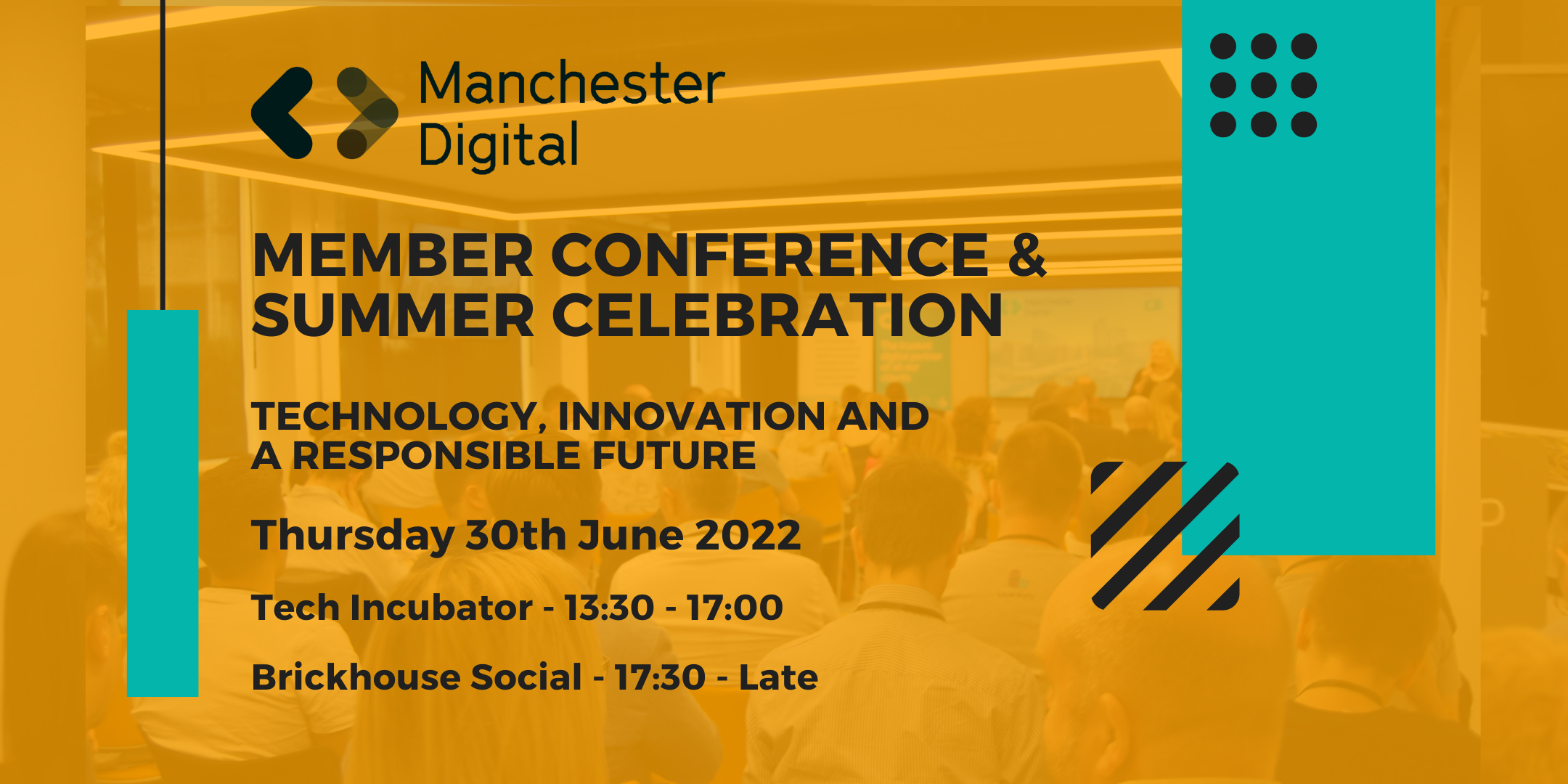 The Manchester Digital Conference is a chance for members to connect, share knowledge and hear from their peers on a wide range of digital and tech topics.
Taking place on the afternoon of Thursday 30th June, the conference is a great way to pick up some new ideas and inspiration to take back into your business whilst finding out what is happening in the region's tech scene.
This year's conference will focus on technology, innovation and a responsible future, all delivered by Manchester Digital members.


Speakers:

Tom Liptrot
Freelance data scientist and AI consultant
Ortom
When AI goes wrong

AI and machine learning can be transformative for businesses when used correctly. However, if used wrongly, AI and machine learning can do more harm than good. Here, Data Science expert Tom Liptrot will explain when not to use them, and give some pointers on how to use them successfully.


Jennie Johnson MBE
Founder and CEO
My First Five Years Ltd
How we put 50+ years of childcare expertise into an Edtech app for parents.

2nd time around founder Jennie Johnson MBE shares how she went from delivering award winning in-person childcare via her nursery group Kids Allowed to supporting parents by putting that expertise in their pockets. Insights into launching the app and all the fun stuff in-between.


Molly Watt & Danny Lancaster
Accessibility and Usability Consultant & Accessibility Test Lead
Making products and services more inclusive – a personal and practical explanation of web accessibility

This talk will look at accessibility as an opportunity for product designers and developers to reach more people by making their apps, websites and communications more inclusive. Accessibility is more than tech for good. It's about making sure your digital product or service is accessible to everyone who needs it. It's a legal requirement, as well as a business and moral obligation.


Timothy Willis
Head of eCommerce
PushON
The evolution of the mindful shopper

Shoppers are actively seeking out sustainable, environmentally responsible brands, in line with their values. This talk we'll cover how businesses can build strategies, that will see them move in the direction of being more socially and environmentally responsible to attract a new wave of socially aware consumers. Tim will also outline how sustainability can give you a competitive edge and help drive customer lifetime value (CLV) and revenue.


Keith Hinde & Roger Zorlu
Principal Consultant & Data Scientist
Global Logic
Paws for thought - Improving pet welfare with ML

Showing how data engineering and data science is being used to help tackle problematic sales of pets online


James Ledger
Team Lead
Samson VT
Using CAD to replace paper manuals with explosions

An overview of the journey taken by SamsonVT in replacing paper manuals (that haven't changed much in 500 years) with 3D models that explode outwards into thousands of parts for easy identification.


Emma Honeybone
Head of Brand & Relationships
Transform
A Culture of Inclusion

Hear how Engine Transformation's RD&I approach makes the business more relevant, work more meaningful and people more empowered including insights into some of the programmes the team has implemented covering areas such as loneliness, men's health, autism and menopause.


Andy Still
Founder & CTO
Netacea
Bad Bots 101

An introduction to the threats that bots and other automated attacks pose to your website and how to stop them.


Andy Molineux & Fiona Law
Engineering director and Co-Founder & Software Engineer
Krakenflex

Transitioning to a carbon neutral green energy system needs us to rethink how we generate and consume energy. We're here to talk about how KrakenFlex is using technology to tackle the climate crisis.