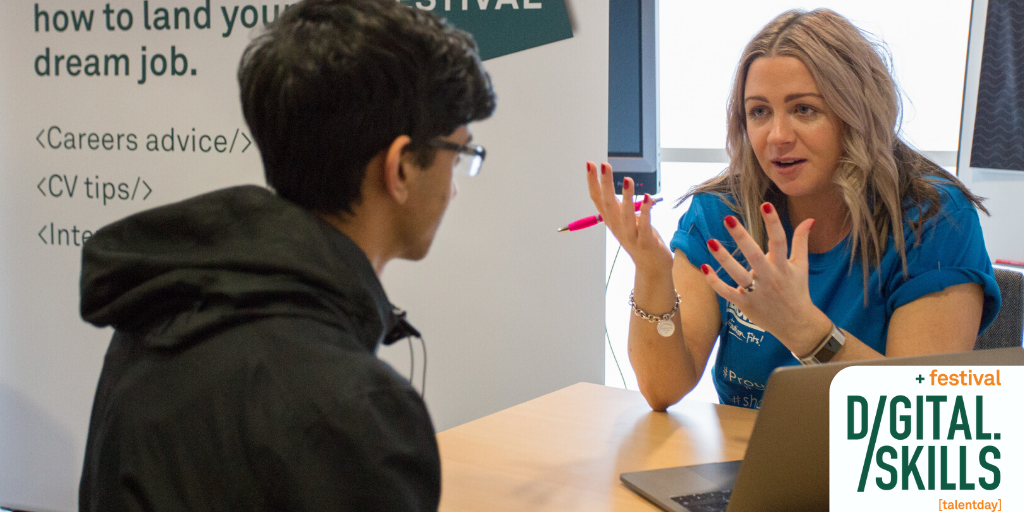 If you're a student, graduate or a jobseeker looking for opportunities within the bustling digital and tech scene that exists within Greater Manchester, you're in luck – #MDTalentDay is just around the corner.
What is #MDTalentDay?
Talent Day is the largest digital careers fair in the North and a must-attend event for anyone looking to work in the digital, creative and tech industries. Tickets to #MDTalentDay are completely free of charge and are open to anyone looking for a career in digital or tech!
What happens on the day?
Over 50 of Greater Manchester's most pioneering digital, creative and tech companies will be looking to meet the next generation of talent, hoping to meet people that might want to come and work for them.
There will be career opportunities in development, design, project management, digital marketing, UX and much more.
There will be seminars delivered by employers, who will be talking about their placement programmes and graduate initiatives as well as a CV clinic, and other clinics that will tell you how to apply and how to stand the best chance of being selected.

Why should you attend?
Firstly, #MDTalentDay, is completely free. If you're looking for a job in digital, or just want to know more about the industry, it just makes sense to attend the largest digital and tech careers fair in the North.
Secondly, because meeting employers face-to-face gives you a chance to make connections and learn first hand about the jobs and opportunities that exist within some of Greater Manchester's most prestigious companies.
And also, to see for yourself that Greater Manchester's tech sector is booming, and that it needs people, like you, to fill the exciting roles and careers that exist within the region in order for it to continue growing.
What are employers looking for?
That you do your research, closer to the day, we will be publishing a list of the attendees and the jobs they're looking to recruit. Take note of this list and have a plan for who you would like to speak to and what questions you'd like to ask.
Just some of the jobs on offer include...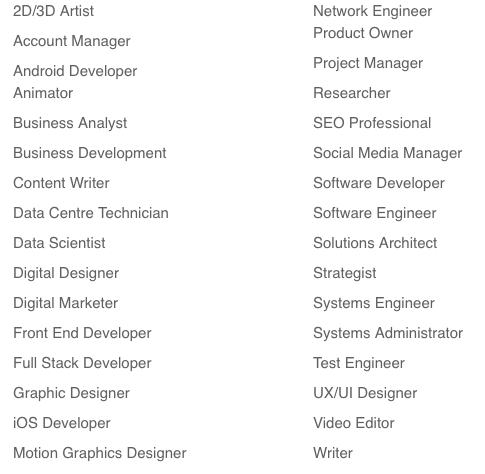 That you're prepared - Bring printed copies of your CV, research what brands will be exhibiting, spend some time swotting up on them, set up a LinkedIn page and start building your personal brand. Doing so will allow you to connect with people that you may meet on the day so you can stay fresh in their minds and be the first to hear of any jobs they may post..
That you're pro-active - Remember, you're there to sell yourself so don't look at stands from afar, approach and ask questions. Use it as a way to do your research.
Employers want to take on people that are resilient and can find solutions. So make a good impression by making sure you take advantage of what #MDTalentDay has to offer.
What advice do employers give to Talent Day attendees?
Pedro Silva - Recruitment Manager at BJSS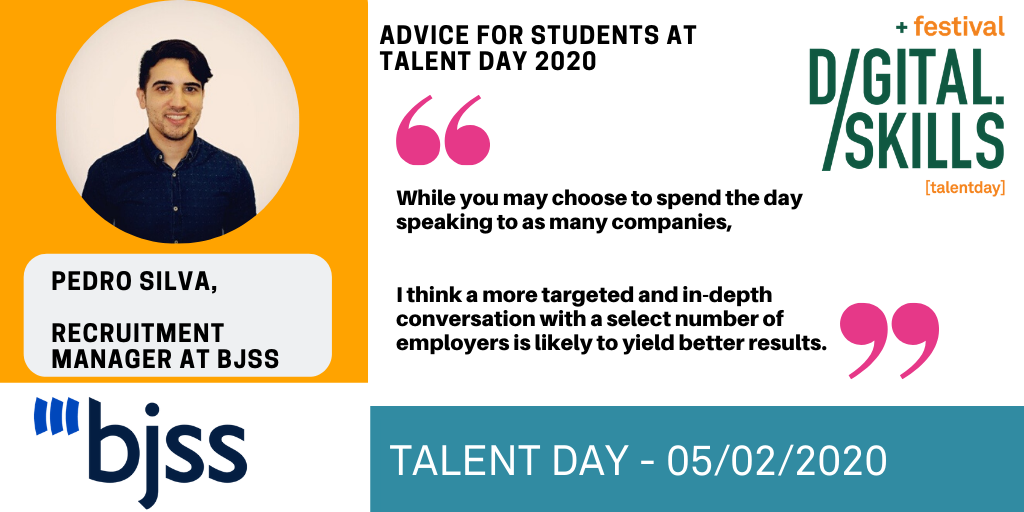 To get the most of the day I would suggest job seekers do some research on the companies that will be present on the day and aim to spend time with those that are of greatest interest to them. While you may choose to spend the day speaking to as many companies as possible to get a sense of the breadth of opportunities; I think a more targeted and in-depth conversation with a select number of employers is likely to yield better results.
Emma Edwards - Resourcing Business Partner at MDS Global
It's such a busy environment. Do your research in advance so you know who is there, who you want to talk to and have questions ready that you'd like to ask employers.
Don't expect recruiters to do all the talking. Come up and say 'I found out about your company and I have some questions I'd like to ask you.'
Jennifer Madeley - Talent Acquisition Strategy Manager at TalkTalk
Come with open minds. Be curious, ask questions and take the opportunities presented to you with open arms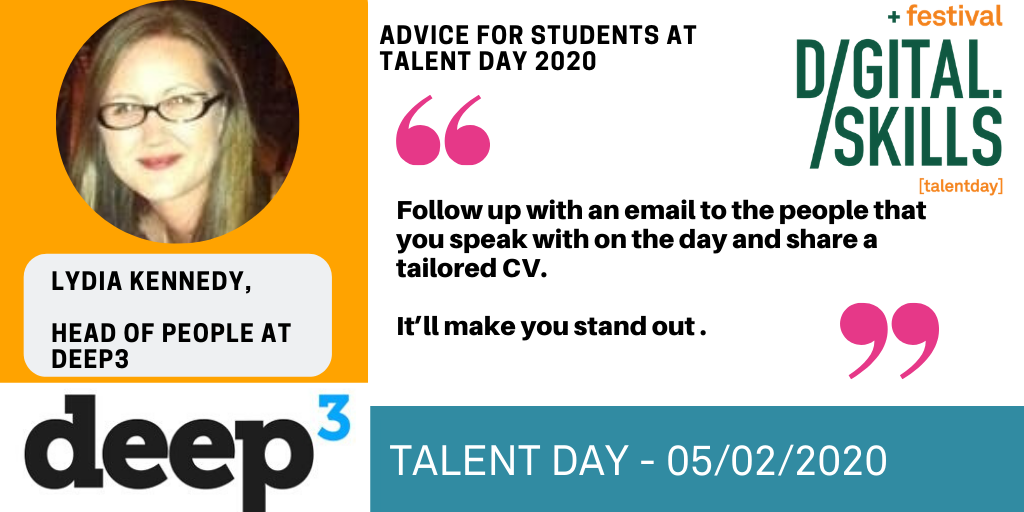 Sarah Shaw - Talent Acquisition Lead at Zuto
Come prepared and speak to everyone! Get creative with CV's and submissions, we loved the individual approaches to submitting resumes and introducing yourselves. From speaking with brands you recognise to those you don't – you'll learn a lot about each company and their culture, plus gain great advice from industry specialists. Our team loved offering their advice for a successful career, we're all about learning, development, sharing knowledge and Manchester Digital's Talent Day is an ideal opportunity to encourage others to excel in the industry.
What advice do lecturers give to Talent Day attendees?
Dr Alex Fenton, Lecturer in Digital Business at The University of Salford gave this advice to jobseekers attending #MDTalentDay.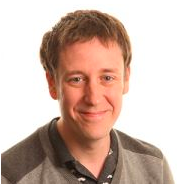 "I think having a good professional social media presence and ideally, a professional looking website showcasing your best projects is really helpful. By using Twitter or LinkedIn in particular, students or job seekers can reach out to the organisations who are recruiting before, during and after the day and use the relevant hashtags and company accounts and of course including Manchester Digital.
This year in particular, it's really useful to be able to find out not just who will be there on the day but also what kinds of roles they are interested in. This helps students prepare in advance who they would like to contact before and speak to on the day, allowing everyone to maximise the time.
With any events, this kind of social media activity creates a buzz and the organisations appreciate students sending a quick hello or 'looking forward to meeting' short social media posts. If they then follow up and meet the company for a chat on the day and set a good impression, I think this creates a good experience for the student and company. It's a good way to hone that approach of using a professional digital presence backed up by meeting in person."
Want to get involved?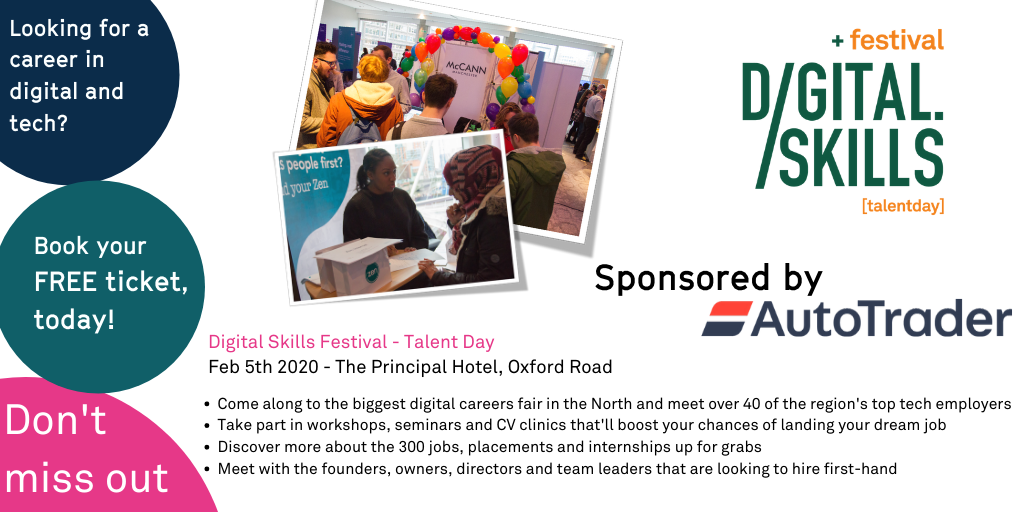 If you're a job seeker that's not signed up yet, you can do so here. Or, if you're a business, get in touch quick to discuss the very limited number of stands that we currently have available by clicking here.