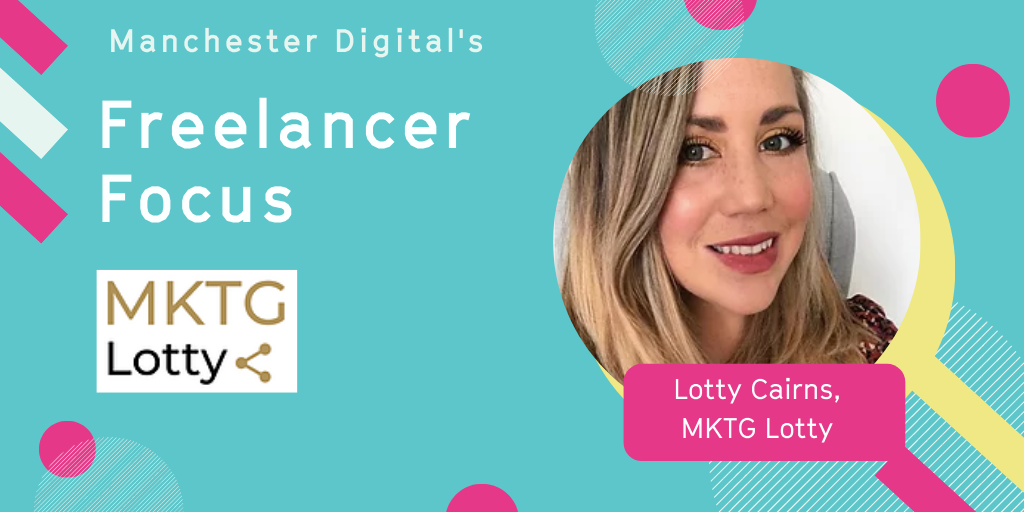 Manchester's tech and digital ecosystem is blessed with a host of talented freelancers. Our series, Freelancer Focus aims to give our freelancers the chance to raise their profile via our digital community.
Today's Freelancer Focus meets Lotty Cairns of MKTG Lotty – a company that offers affordable digital marketing services for the hospitality, retail, lifestyle and tourism sectors.
Tell us about your company?
MKTG Lotty is an independent consultancy specialising in affordable digital marketing for the hospitality, retail, lifestyle and tourism sectors. Client services include, content creation, social media management, paid social, copywriting, website copy & design, CRM support and branding.
In freelance and full-time marketing roles, I have teamed up with ambitious, well-known brands in hospitality, retail and tourism - helping them thrive in all areas of content, social media marketing and creative campaigns. With this sector-specific experience, I am excited to continue to welcome more businesses and make a bigger digital impact together in 2020 and beyond.
What led you to set up your own business?
I started my marketing career in the tourism industry at Marketing Cheshire, promoting places, events and hospitality businesses throughout the county with digital marketing. In 2016 I moved into retail lifestyle and luxury, working as a content marketer for well-established brands in the North - such as The Hut Group and Wedgwood. I quickly learnt the importance of content marketing and omni-channel campaigns - which I knew would become my business niche.
Just over 2 years ago I launched my business MKTG Lotty - out of a need to prioritise my health alongside my marketing career. As a Type 1 diabetic, I wanted more flexibility with work - which full-time roles didn't accommodate. Armed with sector experience, I turned solo'preneur and landed my first client, The New World Trading Company, a hospitality group based in Knutsford, supporting them weekly alongside smaller client projects. This allowed me to balance time more effectively for myself and my clients. It was the best decision I have ever made.
Do you have a unique proposition? What is it?
Clients think of me as their outsourced marketing manager and extended team member - with the services of an agency and a multi-channel approach. I aim to get to know a business, its culture, people and its brands so I can fully support their internal teams with fresh ideas, tools and experience from my marketing background.
What is your company's biggest achievement?
My business MKTG Lotty has worked with The New World Trading Company for over 2 years. During this time I have been lucky to work on their growing portfolio of restaurant brands: The Botanist, The Florist, The Oast House, The Club House, The Canal House, The Trading House, Beneath Bar and Smugglers Cove. Sitting in-house 3 days a week, I soon became an outsourced member of the marketing and design team - which was a special thing. As additional support, I was able to take some pressure off the team with digital marketing activities and restaurant launches. I also got to work on some innovative projects and news-worthy campaigns; such as The Oast House Curious Teepee and The Florist Vegan Vision.
A big achievement for me was assisting in the brand creation and launch of Beneath Bar Bath - a cocktail bar concept like no other - which required web copy support, social media planning and strategy. It was an exciting project to work on and the bar was quickly added to the Top 50 Cocktail Bars UK list.
What do you think the future looks like for Manchester's digital and tech sector?
It's clear that Manchester has been booming with digital, tech and creative start-ups in recent years and will continue to build on its strengths as a world-class city if it invests in talent. Our industry needs to ensure we have skilled workers now and in the future. Companies need to connect with young people through mentoring schemes and pass on the skills needed for a career in the industry.
More business support, community and networking events which connect the digital and creative industries, plus training opportunities for freelancers and startups would be very welcomed too. It would ensure that people are given the right tools and business development skills.
Tell us something we might not know about your business?
Starting my own small freelance business was 100% about putting myself outside of my comfort zone. Since launching MKTG Lotty in 2018, I have been regularly investing in self-development, digital and business skills so I can provide up-to-date industry knowledge and services. This makes a real difference to my client work and relationships.
Are you a freelancer that would like to raise the profile of your business?
If so, contact myles.hamilton@manchesterdigital.com for more details.