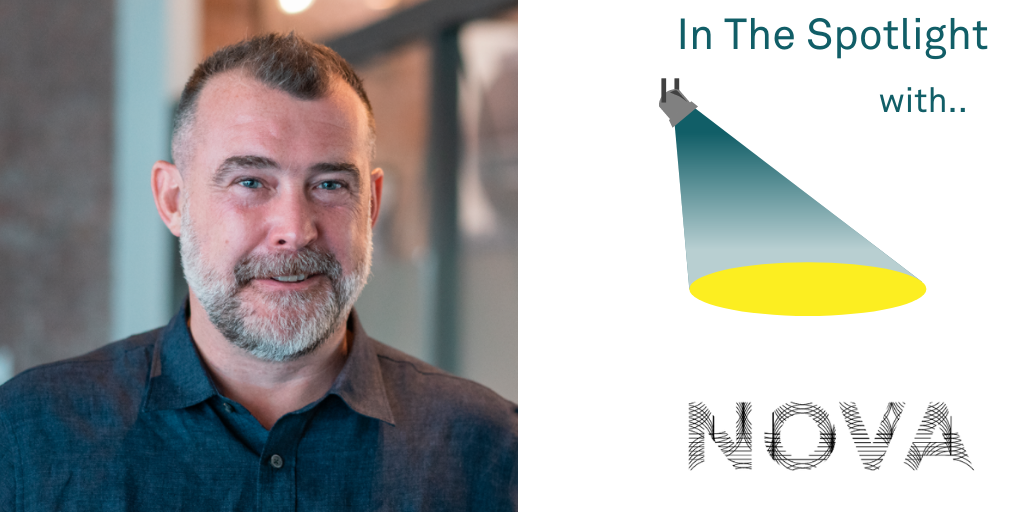 At Manchester Digital we like to interview our members to find out a bit more about what they do and their work in the Greater Manchester digital and technology sphere. This week we're speaking with Andy Davidson, CEO of NOVA - a Liverpool based tech startup builder who partner with entrepreneurs to turn ideas into successful, scalable tech startups.
What does your organisation do?
We co-found tech startups with talented, ambitious founders. We have a startup programme that supports fledgling startups and founders from their inception. We like to get involved at the early, formative stages of businesses. Often when founders have little more than an idea. We provide mentorship, support and a process that helps avoid the many pitfalls of starting a startup.
We continue to support founders to do this alongside their existing commitments with investment and our team of over 100 startup builders that we employ to take founders from idea, to product, to market.
We are fundamentally changing the way that tech startups are built and grown. We believe that our co-foundery approach provides a better way for founders to start and grow their startup.
What do you think is currently the biggest issue facing the digital and tech industry?
I think the fact that I've found this question difficult to answer speaks volumes actually. When I first started out as a software developer, coming up on 30 years ago!, I could have listed many issues from lack of talent and funding, through to poor education and industry support. I'm pleased to say that across the whole industry there has been fantastic progress made on all fronts and I believe we're in the strongest position we have been since I joined the industry.
However the one issue that for me still needs work is talent diversity. I do believe this will improve in the coming years as I've seen and witnessed some of the fantastic work that is happening, particularly across the North West, to address this. It's just unfortunate that it's taken so long to acknowledge the extent of imbalance the industry has. It means that we're likely still a few years away from a fully diversified, and representative of the UK population, pool of talent entering and growing this sector.
What is your organisation's biggest achievement?
I think we could point to several milestone achievements that we've experienced over the years, from successful exits from startups we've started and grown, to bringing onboard significant investors in the likes of Sir Terry Leahy amongst many other 'milestone' achievements that we've been lucky enough to experience throughout the 10+ years we've been doing this.
However, and I'm conscious that I'm being cliche CEO with this answer, but I can assure you I'm being completely sincere here when I say that it's the team of people that we've brought together that we employ. Talented, interesting people from the North West and all over the world now, all bringing with them different experience and skill sets and a desire to build fantastic startup businesses. That's truly our biggest achievement, and something that I'm reminded of on a daily basis.
What would you consider to be your organisation's biggest challenge?
I think that startups are, by their very nature, difficult and fraught with challenges. And at NOVA we're not just dealing with the challenges associated with one startup, we're dealing with many, and all at the same time.
The bigger challenge this presents for me is that it's very difficult to put scalable processes around building startups that all progress at different rates, have different skill and resource requirements at the different stages of their progression. Our model prides itself on its ability to give a broad range of different startups what they need in terms of resource, investment and mentorship at exactly the time that they need it.
I'm convinced that this is 100% the right way to build startups. However it means that scaling this offer, and our people and processes to support more early stage founders. Whilst still maintaining the fabric of our culture and what makes us successful, continues to be at the forefront of my consideration and the biggest challenge I'm working to overcome.
What do you think the future looks like for Manchester's digital and tech sector?
I can only see an acceleration of the great things that have been happening here over the past several years. I think the events of this year have shown even more people how fantastic the ecosystems are outside of London. With people now less restricted by geographical location, and more open to employing, investing in and doing business with the non-London located tech industry I think the future will be continued growth of the sector.
I can only see the appeal of the North West growing, and the ecosystem we have here benefitting from that. I'm really excited to be involved in the industry at this time.
Tell us something we might not know about your company?
We're currently in the process of running our first international startup cohort working with founders from across Southeast Asia. We've been developing relationships in that location for the past 12 months and are now in a position to offer a unique programme and support network that we believe will really add value to the existing ecosystem there.
We've had over 300 early stage founders apply to join the programme so far and we're really excited to start working with them on their startups later this month.
Thanks Andy!
Want to raise your business's profile?
If you're a member, contact thom@manchesterdigital.com to discuss featuring your content on our site, social media or newsletter. If you're not a member, get in touch today to discuss the benefits of membership.