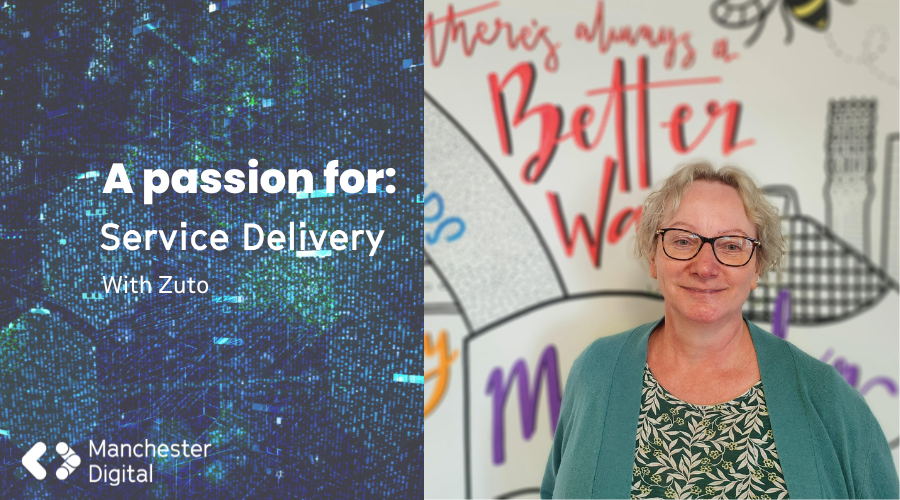 A Passion for: Service Delivery with Zuto
At Manchester Digital, we like to interview members to find out a bit more about their passions to help you get to know them.
This week we spoke to Kate Sandall, Head of IT at Zuto, a car finance broker founded in 2006 with a mission to simplify the car buying and financing process for customers. Zuto connects customers, lenders, and car dealerships across the UK, offering over 60 finance products without charging any fees. With a proud history of helping over 250,000 happy customers purchase their dream car at an affordable price, Zuto is a business where every employee can make a difference. From their work assisting key workers during the pandemic to their long-standing partnership with Autotrader, Zuto's culture is driven by teamwork, inclusivity, and a commitment to bringing out the best in people.
Let's start from the beginning. What got you into service delivery?
It was purely accidental. I actually very nearly ended up managing a pub following working there post-college. At the last minute I declined and picked up a temporary job which involved driving round the West Country and auditing IT equipment. In those days it required picking up every item – computer, monitor, keyboard, and mouse - and turning it over to find the serial number. That'll give you a clue as to my age!
Once I'd done that, I was tasked with entering the results into a spreadsheet. "What's a spreadsheet?" I asked, it turned out I loved spreadsheets. And I still do…
As I entered the data, I occasionally picked up a call from someone in the organisation looking for assistance with something. At first, I had to ask the engineers, but soon got the hang of the requirements. This was a great part of the job I had seemingly invented for myself – getting to know the organisation, going out and about and helping people to fix their computer problems.
Two years later I had an office of my own – the Help Desk. I had a system for logging and reporting on calls which I had built myself in dBase IV (another ancient reference), and a team member reporting to me. I decided it was time to go and make my fortune in London.
Twenty-five years later, after stints in the public sector, shipping, mobile telecoms, the Lloyd's Insurance Market and one of the world's top Business Schools, I find myself working in Manchester as Head of IT for Zuto.
How different was Service Delivery back then from how it is now?
The biggest difference is that rather than a supporting act to the business, IT is now integral to nearly every business, and in the world of fintech it is the business. There are so many more technologies to go wrong, and so much more complexity. Impact and urgency need to be evaluated much more stringently and accurately.
Another big difference is people's expectations. When I first started out, people expected that technology would fail on a regular basis. Now everyone is used to carrying around a powerful piece of technology in their pocket that rarely malfunctions, has multiple uses, updates easily and silently and requires no support. Why shouldn't 'work IT' be the same? There are many reasons it's not – but that doesn't help when something's broken and a deadline looms…
What excites you most about your work?
The satisfaction of smoothing the customer journey. Service Delivery really is an opportunity to understand your customers' requirements, which requires a lot of customer interaction (AKA chatting over coffee) and a lot of problem solving as a team. It's true that at an entry-level it can be a bit repetitive if you're on the front-line handling calls or an email queue, but most people soon move on to the more interesting stuff.
A large part of the function is service improvement which usually gives rise to interesting projects, and as the service delivery remit tends to be wide, an opportunity to get stuck into all sorts of technologies from cloud services to end-user devices, networks, end-user training, telephony and IT Security. The work is certainly varied.
What technologies can we look forward to in your profession?
In most organisations, joined up service delivery depends on having the right tools for the job, which starts with the Service Desk ticket management tool. These range from basic call logging through to design and build your own automated processes, ensuring ticket delivery to the right team, collecting the right information from the end user, and making visible all the information a support engineer needs to resolve that ticket.
Not really a technology, but ITIL is a best practice framework that has been developed over the years as technologies change and understanding of service delivery deepens. The most recent version, ITIL 4, has evolved beyond the delivery of services to providing end-to-end value delivery. The focus is now on the co-creation of value through service relationships and includes the customer as an essential element.
Self-service for the end-user has been around for a while, but live chat is becoming more prevalent, and often preferable to phone calls or emails where the workforce is now more of the e-generation and prefers to message or chat rather than actually talk to someone!
Then there are the opportunities for integration – to suppliers' tools for external support services, to software development management if you're supporting in-house systems, to asset management or even a configuration management database so all the information you could possibly need is at your fingertips, information flows in the right direction and any issues are promptly understood, managed, and resolved.
Who are your heroes? (Or if there are no heroes, who can you recommend others to follow)
Howard Kendall, the founder of what is now the Service Desk Institute. He was one of the first people to understand that the IT Help Desk required a different set of skills to other customer service roles and began providing specialist training courses. His passion for helping organisations improve their IT service to customers has resulted in the creation of a global community for everyone working in the service desk industry, with regular events, training courses and opportunities to network with fellow service delivery professionals and potential suppliers.
I would also recommend Akshay Anand, a service management professional who until recently was a lead architect and product ambassador for ITIL 4. What he doesn't know about service delivery processes probably isn't worth knowing.
And finally, an ex-colleague of mine at the London Business School, Professor Dan Cable. He is Professor of Organisational Behaviour, and his areas of teaching, research, and consulting include employee engagement, leading change, organizational culture and its effects on sustained competitive advantage, leadership development and mindset, and the linkage between brands and employee behaviors. He has also published two books, and I particularly recommend Alive At Work for insight into how you can help your teams enjoy what they do.
Thanks Kate!