Our Digital Skills Festival is one of the most important events in our annual calendar. Held right here in Manchester, the Digital Skills Festival attracts industry professionals, educators, students, graduates and tech job seekers as well as respected industry thought-leaders and innovators.
If you want to be a part of Talent Day, the North's largest careers fair, please use the appropriate links below.
Students and Job seekers sign up here
Agenda for Skills Festival 2021
The Manchester Digital Skills Festival takes place from 8th- 12th February 2021 and will be in an online format for the first time.
To register your interest in attending the activities happening over the week, please use the links below, or click the register button on the menu bar.
Also, please take part in the Skills Audit 2021 - a vital piece of research into the region's skills landscape.
| | |
| --- | --- |
| Monday 8th February | Skills Conference |
| Tuesday 9th February | Experience Day |
| Wednesday 10th February | Talent Day |
| Thursday 11th February | Professional Development Day |
| Friday 12th February | Professional Development Day |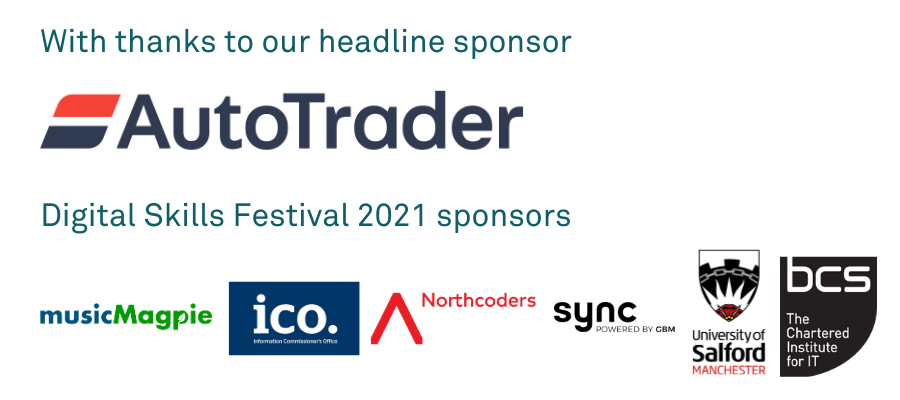 AutoTrader are the headline sponsors of the Digital Skills Festival 2021. musicMagpie, Sync, The ICO, Northcoders and University of Salford are also sponsoring the five day event. If you would like to join them as sponsors of the Skills Festival, we have a range of opportunities to suit any budget. Please take a look at the packages here: Skills Festival sponsor pack 2021.pdf
Talent Day
Talent Day is the largest specialist careers fair in the North. Each year over 1800 graduates and job seekers attend to find out more about the latest careers on offer at some of Greater Manchester's most exciting and innovative tech companies. 40+ businesses attend and there are upwards of 250 jobs on offer. It's the perfect day to find new talent, or if you're a jobseeker, to take the next step in your career.
Exhibitors expression of interest here
Students and job seekers sign up here
Conference
The conference will take place from 1:30pm - 5:30pm and will be live streamed from Manchester Technology Centre.
We'll consider topics such as employment post-COVID; what the tech industry needs to bounce back; growth areas and some emerging industry trends. We will also be sharing the findings from this year's national Digital Skills Audit, in partnership with the Institute of Coding.
Experience Day
Digital Futures industry experience days bring to life the world of work for Greater Manchester's young people. If you're interested in hosting a session for young people, or you're a school or college in Greater Manchester who wants to bring students along to an industry day, then please get in touch using the register link above!
Businesses sign up to deliver an experience day here.
Professional development workshops
There will be a number of workshops taking place over the course of the day, covering topics such as leadership, AI for business, accessibility, innovation, managing culture, data driven businesses, google cloud, security and much more. If you want to hone your skills, knowledge share and learn from your peers or you're considering a career move, then attend our free workshops.
Register your interest in attending one of the workshops here.
Skills Festival Sponsorship
We have a variety of sponsorship opportunities available at Skills Festival 2021.
If you would like to get in touch with us to discuss how you can get involved please call 0161 238 8642 or email kate.wilson@manchesterdigital.com