24 May 2023 16:30 - 19:00
This event will explore the increased use of avatars within a business context.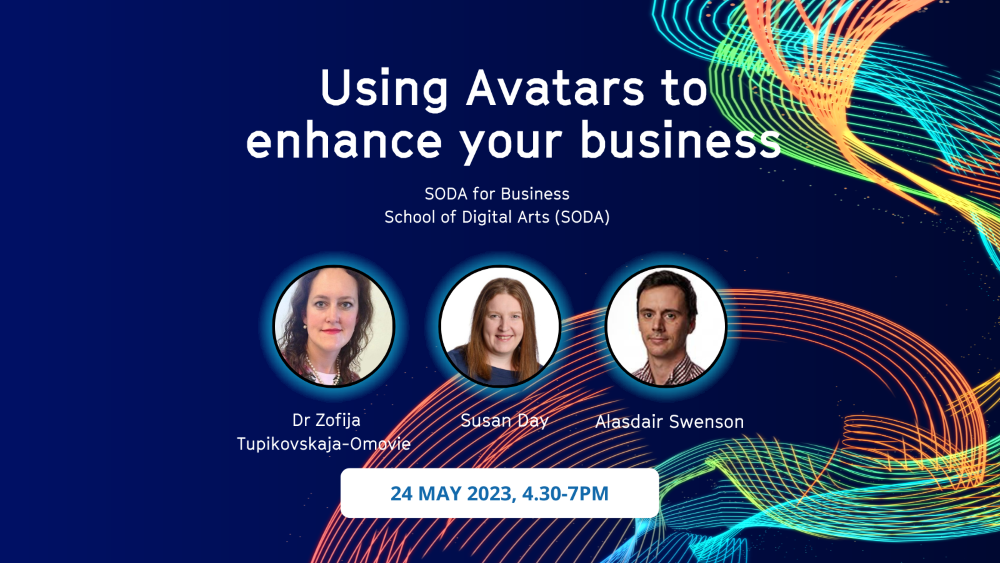 Leading professionals from both business and academia will highlight how Avatars can create real added value and enhance the business proposition within fashion, training and media production environments.
An avatar is a graphical illustration, 3D figure, or an icon that represents a person in a virtual world. Avatars are becoming increasingly popular and can be found in online forums, social networking sites, online games, etc. They have been adopted in a variety of sectors from fashion to media production and more recently are being used for training purposes in business.
At this event, you will have the opportunity to see how simulation software can be used to consolidate learning, providing the user with an opportunity to practice their developed knowledge such as coaching skills, interview skills and having difficult conversations in a psychologically safe environment.
Schedule
4:20 – 4:30pm – Arrival
4:30 – 4:45pm – Welcome and introduction to SODA
4:45 – 5:45pm – Presentations (Zofija, Sue & Alasdair)
5:45 – 6:00pm – Q&A and Panel Discussion
6:00 – 7:00pm – Pizzas & Networking / Tour of SODA
7:00pm – Close
To avoid disappointment, please book your ticket in advance.
Speakers
£10.00
24 May 2023
16:30 - 19:00
School of Digital Arts (SODA), Manchester Metroplitan University
14 Higher Chatham Street
Manchester
Manchester
M15 6ED
Get directions