3 October 2022 13:00 - 17:00
Amazon Vendor Central helps connect your brand with the loyal Amazon customer base across the UK and internationally.
As a brand, you will raise product awareness much faster and shift more stock after completing this training. In addition, the comprehensive course teaches you how to efficiently use the platform and grow your sales with the proper Amazon SEO & Advertising strategies.
We will also discuss a very popular Amazon Hybrid Model, which uses Seller Central and Vendor Central. Of course, this strategy doesn't work for everyone, but we'll work with you to look into your business and recommend the proper steps to move forward.
** If you prefer to book online training or in-house training, we can help with that too. Get in touch to discuss.
═══════════════════════════════════════
Who is this workshop suited for?
Manufacturers, Brand Owners, Digital Marketers
Some key areas of the workshops are:
• Vendor Account vs Seller Central Account
• How brands are using the hybrid strategy successfully
• What's the future of Amazon vendor account
Operational best practices
• Managing POs
• Payments Chargeback, CoOp, Return & Shortages
Listing Products Process
• Adding single and multiple products
• Content and image alterations
Content optimisation best practices
• Product listing best practices
• Tools for choosing keywords
• Using Google queries to create your product content
Product Promotions
• Vouchers, Promotions, Lightning deals, Prime Day
Amazon product reviews
• Best practices
• Leveraging the Amazon Vine Program
Building your brand content on Amazon
• Amazon A+ page best practices
• Amazon Store design best practices
Amazon Retail Analytics (ARA)
• Vendor Operational performance
• Retail Analytics and forecasting
Amazon Advertising
• Live Demo: Sponsored product ads, Product Display Ads and Sponsored Brands
• A / B testing
• Advertising best practices
Amazon Attribution ( NEW )
• What is Amazon Attribution?
• Setting up tracking
• Types of media that can be applied
• Understanding the attribution metrics
Campaign Structure
• Basic Campaign structure
• Best practices
Advertising Reporting
• Understanding Amazon PPC Metrics
• Understanding search term reports, product placement reports
Creating your own Amazon Advertising Plan
Prerequisites for this course
This course is aimed at brand owners and manufacturers and typically delegates have experience of trading on Amazon in some capacity. Please bring your laptop, this will allow us to make the session practical and tailored to your own account.
Just a few of the fantastic organisations who've attended our previous training.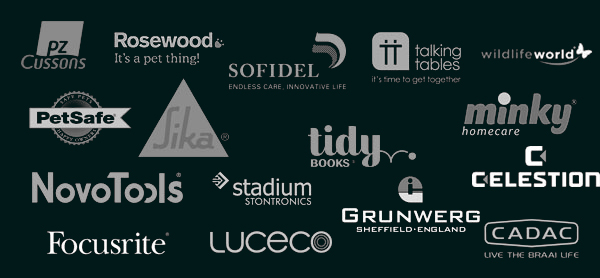 TESTIMONIALS
| Andy Loughlin, Transcontinenta
Prabhat provides a great insight into Amazon Vendor & Seller central management by providing bespoke training to adhere to each of the delegates requirements and circumstances.
Great course!!
| Rachel Wedley, Ellison
Prabhat has an incredible insight into Amazon, he shows both positives and negatives of Amazon and isn't biased toward being a seller or vendor. He's helped to build my knowledge on Amazon Advertising and also the SEO aspect of Amazon and how important it is that both of these are working in unison.
Great course and I would recommend to anyone who wants to build or start their knowledge on Amazon!
| Patrick Jochelson, Sika
A very informative and valuable training session on managing your Vendor Central account with Amazon. Would recommend.
════════════════════════════════
If you are looking for Amazon Advertising and SEO Service, we can help, find out more >>
£300.00
3 October 2022
13:00 - 17:00
Manchester Manchester Conference Centre Weston Building
Sackville Street
Manchester
M1 3BB