21 November 2022 13:00 - 17:00
eBay is a trusted buying platform for millions of buyers across 26 countries. With this considerable customer base, eBay helps many businesses to accelerate their online sales.
Selling on eBay is cost-effective and can help you build a scalable business. Online Seller UK's professional eBay course is here to help you understand how to improve the visibility of your products and scale up your business with eBay marketing activities.
We personalise each session based on your products and product categories. On the day, you will take away an action plan that will help you grow your business
** If you prefer to book online training or in-house training, we can help with that too. Get in touch to discuss.
Who should attend?
Marketing Professionals, Directors
What will you learn?
Finding the right product to sell
• Find popular products on eBay
• Get keyword ideas from top-performing product titles
• Analyse product pricing and best offers
Profit Calculations
• eBay fees explained
• Creating your profit calculator
eBay product launch strategies
Listing your product, the right way
• Key elements of successful eBay listings
• Live Demo: step-by-step product listing
Exploring eBay bulk listing tools – Linnworks, Wonder Lister, Inkfrog
eBay Advertising
• Promoted Listings Standard
• Promoted Listings Advanced
Pricing Strategies
• Fixed vs Auction vs Best offers
• eBay repricing for serious sellers
Shipping settings
• Shipping settings with multiple services
• Increase sales with Fast N' Free shipping
• Excluding shipping locations
Feedback and Detailed Seller ratings
• Getting positive feedback
• How to limit negative feedback
• Importance of Detailed Seller Ratings (DSR)
eBay SEO
• Key factors that affect your product SEO
Reporting and Analytics
• Identify your top performers
• Identify out of eBay traffic trends
• Identify under-performing listings and take corrective actions
• Maintain eBay service standard
Understanding seller protection on eBay & Paypal
Expanding Globally
• Global Shipping Program (GSP)
• International shipping settings
• List your items directly on international eBay sites
• Automate cross border listing process
Product Sourcing
• Product sourcing best practices locally and internationally
• Importing products – step by step guide
• Introduction to logistics – FOB, CIF, Ex Works
Prerequisites for this course

This course is aimed at eBay sellers with a little experience of selling on the platform though it is not essential. You will also need to bring your laptop and have access to your selling account. Typical attendees are digital marketers, retailers, company directors and managers.
Just a few of the fantastic organisations who've attended our previous training.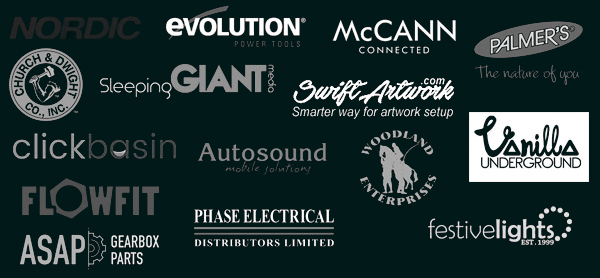 TESTIMONIALS
| Jim Sweeney, Kilts4less
My first visit to Prabhat's training really got a lot from it i will be back will bring staff back with me The e bay Subject matter was in depth simple but detailed he covered about every important facet of it…. I went for a health check to see how I was doing and get what I was weak on sorted it did all of that and then some I have been selling on e bay for 15 years I found if more then value for money he knows his stuff 100% recommended.
| Rhoswen, Escape Watersports
So nice to have one to one training where the course is based on your own experience and Ebay store. Gave me loads of ideas on how to improve the store and the boost listings for better visibility. Thanks Prabhat
| Paras Saxena, Kannis
The Session was an eye opener for someone who is still struggling with what will work and what will not.Going beyond : Prabhat took interest in finding out what all the participants businesses were and gave them a tailored solution of what they were doing wrong and correct them by giving various tools.Finally Prabhat's genuine approach to problem-solving was impressive.
£300.00
21 November 2022
13:00 - 17:00
Manchester Conference Centre Sackville Street
Manchester
M1 3BB