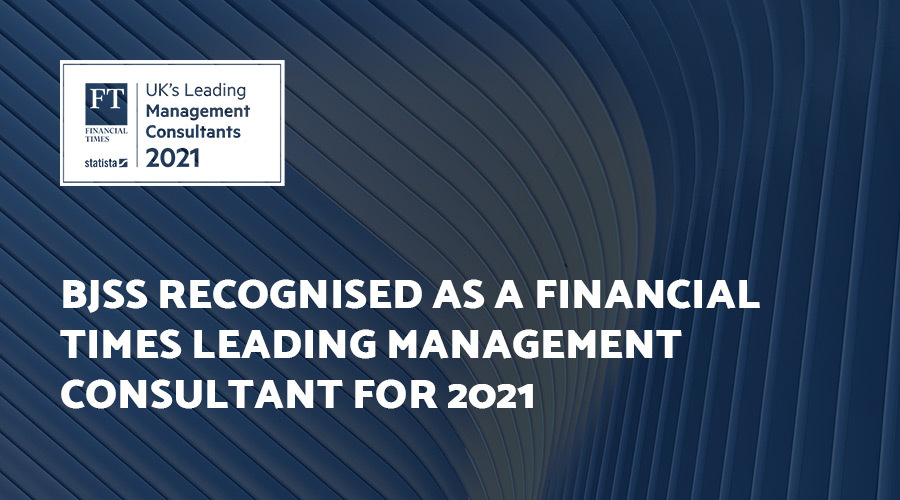 This prestigious report recognises consultancies that have achieved the greatest number of recommendations from clients and peers. It is rated by sector and specialism.
In the fourth annual FT rating, BJSS has achieved:
Silver for consumer goods & retail
Bronze for healthcare & life sciences
Bronze for IT, technology & telecommunications
Bronze for IT – implementation
BJSS introduced its dedicated consulting capability in 2018. The consulting team addresses a broader set of client challenges outside of BJSS' heritage of technology delivery and has extensive industry, strategy and delivery expertise. The capability is tightly integrated with BJSS' world-class engineering and design teams to rapidly translate strategy into the delivery of full working products.
Hannah Tharp, Head of BJSS Consulting, said: "Being recognised as an FT UK Leading Management Consultant is a phenomenal achievement for a team that has been in existence for less than three years."
In celebration of this listing, BJSS has released a white paper entitled – A Strategy for Innovation: How to Make Change Work for Your Organisation. The paper, written by Hannah Tharp, explores BJSS' alternative and proven approach to making organisations more innovative.
Tharp continues: "In this white paper we share some of our approaches that contributed to our FT award. But most importantly, they have helped our clients to switch their strategic approaches and evolve their structures and processes to encourage innovation."
Given the success and levels of interest in BJSS' integrated consultancy offering, the organisation plans to expand further over the next few years. This will be achieved primarily by welcoming more talented consultants through its graduate and experienced intakes, launching additional services, and expanding internationally.
To read Hannah's white paper – A strategy for innovation: how to make change work for your organisation – click here.