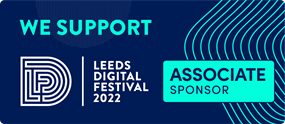 Local Cyber Security Consultancy Support Leeds Digital Festival As Associate Sponsors For The Third Year Running
Cyber Security Partners are proud to renew their sponsorship again for Leeds Digital Festival 2022 this year. This is a great occasion to celebrate technology and digital culture under many aspects, ranging from fintech, social media, general business advice to coding. Leeds Digital Festival (LDF) is a collaboration of organisations that host events within Leeds to showcase the city's digital culture within the digital sector. These events are open to everyone, from entrepreneurs, students, managers and many more to offer advice and knowledge within a range of topics. The LDF events will take place over the last two weeks of September from Monday 19th September to the 30th September.
CSP's main goal every year is to bring expertise, industry insights and a fun element to raising awareness on the (at times tricky) topics of Cyber Security, all for free.
As well as last year, Team CSP are coming back with yet another six free events, three of which will be online and three in-person. CSP design events with everybody in mind to be able to utilise and benefit from, whilst also networking with like-minded people. Their morning breakfast event kicks off LDF 2022 for CSP, called "The funniest Cyber Crimes that actually worked" which will be in-person. This event is aimed at attendees who are interested in Cyber Security history, regarding past cyber-crimes and attacks and raise awareness. So, attendees can enjoy breakfast on us and get to know our team and their stories over a cuppa!
CSP's other events are great for people who seek career advice or more specialised content; ; "How anyone can get a career in Cyber Security" or "Implementing Legal within Tech", and "Security Assurance Vs Security Compliance". The finale event to end this years' LDF activities is their returning 'Who Dun It? Our Cyber Attack Murder Mystery' event. During the event your detective skills will be put to the test in a fun interactive way to figure out who committed the Ransomware crime internally. This evening event allows attendees to network and grab a bite to eat during CSP's 'Who Dun It' Cyber Security event.
Register for CSP's events for free and for more information on each topic, dates and times, click here.