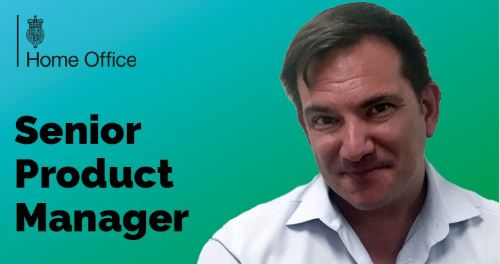 Hi, my name is Paul, and I joined the Home Office just over a year ago, working on a new Intranet project as part of the Product Team. I was previously working for Royal Mail and BT, so joining the Home Office was a nice progression for me moving from the Private Sector to the Public Sector.
I wanted to join the Home Office because I felt I could utilise my skills well in the Senior Product Manager position I applied for, and also because I wanted to be part of something bigger than myself.
I started off my career after university by building websites. I then went into ecommerce, managing online shops and transitioned into working as a Product Owner at Royal Mail. I oversaw online postage and looking after end to end digital experience. This is when I started to develop more of an interest within the product space. I was working on both internal product and digital experience where I started reusing my design skills.
Then the pandemic hit and, as a result, the company I was working for had a restructure across the whole organisation. I saw an opportunity come up during this time at the Home Office and it looked quite relevant to my experience, so I thought there was no harm in applying for it.
Since joining I have managed a lot of employee-facing projects, along with writing reports and working to tight schedules to ensure the products are delivered. I have found every day is different working here, so the variety of the work is broad and challenging.
My day-to-day duties can vary quite a bit including things like:
Working closely with the Delivery Managers in driving key campaigns forward

In depth conversations liaising with the User Centre Design (UCD) team

Writing reports across project delivery key metrics

Making sure the project is delivered within agreed timescales
The best thing about working in the Product team is when we deliver something rewarding as you have been directly part of this. When I first joined the organisation, I found it to be very fast-paced; however, over time I have realised I enjoy this element, as it helps to keep me on my feet. We get to work on some great projects which bring in positive change across the whole organisation.
I also enjoy the flexibility of the work environment here and working from home when needed really helps with having a good work life balance.
For anyone considering working for the Home Office, I would say to them to not be scared and just to apply. You never know where it may lead you in your career journey. Coming from the Private Sector I thought things might be different, but we have the same user-centric principles when it comes to product delivery and the transition has been interesting for me.
I would highly recommend the Digital Service Manager – Passports and Civil Registration role we are currently recruiting for (closing date 12 June). If you're interested, you could reach out to one of our lead recruiters to understand what the role involves and learn more about the application and interview process.
For more information about the types of different roles that the Home Office recruits for, check out the Home Office Careers website.