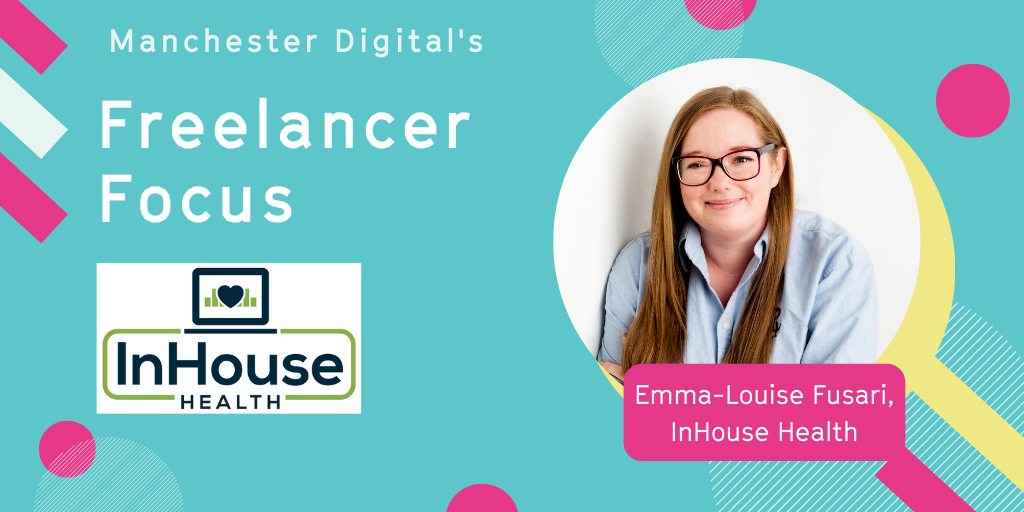 Manchester's tech and digital ecosystem is blessed with a host of talented freelancers. Our series, Freelancer Focus aims to give our freelancers the chance to raise their profile via our digital community.
Today's Freelancer Focus meets Emma-Louise Fusari of InHouse Health – a company that looks to help companies to retain staff by better understanding and acting on employee health data.
Tell us about your company
In-House Health is a workplace health and wellbeing consultancy with a difference! We specialise in helping digital, creative, and integrated marketing agencies improve their team performance and retain their top talent.
We work with agencies to help them understand and assess their employee health data, which we collect through individual employee health checks and lifestyle assessments.
We use the data to drive employee engagement, to implement relative strategies and initiatives and to educate and train.
Whilst improving health outcomes for employees, we also improve productivity, creativity and bottom line profits for the agency.
In-House Health provides organisations with expertise and advice whilst supporting them on their health and wellbeing journey.
What led you to set up your own business?
I was and still am frustrated at the lack of programmes and initiatives available to prevent ill-health health in the workplace.
We spend so much time at work, what a great platform it is to raise awareness and address health and lifestyle issues that impact our daily lives.
There are huge benefits for individuals and organisations that take workplace health and wellbeing seriously and absorb it into their culture.
However, that being said. I see a lot of workplace health initiatives being a tick box exercise, irrelevant to the needs of the workforce and fragmented. This frustrates business owners as they don't see benefits and often see it as a waste of resources because 'it doesn't work'.
Do you have a unique proposition? What is it?
A nurse for 18 years, I have the knowledge, experience, and skills to not only assess the current health needs of an agency, but to identify and address future risks before they become a crises.
Working in digital and tech increases peoples risks of developing a mental health condition. It's a highly stressful environment and can be detrimental to the workforce and the organisation.
I understand why those challenges happen and how to fix them. I promise there's a way to turn your agency into one which allows you to have an efficient and productive team and to keep hold of them.
When I work with a client, I focus on the 5 elements of health data. Working with a nurse employees really engage, allowing In-House Health's realistic solutions to improve outcomes for people and for business.
What is your company's biggest achievement?
Don't laugh, it's actually that In-House Health is classed as a Health Tech company. It makes me laugh, because ironically i'm the least techy person I know, well apart from my mum!
From this I delivered the only wellbeing event "Stress Kills Creativity" at this years Manchester Digital City Festival and was described as an outstanding woman in tech in an Adzooma article. Not bad for a nurse eh?
What do you think the future looks like for Manchester's digital and tech sector?
Pre-covid Manchester was booming. How we operate in terms of location might change slightly if teams remain working remotely. But I think the future is bright. I've met so many inspirational and engaged people in this sector, team this with the resilience of the city and there is no way it can fail....unless you don't look after your employees' health of course ;-)
Tell us something we might not know about your business?
I am about to launch my own radio show on Fab Radio International! Check-Up Tuesday by The Digital Nurse (me) will not surprisingly be aired on a Tuesday and is named after my fortnightly newsletter.
Each week I will be assessing the latest health news, looking at awareness days/weeks/months and chatting with a guest relevant to a specific health topic.
Let me know if you'd like to be a guest!
Are you a freelancer that would like to raise the profile of your business?
If so, contact myles.hamilton@manchesterdigital.com for more details.