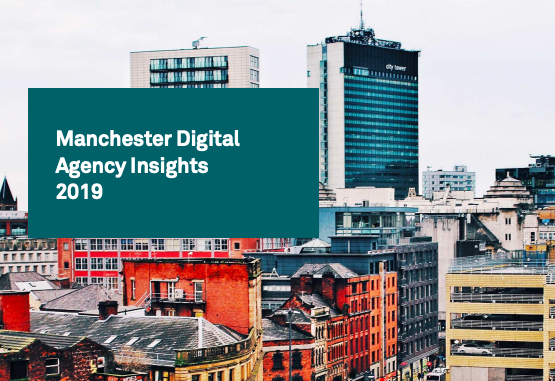 Below is a rundown of some of the report's key findings:
54% of agencies are expecting revenue to grow by 11-50% this year

The average confidence barometer score for growth was 77 out of 100

26% of agencies have struggled to retain staff

Those who have lost staff say the most common reason is talent opting to work client side

34% said their biggest challenge was finding talent

Just 6% of agencies have lost staff because they decided to leave Greater Manchester

33% of outsourced work stays within Greater Manchester

45% of agencies have no idea what impact Brexit will have upon their business
Delve into the full report, here!
We would love to hear your opinions on the findings to please do tweet us @McrDig using the hashtag #MDAgencyInsights
What happened at the roundtables?
On 19 March, we invited senior agency figures to an event, sponsored by Microsoft and Manchester Metropolitan University, in which we shared the findings of our report with them before facilitating roundtable discussions that covered the following topics
Can in housing be prevented?

How can agencies collaborate more?

How do we recruit talent to the region / our businesses?

What techniques can we implement to better retain talent and improve workforce development?

Future proofing: What can we do, as a sector to ensure collective growth over the next decade and beyond?
What will Manchester Digital do next?
As a result of the report's findings, and the subsequent roundtable discussions Manchester Digital will support our region's agencies by committing to...
Work with agencies to create initiatives and events that will encourage greater collaboration, and allow agencies to explore

where their specialisms can add value to each other's services.

Make improvements to the new website's directory that will make it easy for members to find people to not only buy and sell to, but also to partner or collaborate with

Look to set up

meet-ups entirely focussed on enabling niche agencies to meet full-service agencies.

Help to create a joint campaign on agency life that will promote what it's like to work for an agency and push the benefits to help agencies compete with client-side

Help educate non-agency members on how to be a better agency client
What did attendees say?
"I felt the event was important as we need to understand, as an industry, what our concerns are and work together to address them. As with any industry, agencies are needing to evolve to keep current with clients and talent. Therefore the report findings are really interesting and ensure we are focusing in the right areas to benefit the North West's agency offering." James Wilkinson, CTI Digital
"It's always useful to meet fellow agency leads, hear their perspective on how the market is changing, and share ideas on how we can improve and excel, collectively. I think open, facilitated discussions like this really highlight the strength of the Manchester Digital community, and our willingness to learn from each other." Hilary Stephenson, Sigma
"It was brilliant to see so many people from agencies big and small around the table with the common goal of discussing how agencies in the region can thrive. One of my key takeaways was the desire of agencies in the region to collaborate more and help each other out. I feel really positive that we seem to be operating mostly in a space where agencies are open to collaboration." Lucy Moore, Refresh PR
"My biggest takeaway from the night is that it's important that agencies work together to genuinely focus on solving the challenges that clients have, rather than simply selling their specific services. This means agencies need to work closely with clients, and with each other, to offer solutions that make the biggest impact, not the services – or channels – that are easiest to sell." Nick Morgan, Time+Space
"In my opinion, the night demonstrated that agencies across Greater Manchester need to play to their strengths and 'niche' a lot more. This will give them the best chance of doing their best work and not coming second in pitches and tenders they were unlikely to realistically land. This would lead agencies to buddy up accepting that others may bring a specialism to the table where everybody wins." Rene Power, Vision B2B Marketing and Training
Want to know more?
Firstly, why if you want to get involved in helping the region's digital ecosystem, why not apply to sit on the Manchester Digital Forums
Otherwise, if you have ideas or would like to be a part of future agency initiatives, please get in touch with thom@manchesterdigital.com