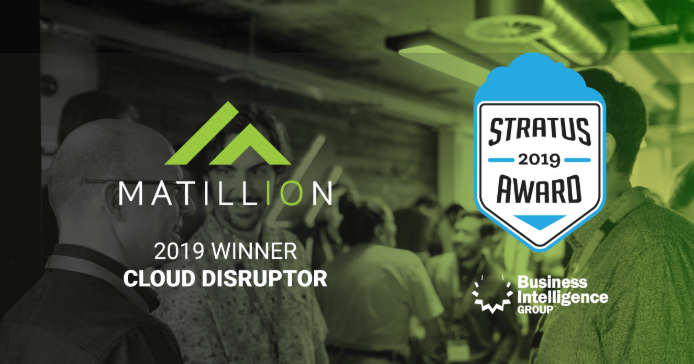 Manchester, England and Denver, Colorado – October 8, 2019—The Business Intelligence Group today announced that it has awarded Matillion a 2019 Stratus Award in its annual business award program, in the Cloud Disruptor category. The organization identifies the companies, products, and people that offer unique solutions that leverage the power of the cloud.
Matillion's flagship product, Matillion ETL, extracts data from a wide number of sources, loads it into a company's chosen cloud data warehouse (Amazon Redshift, Snowflake, and Google BigQuery), and transforms that data from its siloed state into useful, joined together, analytics-ready data at scale. The product helps enterprises achieve the simplicity, speed, scale, and savings by unlocking the hidden potential of their data.
"The Matillion team is honored to be recognized as a Cloud Disruptor and a global leader in data transformation," said Matthew Scullion, Matillion CEO. "Receiving a Stratus Award from the Business Intelligence Group underscores our impact in helping enterprises navigate digital transformation using new, disruptive solutions. We're proud to support and guide our customers as they leverage modern technology to innovate with data in the cloud."
"Matillion is at the forefront of the cloud helping to drive practical innovations in the cloud," said Maria Jimenez, Chief Nominations Officer of Business Intelligence Group. "The cloud is now part of the fabric of our personal and professional lives and we are thrilled that our volunteer judges were able to help promote all of these innovative services, organizations and executives."
Matillion's software is used by more than 650 customers across 40 countries, including global companies like Bose, GE, Siemens, Fox, and Accenture, and other high-growth, data-centric companies like Vistaprint, Splunk, and Zapier.
The company was also recently named a 2019 Top Rated Award Winner in Data Integration by TrustRadius, which is based on unbiased feedback by way of customers' user satisfaction scores alone. The company also has the highest-rated ELT product on the AWS Marketplace, with 90 percent of customers saying they would recommend Matillion.
About Matillion
Matillion is data transformation for cloud data warehouses. Only Matillion is purpose-built for Amazon Redshift, Snowflake, and Google BigQuery, enabling businesses to achieve new levels of simplicity, speed, scale, and savings. Trusted by companies of all sizes to meet their data integration and transformation needs, Matillion products are highly rated across the AWS, GCP and Microsoft Azure Marketplaces. Dual-headquartered in Manchester, UK and Denver, Colorado, Matillion also has offices in New York City and Seattle. Learn more about how you can unlock the potential of your data with Matillion's cloud-based approach to data transformation. Visit us at www.matillion.com.

About Business Intelligence Group
The Business Intelligence Group was founded with the mission of recognizing true talent and superior performance in the business world. Unlike other industry and business award programs, business executives—those with experience and knowledge—judge the programs. The organization's proprietary and unique scoring system selectively measures performance across multiple business domains and then rewards those companies whose achievements stand above those of their peers.