By Moneysupermarket Financial Group Ltd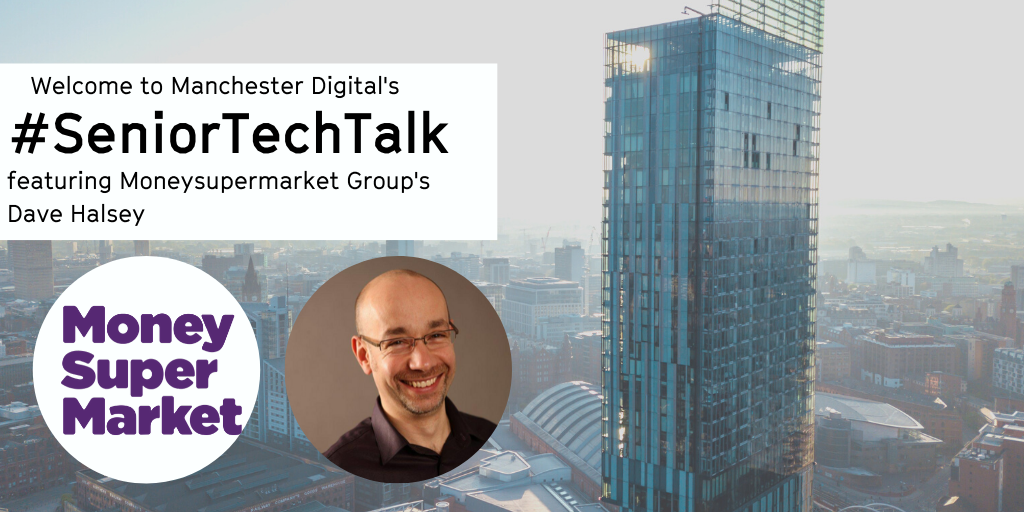 In this interview with Moneysupermarket Group's CTO, Dave Halsey we talk about the company's new fit-for-purpose office in Spinningfields, about the company's new products, the techniques implemented to cultivate product engineering and his thoughts on what Manchester's tech scene will look like in ten years.
Could you tell us a little bit more about Moneysupermarket Group as an organisation and your goals as a business?
Moneysupermarket Group is a FTSE 250 company that is made up of four brands, based in Manchester, London and Ewloe (nr. Chester). The team here in Manchester work across all four brands to provide our customers with the services, tools and products they need to grow their money. Our purpose is 'Helping Households Save Money' and this is what drives us all at the Group.
Our brands are:
MoneySuperMarket, the UK's leading price comparison website. It provides tools to help people manage, save and grow their money, by enabling them to compare and switch Insurance, Money and Home Services products. So, whether that's lowering bills or helping to get great financial products, we have it covered.
MoneySavingExpert, the UK's biggest consumer finance website and is dedicated to cutting customer's bills with the help of journalistic research, cutting edge tools and a massive user community.
TravelSupermarket, compares the best travel deals in one place, so customers can compare everything from holidays, flights, car hire and hotels, to extras such as travel insurance.
Decision Technologies, provide home communications and mobile phone comparison. They provide both a B2B service and consumer comparison brands such as broadbandchoices.co.uk. They also take the price comparison technologies that Moneysupermarket have and sell them to other businesses via white-labels and APIs.
In 2018, we helped our users to save an estimated £2.1bn on their household bills and we are focused on helping our customer to keep on saving and making the most of their money.
Could you provide a bit more information about how Decision Tech works?
Let's use energy switching as an example. We have the technology and relationships to make energy comparison and switching possible. If you wanted to build price comparison features on your website, it's a big and complex thing to build, so we provide APIs that other companies can use to power their product. We also provide a white label service if they want to keep the effort very low on their side. There's lots of interest in this at the moment, especially from companies wanting to implement energy switching in their existing websites or apps.
Could you explain your role within the company, and the key challenges you face?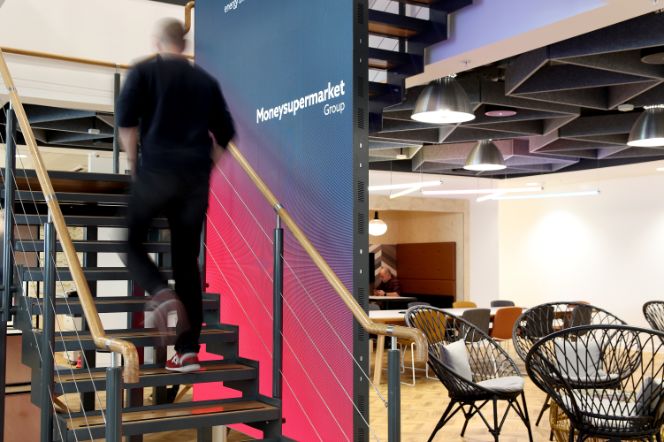 I head up the technology teams for our MoneySavingExpert and MoneySuperMarket brands.
The key challenge I face is the breadth of my role. The technology behind anything that you see on the MoneySuperMarket or MoneySavingExpert websites, sits in my team. With that breadth comes around a hundred engineers across London and Manchester. It is a fast-moving sector so there is a high degree of change which could be in our strategy, product, technology or teams.
Price comparison sites have revolutionised how we shop, what new innovations can we expect to see in this sector and what changes will these bring for the consumer?
I think there's two obvious changes for the consumer. Firstly, when you use the term price comparison website, it must be remembered that not everybody uses a website. Apps are becoming increasingly important for us. We've done a fair bit of work in this space, in really bringing price comparison to people in the form they most want it. We've had success in bringing price comparison into mobile apps as well as launching new propositions in apps, such as monitoring your credit score. We've seen people use our Credit Monitor app to understand their credit score, improve it and getting cheaper financial products as a result.
Probably the most significant change for the consumer, is moving away from searching for a product towards being served it. By that I mean, currently you have to go onto MoneySuperMarket and find a product, such as home insurance. We are very interested in automating that process so that our customers are always getting the best deal with minimal work.
In a recent media campaign, we launched Energy Monitor - a product that allows users to switch, once and from there we will keep telling you if you're still on a good deal and help you if you're not. Energy Monitor allows the customer to say, 'I want to be alerted if there's a better deal that comes up', allowing us to then help people switch. This required us to have a good understanding of our customers as individuals, their needs, and passions. For example, understanding if they are more interested in getting the best price or getting the best service. Do they want to be with a big brand or are they comfortable with a smaller brand.
We want to get to a place where customers don't have to think about if they are on the best energy deal, automating the whole process so they can make the most of their money and time.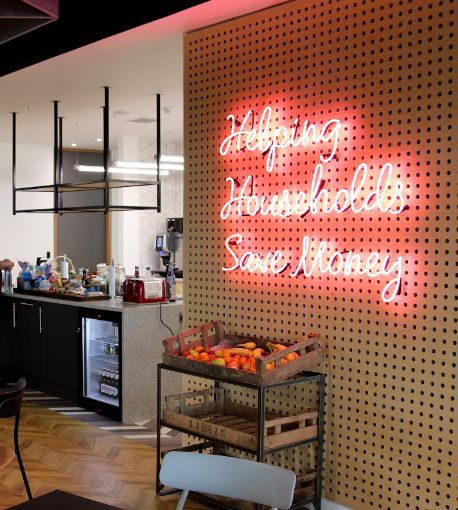 I've just been lucky enough to have a tour around the building and you can see there's a lot of creativity here and a lot of clever people working on your products. What changes have you implemented to create a culture that can meet the challenges that you face?
The Manchester office is our product engineering hub, an office fully focused on building our products. We've worked hard to instil a product engineering culture here; creating self-contained teams that own the products they work on.
Take the car insurance team as an example. That team owns the whole product from start to finish. They have all the skills they need, they have all the engineering disciplines required, but they also have product analytics, UX and UI – everything the team needs to understand and build their product independently. This way of working creates autonomy, trust and ownership, which we believe is required to build great products.
We've done a lot of work on the office environment to make sure people can work collaboratively.
Each team has what they need to work collaboratively including lots of wall space for Kanban boards, architecture diagrams and designs. They have screens to display metrics and a 'mobbing space' to write code as a team if they wish. We also have a number of teams that work collaboratively together on some of our larger initiatives so we've provided plenty of breakout space and good connections to our other offices.
On Friday afternoons we allow individual engineers, on their own or in teams, to work on something they are passionate about. This provides a lot of freedom to try new technology, learn a new skill or to improve something they has previously worked on. We also do organisational wide hackathons a couple of times a year. Generally, they are themed on a particular customer problem we're interested in – for example, the last one was all about personalising the user experience.
What inspired the company's decision to move to Manchester in 2016?
To understand the motives, you need to know a little bit of the background. The business is over 20 years old, originally headquartered just outside of Chester. Then a London office started up, followed by a small Manchester office. Three years ago we finished a major re-platforming that saw us move to cloud and predominantly open-source technology. To achieve this we leveraged a lot of outsourcing as we could not get the volume of engineering talent we needed quickly enough.
So, the decision behind Manchester was very much about no longer wanting to outsource. We had good outsourcing partners but for us, the next stage was to create an internal product engineering team that would allow us to move faster and build better products. That made Manchester quite an easy decision in terms of it being not too far from our office in Ewloe, great connections to London, and a vibrant and up-and-coming tech scene. We moved here because we saw a lot of investment going into Manchester, good universities feeding into the talent pool and we felt that given the size of company and the purpose we've got, we could stand out in Manchester and be one of the best companies to work for in the region.
How has that decision played out for you?
As you have seen, we now have an office full of great people, with over 200 people in our Spinningfields office today. It's been a busy two and a half years of recruiting and I'm pleased that we're getting to the end of that. We proved that we can get the volume of engineers we want and we can get the desired talent levels too.
Recruiting senior technologists is definitely hard in Manchester. Looking for people in the region that have worked in technology for a while is hard because the tech community was a lot smaller ten to fifteen years ago. But we have successfully landed those people. We've also been running a graduate scheme to attract all levels of experience into the business.
How important is it to Moneysupermarket Group to be part of the Manchester community?
We want to be known as a company that is helping to grow the Manchester tech community. We want Manchester to be a place where you can have a great technology career. To do that we need a number of companies that provide good career opportunities and growth opportunities. I believe that to have the best career you need to move between a few companies and get a range of experience. My aspiration is that we are one of the top companies in Manchester that people work at during their career.
To be a part of the tech community, we take part in meetups and if there is a gap in the meetups on offer, as there was for a particular technology called Vue.JS, we will start one. We're also committed to Manchester Digital's Digital Futures which allows us to go into schools to encourage young people to consider technology as a career.
And what benefits do you feel as a business by being connected to the community?
It goes back to what I said about being considered one of the top tier technology companies in Manchester. Investing in the tech community makes sense because we hope that at some point some of those people are going to work at Moneysupermarket. It's about making sure we are being good citizens who are helping to grow the community, with the aim that the talent will join us when there is a fit between what we need and what they need at that stage of their career.
Manchester has developed a reputation as a FinTech centre. What more do you think needs to happen for this sector to grow?
If you look globally, the biggest constraint on the growth of any technology centre, whether it's FinTech or not, appears to be talent. Therefore, everyone involved in the tech community needs to invest in attracting and growing talent so that the capabilities in Manchester grow to compete with other tech centres.
Finally, looking into the future, what do you predict Manchester technology sector will look like in 10 years' time?
Really good question. If you look out of our 16th floor window, you can see many cranes operating across Manchester, so clearly Manchester's thriving and doing well. Manchester has already put itself on the map from a UK perspective, what I would hope is that in 10 years' time, it will soar beyond European aspirations and become internationally recognised as a technology centre. It feels achievable, if we keep growing the talent in Manchester so that growth and expansion can continue.
Want to feature on our site?
Get in touch with michael@manchesterdigital.com if you want your company featured on our website, social and newsletter. Or, download our free membership benefits brochure to discover how joining Manchester Digital can raise your company's profile.