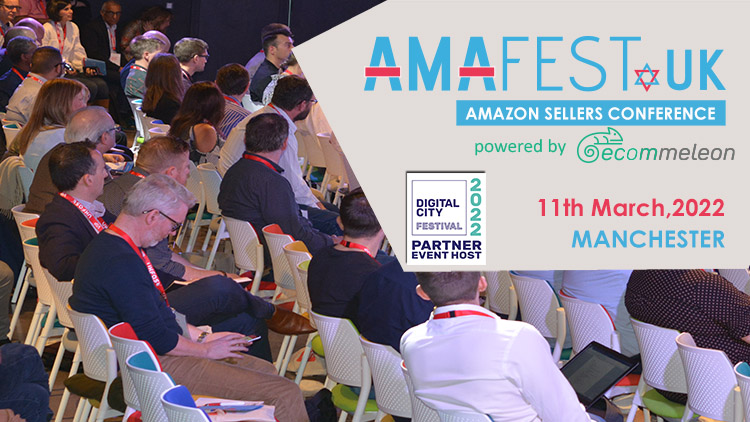 AmafestUK is proud to announce that we are part of Digital City Festival 2022. This annual event series brings the digital sector to Manchester for a week of events.
This year's festival is running from 7-11 March with AmafestUK taking place on the final day - the perfect way to round out your week.
Digital City Festival 2022
Returning live for 2022, the Digital City Festival is an exciting week of events. Gathering the global digital sector to Manchester, Digital City Festival addresses the key challenges facing us all as we emerge from the COVID-19 pandemic.
Featuring the Digital City Expo, the Digital City Awards, live music, cultural events, and much more, Digital City Festival is an exciting event that will help propel the digital sector forwards in 2022.
Online Seller UK are proud to bring Amafest UK to this exciting festival.
#Amafest UK 2022
This year, as part of the Digital City Festival, we'll be bringing #AmafestUK - one of the UK's top events for Amazon Sellers.
Amafest UK is a full-day conference for Amazon sellers. As well as covering more than 10 live-wire Amazon topics throughout the day, this event offers an excellent opportunity to network with other sellers, have face-to-face chats with industry experts, and meet new suppliers.
If you're an existing Amazon brand, retailer, wholesaler, distributor or just getting started with Amazon, this exciting event is one you don't want to miss out on.
What do you need to know?
Digital City Festival starts on 7th March 2022, running until the 11th March 2022. AmafestUK Conference is part of the final day celebrations at the Festival and will be the perfect opportunity to round out your week.
Be part of fascinating discussions on the latest in the digital sector, get involved with lively debates on what is facing digital sellers today, and get the latest information from industry experts from all over the world.
Don't delay, be part of it.