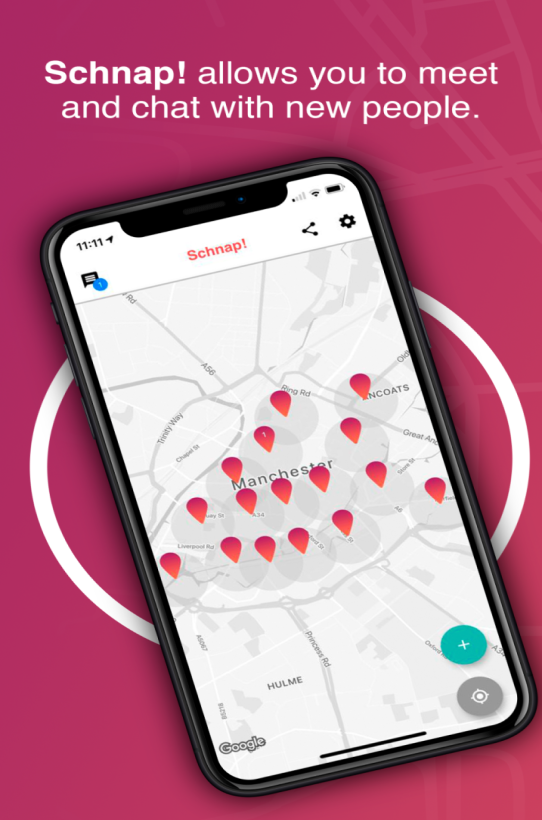 Co-founded in September 2019 by entrepreneurs Martin Taylor and Phil Coleman, Schnap! is a free real time messaging app, designed to move phone users away from traditional social media and towards messaging people in their local neighbourhood instead.
Schnap! users will be able see other users in their local neighbourhood – in a Schnap! Space - and start chatting to them instantly. Importantly Schnap! users will be in complete control, they determine who they want to talk to, they only need to provide limited details to set themselves up and Schnap! never retains or shares user's location data.
Breaking barriers to online social engagement Schnap users will not need friend requests or join "groups" Schnap! is designed to be as spontaneous, intuitive and as hassle free to use as possible with recognisable features such as picture sharing and an ability to send selfies and private chat messages.
To download the app please visit the Apple App Store of get it on Google Play. Our website can be found at www.schnap.co.uk.
Northwest born Martin Taylor, Schnap!'s leader and visionary, has many years executive level experience driving innovative technology solutions. Commenting on the creation of Schnap! Taylor said:
"We are very proud to launch an app with such global potential from the heart of the Northwest of England. In this region we have access to some of the UK's leading technology resources. This has enabled Schnap! to come from concept to successful reality in a very short timeframe."
"Schnap is all about people engaging and sharing experiences on a local level. Whether you're having to self-isolate, at home enjoying being a new parent; moving in to a new house or university; or, you just need some local advice. Creating or joining a Schnap! space allows users to connect locally – share experiences and create friendships. The potential is boundless."
Samuel Bafunso, Innovation Adviser from the GC Business Growth Hub said:
"Schnap is a fantastic app, designed as a platform for people to meet and talk without the barriers of mainstream social media. This gives the app huge global prospects. The Schnap team are highly innovative with a massive growth potential to take on the big players in the market. They are certainly geared up to be the next big thing in the North West Tech space."