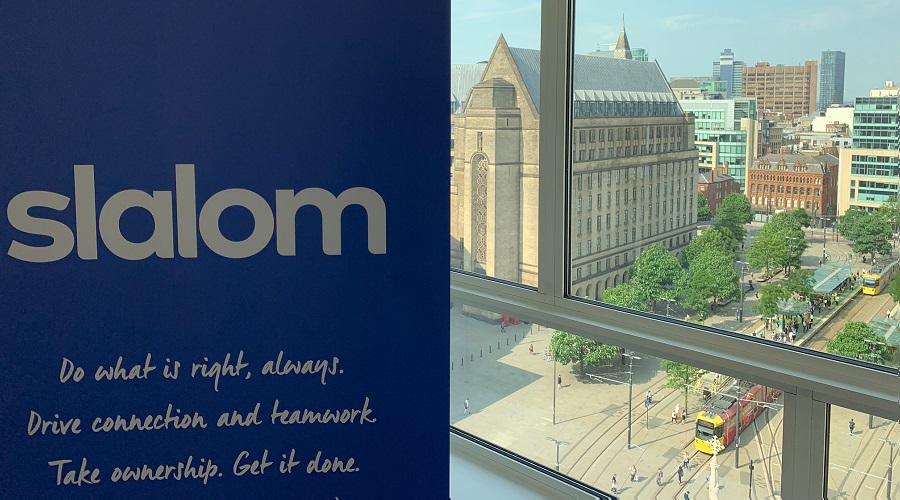 The Slalom Manchester team are celebrating a successful year in which they've built a team of over 20 people and made a real impact through their work with clients and in the wider community around their Manchester base.
Since April 2019, companies in the North-West of England have benefited from easier access to Slalom, the modern consulting firm focused on strategy, technology and business transformation. The Manchester team have further enhanced Slalom's reputation for successful delivery of meaningful change projects with private and public-sector clients in the UK.
Slalom's goal is to build a diverse and inclusive team of over 200 people in Manchester. The team are already part of the fabric of the local Manchester economy, reinforcing Slalom's philosophy of "people from the community, working in the community". Despite the current economic headwinds, they are actively recruiting to build the team, targeting highly experienced people who have worked with consulting firms and digital agencies, start-ups and enterprises.
A regular feature of Slalom's work is the award-winning partnerships with technology and solution providers like Amazon Web Services (AWS), Google, Salesforce and Tableau. Together they help companies tackle their most ambitious projects and build new capabilities.
"We've been delighted by the reception we've received in Manchester, and the impact we've been able to make in such a short period of time. We continue to see it as a key centre of creativity, digitalisation and technology. If anything, it's an even more exciting proposition than it was a year ago!", says Paul Squire, Managing Director, Slalom Manchester. "We're particularly proud of the work the team's done with The Booth Centre and Onside Youth Zones which has become increasingly critical as the coronavirus lockdown continues."
Tim Newns, Chief Executive, MIDAS, said "It's 12 months since Slalom officially opened in Manchester and it's been great to see them continue to grow and deliver innovative work supporting companies and the wider community. In a time where 'digital' is such a crucial part of business strategy, Slalom are at the forefront of helping clients through their transformation journey and as the UK's recently recognised Top Digital City*, Manchester and Slalom are an ideal match. I wish Slalom ongoing success and we're very proud they continue to call Manchester their home."
*Source: UK's Top Digital Tech Cities: The Data City 2020
______________________________________________________________________________________
Slalom is a modern consulting firm focused on strategy, technology, and business transformation. In over 30 cities across the UK, US, Canada, Australia and Japan, Slalom's teams have autonomy to move fast and do what's right. They're backed by seven regional innovation hubs, a global culture of collaboration, and partnerships with the world's top technology providers. Founded in 2001 and headquartered in Seattle, Slalom has organically grown to over 8,000 employees. Slalom was named one of Fortune's 100 Best Companies to Work For in 2019 and is regularly recognised by employees as a best place to work.
Learn more at slalom.com.