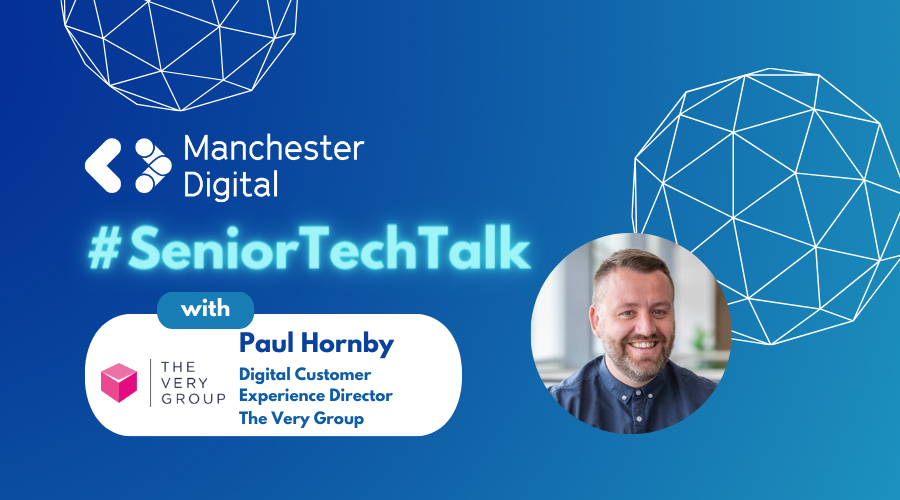 We sat down with Paul Hornby, The Very Group's Digital Customer Experience Director for the latest Senior Tech Talk as we discussed their digital journey and steps they've taken to improve customer experience and engagement.
Could you begin by telling us about The Very Group and your digital journey and evolution over the past few years?
The Very Group is a multi-category, pure play digital retailer. We're best known for our flagship retail brand, Very.
Our purpose is to help families get more out of life. We do that by offering our customers access to 2,000 big brands across electrical, fashion, home, and more, combined with our flexible ways to pay.
Unlike lots of digital retailers, we're not a start-up. We've been around for over 100 years, and as the way our customers shop has changed, so have we. We evolved from physical stores to catalogues, and have been a pure play digital retailer since 2015. Transformation is part of our DNA, and the business embraces it. The energy and investment in the digital transformation journey we're currently on reflects that.
And what is your role at the company?
I'm Very's Digital Customer Experience Director. It's a really rewarding role that involves leading a very talented team across the product management, UX, delivery, and engineering space.
To give you an idea of the scale of our work, we've got 4.4m customers in the UK and Ireland. Our websites receive 1.4m visits every day, and almost half of online sales come via our app.
My team manages the end-to-end digital journey across all of our brands and devices, with the aim of creating a truly seamless customer experience.
Can you tell us about some of the initiatives you are working on to further improve customer experience and engagement across digital channels?
The big initiative that we have been working on, and are still working on, is a complete replatform of all of the technology that powers our digital customer experiences, to elevate and personalise those experiences.
Our existing platform has been live for over a decade and has done us proud, fueling our growth as a business and particularly the growth of Very as retail brand. But our ambitions exceed its capability now, so we've been building a new platform which will allow us to elevate customer experience to a whole new level. The platform is called Skyscape.
Skyscape ultimately allows us to make changes and improvements to customer experience faster and more frequently than ever before. It's helping our team work even more efficiently too. The whole customer journey will gradually become more personalised thanks to tools like AI and machine learning. We're also using a new design system which is helping us create a more contemporary, consistent, and accessible customer journey.
Skyscape is consistent with the MACH standards of a microservices-based, API-first architecture. Everything's cloud-hosted, SaaS, and headless.
So that's the platform we're building and the biggest investment that we're making to change our digital customer experience.
What challenges have you faced in elevating the digital experience at The Very Group? How did you overcome them?
Some of the big challenges that we have faced have been trying to create the right products, services and experiences that our customers want and need on our legacy platform. While it's done us proud for over a decade, that's a very long life span in digital terms, and it's gradually become more challenging to create a cutting-edge customer experience.
On top of that, it is built on an older language which made it more challenging to attract and retain talent who wanted to work on that platform.
The good news is, our digital transformation has come at the perfect time. We've got the energy of the whole business behind our transformation, and it's already driving real change in our digital customer experience and talent attraction capabilities.
Where do you see the biggest opportunities to innovate and set yourselves apart when it comes to ecommerce?
I think the primary area that we are focusing on right now is product discovery. As part of the creation of our new Skyscape platform, we've partnered with some best of breed SaaS platforms in the content space, the commerce space, and the product discovery space.
Our content partner is Amplience, our commerce partner is commercetools, and our product discovery partner is a US-based company called Constructor.
Constructor has built a truly AI-driven product discovery platform. I think the term AI can be overplayed these days, but what Constructor's platform does is true AI and so impressive. It will serve out the on-site search, browse, and product recommendations experience, as well as other features like quizzes and bundles.
But the really important thing is that Constructor's platform learns from both anonymous individual interactions and collaborative behaviours to understand intent. As a result, it does a brilliant job of displaying the right product to the right customer at the right time.
So, we are focusing on all areas of the customer journey. But the area that we are really doubling down on right now is product discovery. We want to make it easy and fast for our customers to find the right products, regardless of how big our assortment gets.
What emerging technologies are you most excited about when it comes to further optimising CX?
AI is obviously a big one. On top of using it for product discovery, we're also really interested in how we can utilise AI in a number of other areas to improve customer experience and drive business efficiencies.
We're already using AI to reforecast the rate of sales for a vast number of SKUs multiple times each week. While demand forecasting may not be the first thing you think about when it comes to AI and customer experience, this ensures we have the best possible availability. One of the things that customers want more than anything is the products they're looking to buy to be in stock.
We're also really interested in the power of Generative AI and how we can use that for things like attributes enrichments, to help customers find the right products, or for content creation to help and inspire them.
So, we're interested in lots of areas, but AI feels like the really pertinent one. We've got some AI-powered use cases that we've already put live and proven, we've got some that are in the pipeline, and we've got some that are in the sandbox.
How does The Very Group go about attracting and retaining top tech talent?
We've faced the same challenges as any digital retailer or tech company in recent times, especially around the supply and demand of talent. But we've faced into that by getting really clear on the skills we need.
We're investing in early careers programmes like apprenticeship and graduate schemes, career returner and career changer programmes, and upskilling colleagues who are already part of the team.
As a business, we are genuinely passionate about creating an environment in which our people can flourish both personally and professionally. Our flexible, hybrid working environment allows our colleagues to manage their own work life balance. We're also investing to ensure that we are moving in the right direction with creating an environment in which top digital talent wants to work on the technologies, platforms, and services that we're building and using.
Since we've been building and working on our new Skyscape platform, our ability to attract and retain talent has increased significantly. A big part of talent attraction and retention is offering the tools and technologies that people want to learn and also want to work on day to day.
For those interested in joining your team at The Very Group, what advice would you give them to stand out?
Very is a values-based business and that really shines through in our people. We care very much about what we do and are united in our shared purpose of helping families get more out of life.
We're looking for people who'll thrive and grow by being themselves in that culture. They'll put the customer first in any decision and see success as a team goal rather than an individual goal.
It's not about ticking every single box in one of our job ads, but about having the right energy, mindset and customer focus.
Thank you Paul!
Find out more about The Very group here.