More info on Digital Futures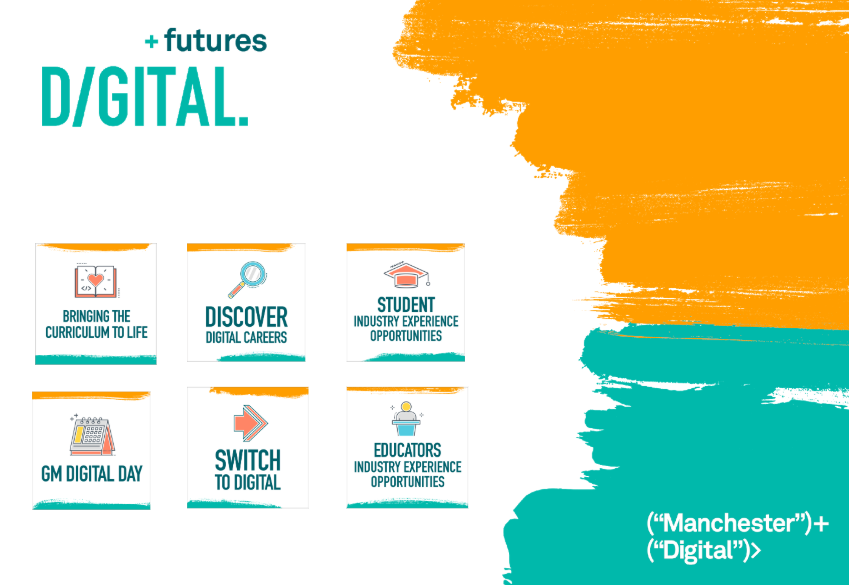 Digital Futures is fully funded and free to access for schools across Greater Manchester.*
The programme support progress on Gatsby Benchmarks 2, 4, 5 and 6.
You choose how your school participates in this programme.
Bringing the curriculum to life - REAL Computer Science activities to support teachers in the classroom and enhance GCSE curriculum learning related to the real world. Teachers will be supported by industry experts to develop and deliver curriculum topic-based activities. Supports teacher effectiveness.
Educator Experience Opportunities (for teachers & career leads) – professional development and learning opportunities to connect with and learn from industry experts in the work environment by visiting digital and technology employers. Supports teacher effectiveness & careers strategy.
Student Industry Experience Opportunities - learning opportunities for students to connect with and learn from industry experts through inspiring visits to digital and technology businesses and meaningful encounters with employers.
Discover Digital Careers - attend specialist sector awareness and insight event opportunities and resources (teachers, students and parents) - delegates will learn more about the digital and technology sector in Greater Manchester, local job opportunities, skills, education routes, pathways and hear from people who work in industry etc.
Switch to Digital resource (available late 2019) - to increase awareness and understanding of routeways into digital and tech careers from other subject areas and courses.
Participate in GM Digital Day, 7th February 2020 – (ages 11-18 ) a digital skills focused celebration date for all schools and college to engage in enrichment activities that are digital skills related. There will be a menu of activity resources (developed by businesses) available to take part in at school.
MAY ALSO BE OF INTEREST...
Digital Her: Inspire & Empower Roadshow 2019 - participate in our free Digital HeR Roadshow event in your local area during 2019. A dedicated event for Year 8 girls across Greater Manchester to inspire and empower girls to consider careers pathways in digital and technology. Meet real role models,
Secure your school's participation in one or more elements of the Digital Futures programme now. Fill out the form above to register interest.
FURTHER EDUCATION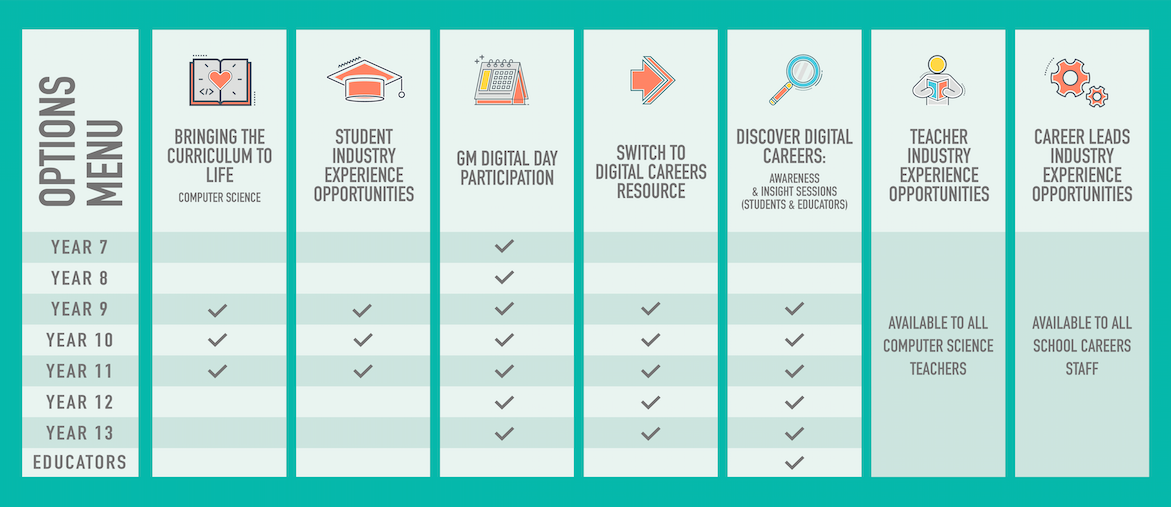 Digital Futures is able to provide selected support to some sixth forms and colleges across Greater Manchester as part of its fully-funded programme, outlined above. Outside of this, access to the Digital Futures programme may be cost incurring. Please inquire with emma@manchesterdigital.com
We also offer other education support provision for schools and colleges outside of the GM Digital Skills funded programme on request bases. These are noted below.
FE/College curriculum enhancement or enrichment support**
Bespoke workshops and events - including our discover digital careers and computing, curriculum and careers events**
Digital Her (free programme to GM schools) - participate in a dedicated support programme to inspire and empower girls to consider careers pathways in digital and technology (including events, resources and work placement opportunities)**
---
*Schools may participate in more than one element of the programme, on an individual approved base. This will be discussed with you. Please note that some elements of this programme are not available for SEN schools currently. Please ask.
**This offer/provision is not within the funded GM Digital Skills programme provision and are available on a case by case basis and may be cost incurring unless otherwise stated. Please note, there is currently a waiting list.
Digital Futures is supported by the Greater Manchester Combined Authority.
---
Please note that while we try to support as many schools and colleges across Greater Manchester as possible, we are a not-for-profit organisation with limited resources. Unfortunately, we cannot guarantee that we can meet all requests. You can support our work by joining as a member.
We can also work with schools, colleges and other organisations to create bespoke support packages at a cost.