10 February 2021 10:30 - 15:00
Talent Day is the largest specialist careers fair in the North and a must-attend event for anyone looking to work in the digital, creative and tech industries.
Tickets to Talent Day are completely free of charge and are open to anyone looking for a career in digital or tech!
Up to 40 of Greater Manchester's most pioneering digital, creative and tech companies will be scouting for the best talent to come and work for them. There will be career opportunities in development, data, security, design, project management, digital marketing, UX and much more.
There will be seminars delivered by industry partners to inform you about the opportunities in their organisations and how to get ahead in the market. There will also be CV clinics running to help you make the best first impression; our specialist will be able to offer practical guidance and advice on how to enhance your CV and employability status.
AutoTrader are the headline sponsors of the Digital Skills Festival 2021. musicMagpie, Sync, The ICO, Northcoders, BCS and University of Salford are also sponsoring the five day event.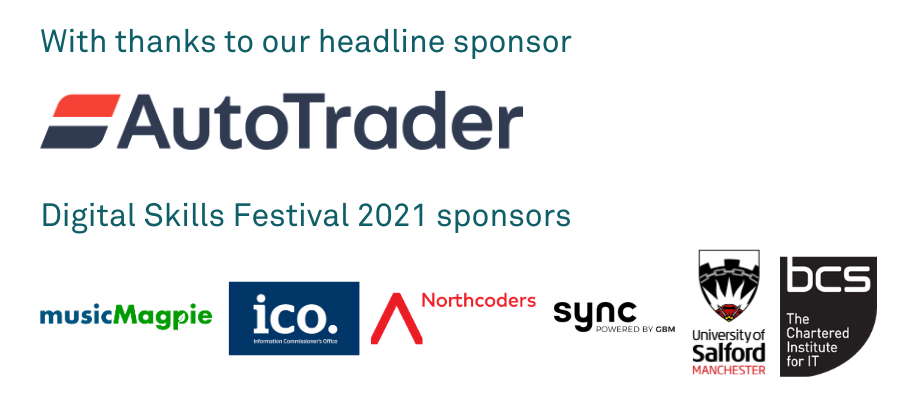 About our Sponsors
Auto Trader
We started life as a magazine in 1977 and we've grown and evolved alongside our customers. In 2013 we became a fully digital business and we're proud of our rich heritage which gives us over 40 years of brand heritage and trust.
As a company our purpose is to drive change together, responsibly. We aim to improve the process of buying and selling vehicles in the UK, by continually evolving the ecosystem to provide a better experience for consumers, retailers and manufacturers alike.
Find out more here.
musicMagpie
We are delighted to be sponsoring the Digital Skills Festival and speaking to some of the best digital talent and rising stars that the North West has to offer. We're looking forward to sharing more about musicMagpie; how we've grown to become a leading recommerce expert under our new mantra 'Smart for You, Smart for the Planet', the exciting projects we're working on and what we have in-store for the future.
Find out more here.

Sync
Sync supports organisations across the UK, aiding in the adoption, deployment, and ongoing use of technology in the workplace. This includes provision of hardware/software/solutions, providing finance solutions, training, tech support, and more. We are qualified to support consumers, businesses, and the public and education sectors.
Find out more here.
Northcoders
We are proud to be part of the Digital Skills Week, to show our continued support to the tech community. We are committed to developing the pipeline of people into the digital ecosystem in the North, with a focus on excellence and driving digital diversity.
Find out more here.
ICO
Working at the ICO is interesting and rewarding. Our technology department has recently been focusing on vital issues such as COVID-19 contact tracing, privacy-preserving machine learning and the design of a safer internet for young people. At any point you could be dealing with hugely influential organisations and playing a crucial role in protecting the public. If you have the skills, the ICO wants to hear from you.
Find out more here.
BCS
BCS, the Chartered Institute for IT.
With an agenda to support and lead the IT industry to make IT good for society. BCS Manchester Branch brings together industry, academics, practitioners and government to share knowledge, promote new thinking, inform the design of new curricula, shape public policy and inform the public.
Find out more here.
University of Salford
We are delighted to be involved with Digital Skills Festival again - it is a key event in Greater Manchester's calendar and sits perfectly with how the University of Salford is rapidly developing as an HE provider. The landscape is changing quickly and to be able to connect with so many employers, employees, and students in one space provides a great opportunity for both our staff and students.
Find out more here.

--------------------------------
Cancellation Policy
By booking a ticket to this event, you agree to our event cancellation policy: https://www.manchesterdigital.com/event-cancellation-policy.
Code of Conduct
All Manchester Digital events are designed to be inclusive and we adhere to a strict code of conduct which you can view here.
Data Usage Event Policy
By securing a ticket for this event you are consenting to receive information from Manchester Digital regarding the logistics of this event and a follow-up email post-event, we may also need to share any dietary or access requirements you have provided with a 3rd party such as the event caterer or venue. After we have sent your follow up event email we will only hold your data for 1-month during this time we will not share your information or contact you. Keeping your data for a month will only be to explicitly recap on the success of our campaign. After the one month period, the information you have provided will be deleted. If you wish to be contacted regarding other events and services that Manchester Digital produce then you will need to specifically opt into our mailing list here.
Free
10 February 2021
10:30 - 15:00
Online