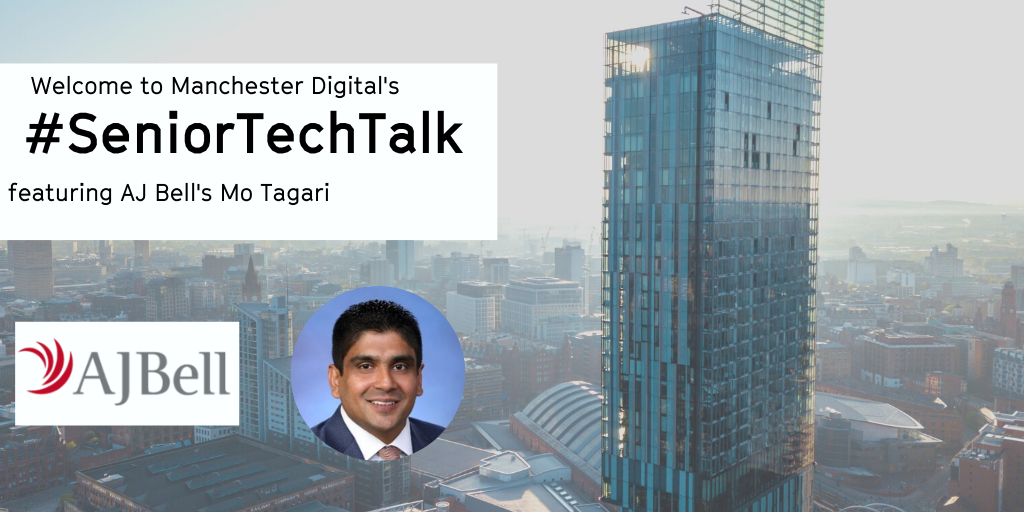 AJ Bell is one of the juggernauts of Manchester's FinTech sector. So far over 282,000 customers have chosen to trust the company with assets totalling £54.3 billion, making the firm one of the UK's largest investment platforms. With this in mind, we wanted to catch up with AJ Bell's CTO, Mo Tagari, in our latest edition of #MDSeniorTechTalk
Also, please take a look at this Front End Developer role AJ Bell is currently advertising for.
Could you tell us a little bit more about AJ Bell, as an organisation and your goals as a business?
AJ Bell is 25 years old, having been established back in 1995 by Andy Bell and Nicholas Littlefair. AJ Bell launched the U.K.'s first online SIPP – the Self Invested Personal Pension – back in October, 2000. A move that revolutionised the SIPP market and paved the way for investment platforms that many people use today to manage their pensions, Individual Savings Accounts (ISAs) and investment portfolios.
You can almost say AJ Bell has been a FinTech since before the term was even coined. It's now one of the leading investment platforms in the UK, with over 900 staff administering assets of just over £54 billion on behalf of 282,000 customers.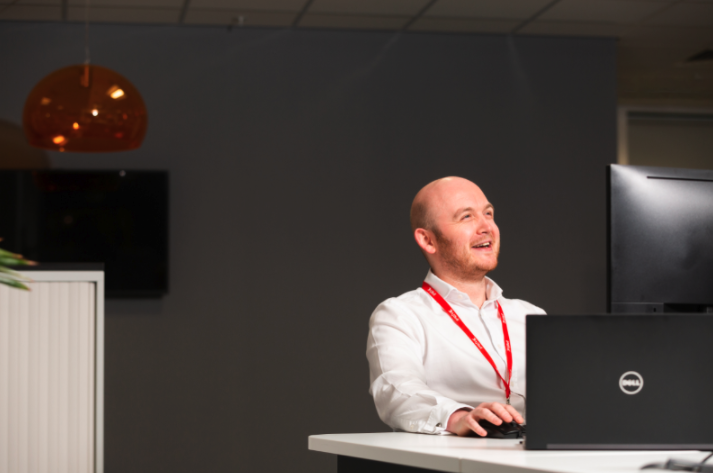 We're headquartered in Manchester, but we also have an office in London as well. As a business, our goal is pretty simple. It's to help people to invest and we do that by striving to be the easiest investment platform to use.
Our flagship platform propositions are AJ Bell Investcentre for financial advisors and AJ Bell Youinvest, which is direct to consumers. Whether advised or direct, customers can invest through SIPPs, ISAs, Lifetime ISAs and Dealing accounts.
Within each of these products, you've got access to a broad range of investments, including shares, funds, bonds and our own range of AJ Bell funds and model portfolios, offering access to all the major financial markets around the world.
Being able to invest within tax wrappers like ISA's and SIPP's is one of our customer's core requirements, and we aim to make it easy by providing additional support in the form of various investment solutions, online tools and information channels, too.
Could you please expand on your role within the organisation?
As CTO, I have responsibility for the entire IT function; across architecture, infrastructure, digital strategy, solution delivery, IT services, as well as risk and security.
I'm really lucky – I have a fantastic leadership team and this allows me to really partner with the business, understand the broader vision and to lead the evolution and execution of the strategy with my team.
We can't deliver first-class solutions without top talent. And hence, my role also requires me to invest in our existing talent pool and to seek out top talent.
We are a people business and we need to hire and invest in the best talent in order to continue delivering our goal of being the easiest investment platform to use.
My role also requires me to stay close with the key business stakeholders, as well as those on the ground, servicing our customers day-in and day-out, so we can remain nimble and can continue to challenge our priorities, ensuring that we focus on the most impactful items for our people and customers.
Could you please expand on how technology is changing the stock broking sector, and specifically looking at the challenges and opportunities that technology presents to the industry?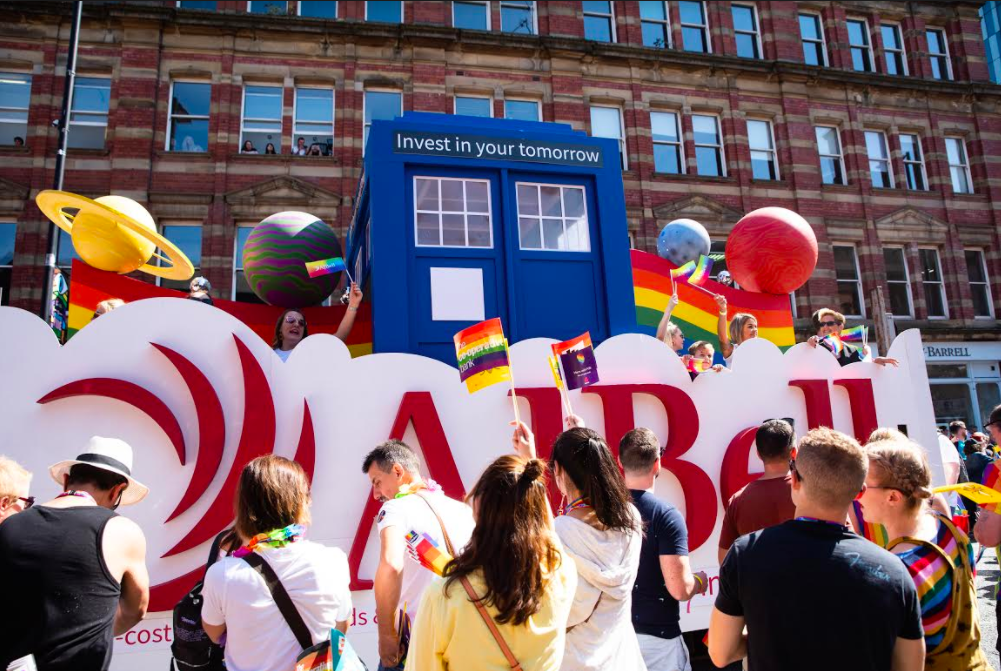 I mean, technology has completely revolutionised the whole sector. Being able to open an investment account, having access to investment ideas and insights and being able to invest, is no longer just for the privileged few.
The big stock brokers today are not the city firms with expensive offices and pinstriped suits. They are platforms like ours that enable people to trade and invest themselves, via their computers, tablets, or mobile phones.
From your device, now as a complete novice to investing, you can visit our platform and follow three simple steps to start your investing journey, within minutes.
With our smart technology choices, you can now open an account online via the AJ Bell Youinvest app, pass the necessary security checks and then fund your account and begin investing in global markets pretty much right away, all on your mobile device which is amazing.
You're not having to wait days and weeks, which would have been the case not so long ago. I mean, there are challenges that come with the territory too. For example, is technology making trading too easy making investing more like gaming? Technology has enabled the ability to trade complex derivatives – opening that up to the uninitiated novice customer at zero cost can result in tragic outcomes.
Another challenge is that there are just so many apps and offerings that keep coming up, which no doubt will confuse, and may even put off novice investors. It might even create a sense of insecurity as at the end of the day, they are investing their hard earned money using an app, not knowing who sits behind it.
But with AJ Bell, we are a FTSE 250 company and have 25 years of pedigree, reputation, and a solid balance sheet behind our platform offerings.
How is technology changing what the customers want and expect from AJ Bell?
The expectations are forever changing. We have advanced technology but we have to keep pace and accelerate where we can whilst still having the right processes within the business. The customer expectation today is digital and paperless. Not so long ago, we used to type in a username and password into most websites. And now, with advancements of biometrics, the expectation is to be able to seamlessly log in by simply picking up your phone, using facial recognition or your thumbprints.
A customer expects to be able to access our platform 24/7, and be able to invest regardless of market volatility. This has been an ongoing journey for us, using cloud technology to scale our elasticity, designing our API's using modern paradigms.
We're also using the latest technology, partnering with key FinTech players to start moving into the £1.5 trillion retail cash saving market, with the launch of the AJ Bell Cash savings hub.
The Cash savings hub will enable customers to access a range of competitive notice and fixed term saving accounts from a range of U.K. authorised banks. Customers will also be able to apply for multiple accounts with no paperwork, and manage their cash savings by one online account that sits alongside their existing Youinvest accounts.
Technology has also enabled us to exceed customer expectations, which is not easy to do. Our technology and infrastructure choices have allowed us to operate all services on a business-as-usual basis throughout the Coronavirus pandemic. Many of our customers proactively shared that feedback with us, highlighting the differentiating service they received when they needed it most.
It will be interesting to see how the advancements in AR and VR and quantum computing, will start bringing to the world of finance.
In terms of Coronavirus, what impact have you seen on the sector and what has AJ Bell's response been?
COVID has impacted the sector, for sure. No different to what we are seeing in other sectors. Our response can be seen in three key areas
Supporting our people, supporting our customers and supporting the community.
With regards to supporting our people, we successfully transitioned the majority of our staff to working from home. As a business, we typically prided ourselves with being present, of being in the office. With COVID, within less than two weeks, we made some pretty huge technology changes that enabled the whole organisation to work from home. We also didn't furlough any staff, which we are proud of.
I think this is where I personally saw the AJ Bell culture come through, it was all hands on deck as the workforce adapted to the changing environment to ensure we could continue servicing our customers on a business-as-usual basis.
And communication and collaboration continues using the video technologies, with Zoom and Microsoft Teams. As we continue to support our people we are following the relevant Public Health England guidelines in supporting our staff in coming back to the office.
In terms of supporting our customers, we do provide an essential service. Customers need access to their pensions and savings and investments throughout this period. We were fully operational throughout, including the busy tax year end.
We also had record customer activity during lockdown – the resilience of our platform really shone through during these difficult times. Our technology choices meant that we were able to keep our platform up and running, offering our usual day-to-day services.
Around supporting the community, we set up the AJ Bell Wage War on COVID fund under the umbrella of the AJ Bell trust, a registered charity. The aim of the fund is to support charities and causes that are helping people directly affected by COVID-19.
Andy Bell, and other senior execs, gave up their wages during the month April, May and June. And many of the staff also give up parts of their salary for those months too.
In total, along with customer and public donations, we raised over £300,000 which is supporting numerous charities and initiatives affected by COVID-19. We've supported food banks in Manchester and London and over thirty charities nominated by our staff.
I'm most proud of the fact that we provided six hundred tablets to care homes and hospitals to connect residents with their loved ones during the lockdown, plus another one hundred and forty to young people across the country via OnSide Youth Zones.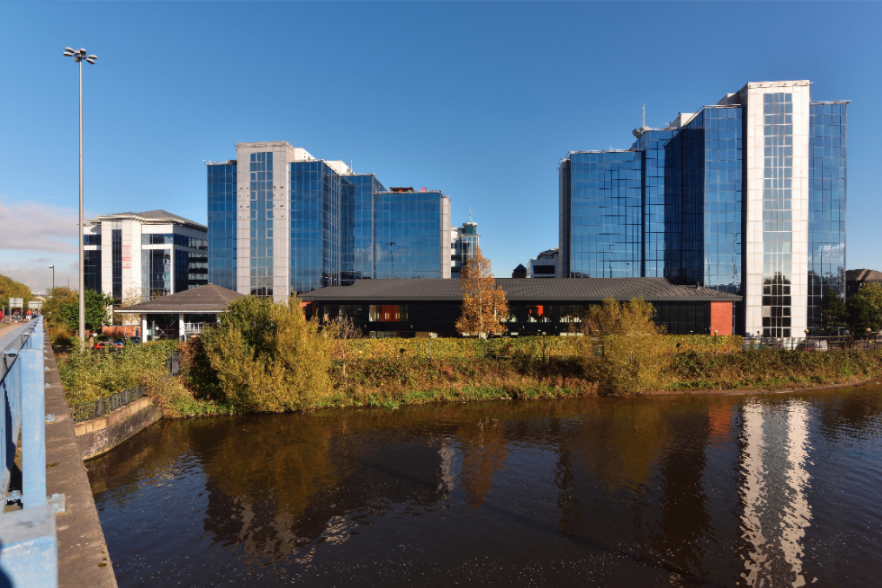 Manchester is developing a burgeoning relationship as a sense of a FinTech excellence, but what more do you believe needs to happen for the sector to grow within the region?
Having personally been away from Manchester for almost a decade, I definitely agree that the tech excellence has rapidly grown, just like the skyline of Manchester has too. London is still seen, I think, as the epicentre, when it comes to finance and technology but there have been huge strides in Manchester. We have some of the biggest tech companies and institutions moving to Manchester, which speaks volumes for the region. We know that as Manchester develops further, it will attract even more fantastic talent to the region, which is a development that will be most welcomed at AJ Bell.
Tech recruitment is notoriously difficult. What steps does AJ Bell take to attract and retain talent? And could you describe the culture?
Recruitment in Manchester is tough. Compared to hiring that I have done across the world, Manchester is definitely one of the hardest locations that I've found, but it just shows how competitive the region is for top talent.
Having said that, we continue to keep our bar high and source diverse talent as far and wide as we can. We invest heavily in our existing talent pool too; offering technical and leadership training. We also promote mobility where we have had people from the business move into technology, and vice versa.
We have a robust digital apprenticeship programme, partnering with some of the local universities, in which we bring in raw talent, rotate them around different teams from software engineering, to infrastructure and information security, in order to gain a broader understanding of technology in a fast-paced, regulated, financial service business.
I feel our culture is simply amazing. What I witnessed during COVID-19, first-hand, was that as an organisation, we are quick to adapt and embrace change and that employees feel they have a strong partnership with the business.
One thing I have felt that is different about AJ Bell, having worked across a few financial organisations in different parts of the world is, I really feel like I'm at home. I can bring my authentic self to work. And I keep questioning, "Why is that?" And I think it simply comes down to the guiding principles of AJ Bell – the glue of our business; where our purpose, principles and strategy, all define and shape our culture.
Is being a part of Manchester's digital community important to AJ Bell. And if so, in what ways does the organisation contribute to the ecosystem?
Being a part of the community is definitely very important. I believe we could and should be doing a lot more in this space, which is going to be a focus of mine. We are engaged with some of the local universities, but I personally believe we should start targeting some of the primary schools and high schools in order to encourage the promotion of STEM subjects.
I also see a lack of women in technology especially compared to other countries that boast a 50/50 split.
Prior to COVID, some of our technology leads and UX teams, were going out into the community and attending and presenting at tech meetups. As you would expect, that's slowed down but we've got an amazing set up at our office and I can't wait to start hosting tech meetups, once we are safely able to do so.
Want to raise your company's profile?
If your company would like to feature on our website, across our social media and in our newsletter, contact rachel@manchesterdigital.com for more information.