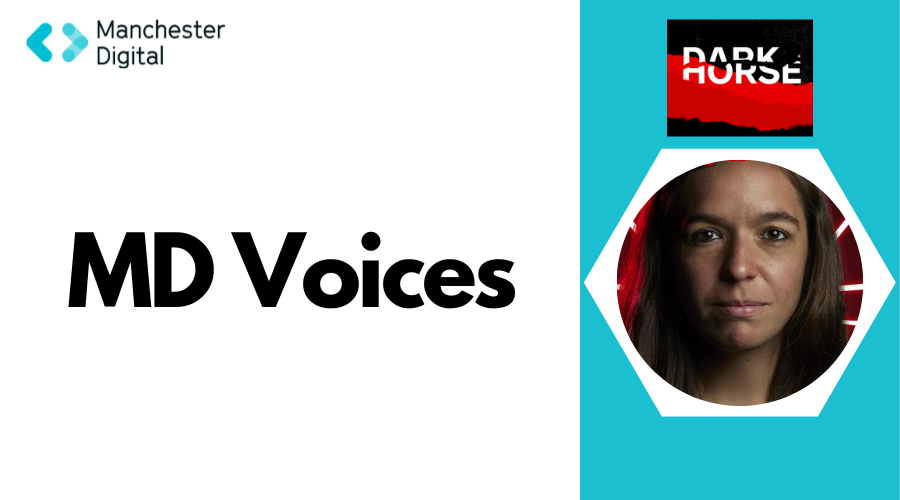 At Manchester Digital, we like to conduct interviews with our members to delve deeper into their areas of passion within the dynamic digital and technology landscape of Greater Manchester. This week we're speaking with Head of Marketing, Jennifer Szczepaniak Sloane from Dark Horse.
While anyone can benefit from your PPC training, you believe it provides particular value to startups and small businesses. What makes this course so well-suited for those groups starting out on a limited budget?
First off, Ad:Versity is the Dark Horse PPC training programme – and covers everything required to set up and run ads through to using advanced features within the Google suite.
For anyone on a limited budget it is hard to get expert knowledge and we know that working with an agency can be out of the question for some initially. Understanding the terminology, rules and purpose of all the Google suite products can be tricky and this course simplifies all of that. It can be hard to know if the information you read online is best practice or not, who to trust and what to disregard, which is why we wanted to make this course available. We've taken the combined 66 years of knowledge from our PPC team and distilled it into 12 easily digestible modules. This is information from the brains of people who do PPC day-in-day-out and have grown accounts 10-fold. We call them experts.
What motivated you to create an affordable PPC training program small businesses can access directly?
Fairness – a chance for all to have access to experts. Dark Horse believes that PPC isn't just for the rich. It's for the people and dark horses that we make rich. This Ad:Versity course is the first step to achieving that. Ad:Versity is an accessible way for businesses to invest in and learn about Google ads without the risk of poor agency practices that we've seen all too many times. With Ad:Versity, you can learn and trial PPC, and if it is for you, then you can use an agency to scale when the time is right. It also gives the user knowledge of best practice, so they know what questions to ask if they decide to scale – a grounding for the future.
What key successes and results have past trainees seen after implementing what they learned in your course?
When people purchase Ad:Versity, they are completely independent of us. It's all done online via a simple transaction. This means we don't see the journey our users follow. However, we have had some great feedback left by customers who have become advocates of the course!
What core PPC skills will small business owners gain from the training to run effective campaigns themselves?
Initially, an understanding of what the Google suite comprises and how each product can be used to benefit the business. Once the account is set up, then the core skills include:
Building effective campaigns efficiently – no time wasted in setting up multiple campaigns or campaigns with numerous products
Understanding the benefits of different types of PPC campaigns, when to use them and how to optimise them
Tracking – making sure all interactions are captured and you can track which campaigns are the most successful
Optimisation – ensuring your ads are set up to capture the high-intent traffic and ultimately, aim for each click to lead to sales
Understanding data – once you understand your data you can decide how to improve it and where to scale it to generate the most revenue
Performance automation – can lead to qualified leads of high return on investment, but only if used correctly – which we will teach you
How does your distinctive style translate into the way you teach PPC strategy?
We are about telling the truth. That shouldn't be anything other than normal. The truth is central to Ad:Versity training. It has to be. We don't say what Google would want us to tell you, we tell you the information that will help you set up, populate and grow your PPC accounts. We want you to improve your revenue with PPC, we know how powerful PPC can be, therefore, everything we tell you in this course is to help you understand how to achieve this. If you know what you are doing, why you are doing it and how to do it, then you are able to continually improve your PPC campaigns. We aren't here to feed our ego, we have created this course to feed your bottom line. The training program is as much about saving money as it is about making it - either way, it's money in your pocket and not Google's.
Thank you Jen!
To find out more about Dark Horse click here.