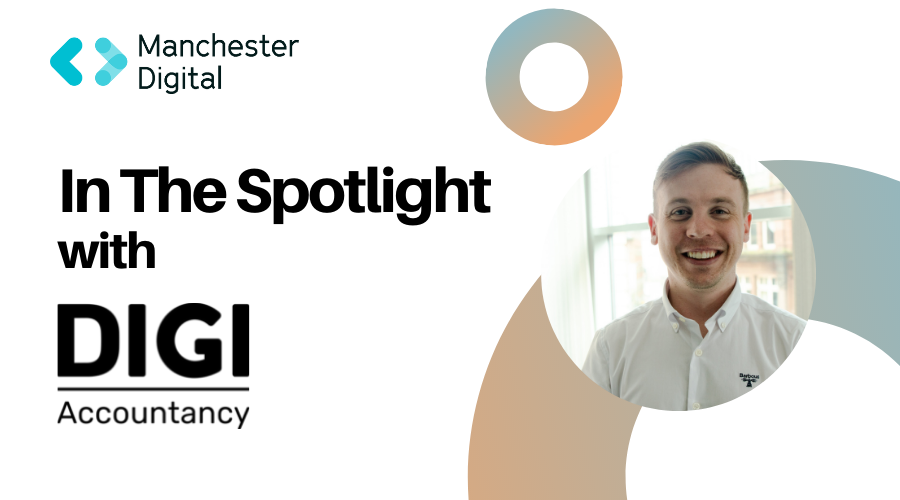 At Manchester Digital we like to interview our members to find out a bit more about what they do and their work in the Greater Manchester digital and technology sphere. This week we're speaking with Adam Rawling, Co-Founder of DIGI Accountancy.
What does your organisation do?
Based in Manchester City Centre, DIGI Accountancy is an accountancy practice which is a people first business aiming to bring automation in the finance function of tech and digital businesses within the Greater Manchester area.
DIGI offers all the usual accountancy services such as Personal Tax, Company Accounts, Corporation Tax, VAT, Payroll, Pensions. However, the core of our business is to offer outsource Finance Director and a full or part outsource finance function dependent on the needs of the business. We build this in with advisory services, such as Management Accounts, Cashflows, Forecasts, etc.
We undertake the majority of our work using Xero and bringing in tailored apps to suit the business.
DIGI, also offers services around Research & Development, Employee Share Scheme and the digitalisation of finance functions.
What do you think is currently the biggest issue facing the digital and tech industry?
Looking at it from an accountancy aspect, firstly, many digital and tech companies are highly innovative and potential undertake Research & Development within their business which leads to generous tax breaks from HMRC, these companies could be potentially missing out in thousands of pounds of tax relief / tax refunds for Corporation Tax if they are unaware … it is always worth asking the question 'Does this quality for R&D?'
Another major issue is the 'unknown' element of what a fully digitalised finance department can bring. It brings automation which leads to substantial cost and time savings.
What is your organisation's biggest achievement?
The biggest achievement to date would certainly be growing and maintaining a client base which all started during the pandemic. Due to growth, we have already had to move office twice in 12 months.
What would you consider to be your organisation's biggest challenge?
The biggest challenge is showing our potential clients about the quality of work and results we produce and why they should choose us against some other fantastic accountancy practice. We will overcome this challenge through a fresh approach to our website, marketing & PR, along with maintaining our ethos of being a 'people first' practice.
What do you think the future looks like for Manchester's digital and tech sector?
Manchester has a long history of innovation, as long as this continues the future of the ever growing and every changing sector of digital and tech, will continue to flourish in Manchester.
Tell us something we might not know about your company?
Despite being called 'DIGI' – we do not do everything online! We love to meet in person whether that being your premises or our premises!
Thank you Adam!
To find out more about DIGI Accountancy, click here.
Want to raise your business's profile? If you're a member, contact thom@manchesterdigital.com to discuss featuring your content on our site, social media or newsletter. If you're not a member, get in touch today to discuss the benefits of membership.