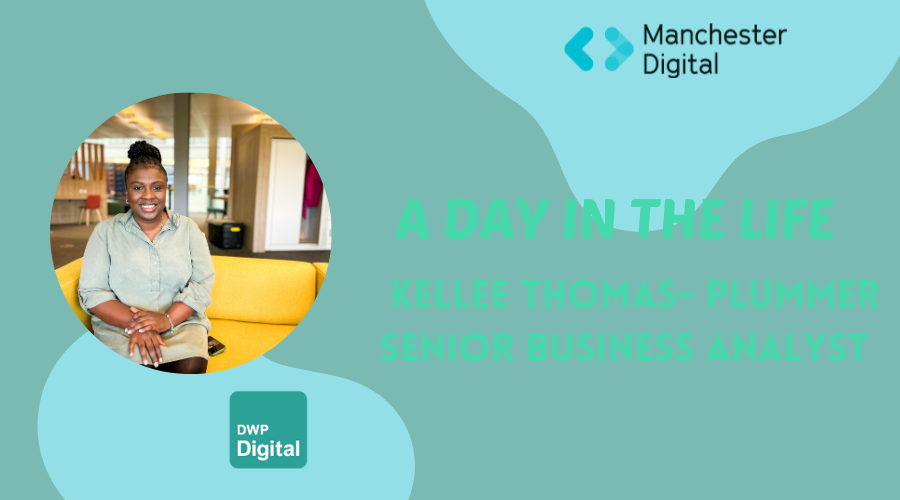 Ever wondered what it's like to work at one of Greater Manchester's leading tech employers or what specific job roles get up to each day?
Kellee Thomas-Plummer is Senior Business Analyst at DWP Digital
We spoke to her to find out more about this role, her experience at DWP Digital, and what an average day looks like.
Name: Kellee Thomas-Plummer
Company: DWP Digital
Job Title: Senior Business Analyst
Time in role: 1 year, 5 years as Business Analyst.
How did you get into your current role?
I began my journey at DWP Digital as a business support professional, responsible for assisting deputy directors by managing their emails and organising their travel and meeting arrangements. This role provided me with valuable insights into the work handled by these deputy directors, particularly in the realm of architecture.
Subsequently, I moved into a Secretariat role, where I gained exposure to various projects. This role involved meticulously documenting of meeting minutes and actively participating in project meetings to gain a comprehensive understanding of the requirements and digital transformations being undertaken by DWP.
During my time, I observed the fascinating work carried out by business analysts (BAs) who excelled at capturing and articulating requirements. This sparked my interest, and I aspired to pursue a career in that field. I proactively approached the BA practice, seeking job support, training, and opportunities to shadow experienced professionals. I also sought out mentors who guided me along this new path. Eventually, I secured a secondment on a team that sought an associate BA with versatile skills encompassing project management, design, and other diverse responsibilities. The team recognised the transferability of my skills, and this position provided me with an excellent opportunity to assume the role of a BA, receive training, and explore new areas of expertise. To enhance my professional development, I actively engaged in meet-ups, conferences, and online learning platforms, deepening my understanding of the BA role.
Within this initial BA role, one of the noteworthy projects I contributed to involved transforming the accessibility of information and data on work mobile phones. This project allowed me to leverage my unique position and expertise, motivating me to apply for a permanent BA role when the opportunity arose.
I have now been in my senior BA role for over a year. Achieving this position required me to embrace diverse projects and always say yes to new opportunities. Collaborating extensively with stakeholders enabled me to build rapport and cultivate crucial relationships. Over time, I acquired the necessary experience and qualifications to successfully apply for my current role.
Reflecting on my journey, I can honestly say that I have cherished every moment and endeavour.
What do you enjoy most about working at DWP Digital?
Undoubtedly, the most rewarding aspect of working at DWP Digital is the people. The diversity within our organisation is truly remarkable. Every day, I am energised by the prospect of collaborating with individuals from various backgrounds, cultures, age groups, and nationalities. This rich tapestry of experiences and perspectives brings unparalleled excitement to the workplace. When we come together to brainstorm or tackle challenges, it's inspiring to witness the dynamics of differing opinions, as each individual contributes their unique insights.
DWP Digital places a strong emphasis on diversity and inclusion, which is evident in our office environment, team structures, and the way people work together. This commitment to inclusivity is of paramount importance, ensuring that everyone feels valued and represented. Working in an environment where all voices are heard is a cornerstone of our success.
I must also highlight the exceptional BA practice at DWP Digital, which offers extensive training, job shadowing opportunities, apprenticeships, and mentorship programs. I firmly believe that with the right mindset for learning, one can achieve great heights with the support provided.
Having grown and advanced my career within DWP, from initially joining through a secondment to reaching my current position, I am motivated to help others in their professional journeys. Engaging with people and fostering a positive work culture is something I thoroughly enjoy. As a manager overseeing a team of 20 BAs, I prioritise their well-being, offer support, and strive to create an environment where everyone can find fulfilment and enjoyment in their work.
What does a typical day look like for you?
A BA is literally the face of digital, they have to be really good at communicating so that they can understand what the business needs are, what the user needs are and then transform that into information that technical people can go away and build a system suitable for users.
Now I'm part of the senior leadership team, I'm a lot less hands on if I don't need to be. I'm more involved in recruitment of BA's, making more strategic decisions and working with senior stakeholders.
A typical day may start with joining a couple of stand ups because I have to have that overview of what is happening amongst the different squads. After that, I'll probably join an SLT related meeting to make decisions. Then I'll probably join another project related meeting to understand what's happening and to provide the relevant support or provide consultation for the BA's. I firefight a lot as well, if there's a need, that's where I'll go. I'm very flexible.
One of my proudest projects was the transformation of the service desk, which is when colleagues have a problem, such as they can't get into their device. We changed the provider of that service from who we had to the ServiceNow platform that we currently work on.
We integrated this with Amazon Connect, that leverages the data that we've already got within the system and makes it user friendly. When you call up, it knows your details already and leads you down a certain path based on what you want, it already has the information from previous calls.
For example, "I can see that you raised an incident. Is this still about that?", it breaks down the need for that fresh conversation again saving time and efforts.
What is it like working remotely during the pandemic?
It was hard to readjust, BAs are more tactile, we like post it notes and coming together to collaborate and understand different viewpoints.
When we had to work remotely it really changed the dynamics of that, I couldn't really see facial expressions to gauge whether I was capturing the right level of information I missed body language.
As time progressed, getting everyone into the same space became more appreciated and we made sure to get a lot out of the time we could spend together.
What excites you the most about the work a DWP Digital?
What truly drives the significance of my work at DWP Digital is the profound realisation of who our services ultimately impact. Drawing from my personal background rooted in poverty, I am intimately connected to the individuals we serve—my own family, friends, and their loved ones. These are the very people who rely on our support.
This awareness instils within me an unwavering determination to deliver excellence in my role. The individuals we serve represent some of the most vulnerable members of society, and their well-being is intricately intertwined with my own cultural experiences. Recognising that our services possess the power to effect meaningful change fuels my dedication and commitment.
The opportunity to collaborate with diverse individuals within DWP Digital excites me greatly. Witnessing the collective efforts of our team and observing the remarkable progress and impact we achieve together fills me with a sense of enthusiasm and satisfaction. Witnessing our work flourish and the transformative outcomes we can achieve is truly invigorating.
Have you learned anything new since you started?
Everything has been a learning curve!
What I have learnt is, that within DWP Digital there are a lot of opportunities. You're supported to learn and encouraged to keep progressing if it's what you want.
I've experienced that if you keep knocking on the right door, you will get the opportunity you want. If you've got the right attitude towards learning, you will get there.