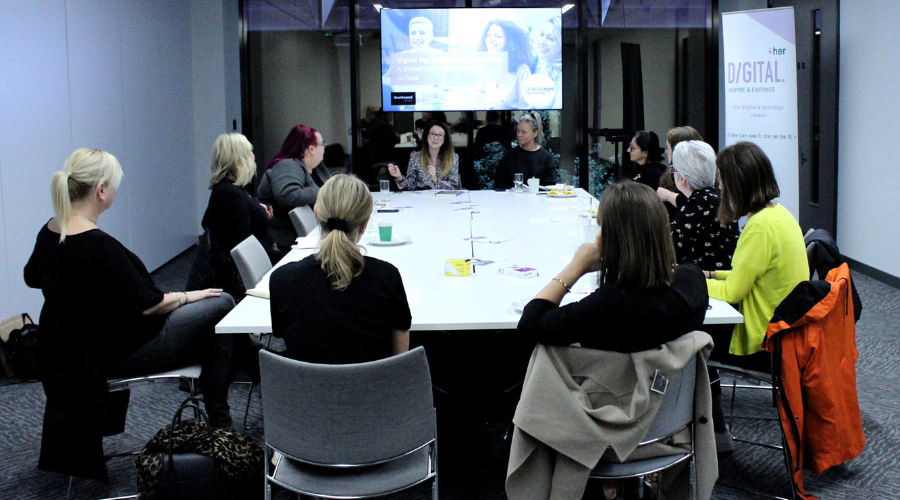 As part of a programme of events for Ada Lovelace Day, Digital Her hosted a Breakfast Roundtable to discuss how the tech industry can collectively create gender parity in tech.
Set in Bruntwood's new No 1 Circle Square, the breakfast event brought together women from the tech and digital industry to discuss their own experiences and how the industry can encourage more women into tech.
The event was hosted by Martina Srdoc, who is an Agile Coach at Global Logic and also leads a team of 20 people in a team called iDEA – Inclusivity and Diversity for Everyone and All.
The conversation began by discussing the importance of recognising diverse routes into the tech and digital industry, with people coming from all sorts of different work experience and educational backgrounds. It is so important for young women to understand that there isn't just one route to a tech role – even doing an arts-based degree does not rule you out and provides you with critical skills and strengths.
It was agreed that confidence was a huge issue for young women that needs to be tackled within education right now, and can particularly hold back young women in the traditionally male-domainted tech industry. Allie Johns, senior lecturer at MMU, discussed a recent educational survey that found that lack of confidence was holding back young people in their careers. Indeed, many studies have found that today's young people have issues with mental health and well-being for many reasons, but especially because the Covid pandemic affected their education and social lives. She explained, "Our approach at MMU is not just about being a lecturer but also being a coach and mentor to our cohorts."
Another main point that was agreed on was that it could be a really good idea to organise open evenings and panels that include teachers and parents, as well as young women. This is because many people don't understand the breadth of roles available in the tech industry, or what they involve, so find it hard to advise young people.
Lizzie Stutchbury, lead consultant at Informed Solutions, explained, "How do we get the message out there and how do we inform the young people but also the parents who will be advising them."
The discussion also talked about how it was important for young women to look at their strengths, what they enjoy doing and how they enjoy working, rather than specific job roles. This helps them focus on their own personal strengths and keep their options open in terms of jobs.
Bethany Adam, research and programme manager at Bruntwood added, "We need to focus on matching up people's skills rather than job roles to showcase how many different skills are required within a tech role, and that people can come from multiple different backgrounds."
Amelia Bampton, managing consultant from Infinity Works, added, "It's so important to tell young people that your skills and the lifestyle you enjoy is a huge part of the job. I enjoy meeting lots of people and travelling to new places, so my job role allows me to do that.
It was also suggested by the group that a more informal networking social media platform than LinkedIn would be much more usable for young people who often found LinkedIn daunting.
Tracey Woolley, Central Government sales director at 6Point6, said: "Do we need a network for younger people so that they can connect with each other, and find out more about jobs?"
Digital Her has just launched its sister programme, MentorHER, which will pair up young women with senior women in tech for career mentoring. Please contact info@manchesterdigital.com if you would like to find out more about being a mentor as part of the MentorHer programme.